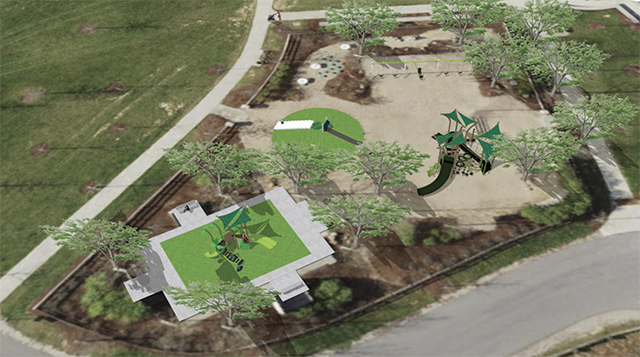 UPDATE: We have received great feedback from the community on this playground. The final design for the playground renovation is linked below.
Timeline: Amberleigh Community Park playground renovations are set to begin fall 2022.
Each year, the City of Dublin identifies neighborhood parks that are due for an update. The Amberleigh Community Park playground was selected to replace the aging equipment. This project will include all-new equipment and play surfacing.
The renovation will maintain the same size play area and include equipment geared for children ages 2 to 5 and 5 to 12 years old.
The City of Dublin requested feedback from the community on the renovated playground's overall design. The proposed renovation includes new swings, surfacing and two play structures.
Residents were encouraged to review the park renderings and provide their input for this project by April 24, 2022.
Based on the community's feedback the following changes to the design were made:
The community outreach requested the need for additional swings to accommodate more children. We also heard from residents that some favorite features at the current Amberleigh Community Park playground are the playhouse and firetruck. The City has selected the Loft & Fire Station equipment to add a variety of play activities to the village while providing the neighborhood kids with familiar play opportunities.
Download the Project Proposal | Final Design
Tree Tops®
This wondrously abstract Smart Play® Tree Tops® play structure gives kids the sense of exploring a forest canopy branch by branch. But beyond the normal ups and downs of traditional tree-climbing, here kids can also navigate their way across wiggly bridges, crawl through the O-Zone® 3-ring climber, roar down two different slides, plus so much more. Such a great range of interconnected activities at multiple levels will spark hours of imaginative and energetic play, all protected by plenty of built-in shade.
Loft & Fire Station
Double the fun by connecting a Loft to a Fire Station with an elevated crawl tunnel. This expanded play structure can accommodate lots of kids with physical, imaginative, and thought-provoking activities. There are 26 interactive activities addressing developmentally appropriate skills.
Roller Slide
The Rollerslide brings a cool, sensory experience to the playground and an inclusive play experience to kids of all abilities.
Friendship Swing®
This multi-user playground swing is one size fits all, from two kids to a multigenerational family. The Friendship® Swing is a great way for siblings, parents and grandparents to enjoy time together.
The new playground renovations will begin in early fall 2022 with the project set to be completed by late fall 2022.