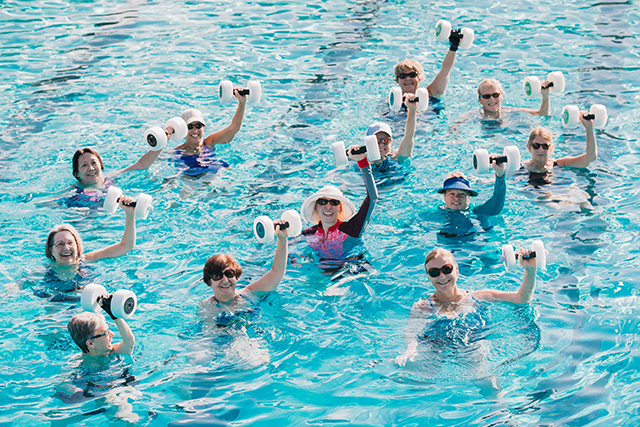 Aqua Yoga and Aqua Pilates will not start until the week of October 3.
Water Fitness Schedule: Fall | Winter Break Schedule
Please continue to regularly check out this page for updates, class changes and other important information!
Class Descriptions
Arthritis Foundation Program
Program designed to safely keep joints moving and improve your sense of well-being. Class will allow you to exercise without putting excess strain on your joints and muscles. Gentle activities in warm water help you gain strength and flexibility. All instructors are trained and certified through the Arthritis Foundation.
Aqua Barre
The perfect blend of yoga, Pilates, and ballet for a total body, aerobic workout in the water!  Add body flexibility, increase muscle tone and endurance, and improve balance with small and large range, high repetition movements.
Aqua Boot Camp
High-intensity, interval-based combination classes used to sculpt and strengthen muscles, as well to improve overall cardio endurance. This class is a mix of cardio-based exercise that can be completed with or without equipment.
Aqua Pilates
Aqua Pilates is a new form of exercise that is taking the world by storm. These simple, but effective, workouts really do strengthen your core and allow you to be at your best in your daily life. Taking these exercises into the water increases their effectiveness and will have a huge effect on your workout.
Aqua Yoga
Aqua Yoga is a gentle and very low impact aquatic activity. Aqua Yoga takes the principles and movements of Yoga and adapts them to the water environment. With the release of gravity the body is able to find the optimum stretch. By using the rhythm of the breath an inner sense of relaxation can be achieved.
Aqua Zumba®
Aqua Zumba® blends the Zumba® philosophy with water resistance, for one pool party you shouldn't miss! There is less impact on your joints during an Aqua Zumba® class so you can really let loose. Water creates natural resistance, which means every step is more challenging and helps tone your muscles.
Do you have a pulse?*
Join this high-intensity class that features interval training, core strengthening and endurance exercise in a noncompetitive setting. We promise to raise your heart rate while having fun in the process. Flotation belts and other equipment is provided.
Happy Hour
Join a fun-filled water workout class that's after school and before dinner. Lose stress through variety of moves and stretches guaranteed to relieve tension and improve your outlook.
Morning N Motion
A cardio class with low impact on your joints!
Move it and Lose it!
Shallow water total body workout in a noncompetitive setting that promises to challenge you no matter your level of fitness. On Tuesdays anything goes, on Thursdays we kickbox.
River Challenge
This class strives to improve muscle toning, flexibility, cardiovascular fitness, endurance, build muscle strength while maintaining good posture. The added component is the current in the river which automatically produces resistance.
Shallow Water Shakedown
50 minutes of stress relief water aerobics–challenging workouts that are never the same and are physically challenging, but leave you rejuvenated and reenergized to take on a busy day!
Totally Love Cardio + Strength (TLC+)
Let's get movin' in the deep end with a full body, low impact, aerobic workout.  Anything is possible while you are suspended with a flotation belt and the music pumpin'.  Bring your energy, enthusiasm, and a smile
White Water Work Out*
Participants use full body movements to put "motion in the ocean." No class is ever the same.
Zero Impact
Experience a cardiovascular and strengthening workout with no impact on your joints.  Floatation belts to maintain correct body alignment and hand held equipment to create resistance form the basis for the workout.
Noodles, bars, bells, boards, and balls will be provided in class. Shoes not provided. Gloves available for purchase at     Front Desk
Select Land/Water/Spin passes are available to purchase online after logging in to your account. You can also purchase these passes in person or over the phone at 614.410.4550
WATERX1*
10 (Member: $45, Non-Member: $60)
Aquatics Drop in 10X
Expires after 4 years
WATERX2*
20 (Member: $70, Non-Member: $85)
Aquatics Drop in 20X
Expires after 4 years
WATERXM*
Unlimited (Member: $50, Non-Member: $60)
Aquatics Drop in
Unlimited for one month only