National Bike Month is May 2022! We celebrate biking as transportation, as recreation, and as being essential to our everyday lives and protecting the environment. During bike month we encourage residents to try biking on the over 130-mile-long recreation path system that connects parks, neighborhoods, businesses and roadways; or check out some of the biking opportunities and resources below!  
Days to Remember
Bike Rodeo — May 14

 

Bike to Work Day — May 20

 

Bike to School Week — May 30 – June 3

 
Bike Rodeo
Saturday, May 14 
10 a.m. to 12 p.m.
Darby Street Lot, W North St, Dublin, OH 43017  
In the Darby Street Lot, there will be interactive stations for kids and parents to learn about safe biking practices and receive free bike swag. Kids can bring their bikes and develop skills to become better bicyclists and avoid typical crashes. Stations will be led by local bike vendors, the Dublin Police Department, and volunteers. Did we mention there will also be CoGo electric bikes, Byrd scooters (18+) a food truck and music? 
Bike to Work Day
Friday, May 20 
Biking to work is a great way to stay healthy, save on gas, and reduce your carbon emissions. The City is promoting Bike to Work Day by entering city staff who commute to work by bike into a raffle prize giveaway!   
Tips for biking to work for the first time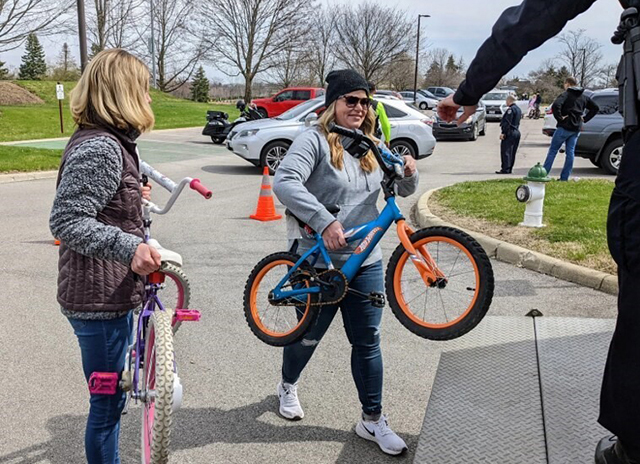 Bikes & Badges
The Dublin Police Department is thankful for Dubliners who donated new and gently used bikes at the 2022 Bikes & Badges bicycle donation drive! The department collected 135 bikes from the Dublin community this April. Dublin Police partnered with four other Central Ohio police agencies and the Starfish Assignment on this event. If you're interested in donating a bike, contact the Starfish Assignment. 
Register Your Bike with Dublin Police
Get a free bike registration tag from the Dublin Police that can help police officers reunite you with your bicycle should it be lost or stolen. 
Visit the Dublin Justice Center, 6565 Commerce Pkwy., Monday through Friday 8 a.m. to 4 p.m. to receive a registration tag. Bring your bicycle, if you can. If not, have your bike's make, model, color and serial number ready. With questions, contact Corporal Quaid Traves at dtraves@dublin.oh.us or 614.410.4025. 
Use a Bike Repair Station
Loosened bolt? Flat tire? The City has you covered. Bicycle repair stations have basic tools including an air pump, flat and Phillips head screw drivers as well as Allen wrenches. The station doubles as a rack to hold the bicycle while repairs are being completed, allowing the pedals and wheels to spin freely while making adjustments. 
Check out this free bike maintenance guide 
Bike Safely and Find New Routes
The City of Dublin encourages ongoing safety education for cyclists, motorists and pedestrians. For safety information and maps, visit dublinohiousa.gov/bike