Help Save the Wildlife of Brandon Pond
Before construction begins for the Brandon Park pond restoration project, the City is asking residents to help save the inhabitants of the pond on Saturday, October 19, 9 a.m. – noon. Learn more and volunteer.
Background
The Brandon Park pond was created in the early 1950s as a farm pond for use as a water source.  In the mid-to-late 1980s, housing development began around the pond area, which is now completely surrounded by residential housing and public open space. The pond area has become a great park asset to the surrounding neighborhood and is valued as a natural refuge by residents and wildlife.
Reasons for the Project
Decline of the pond's ecological health over the years and its unique habitat opportunities has inspired residents and staff to restore its condition. The pond has been "choked out" with sediment and biologic debris that has accumulated over the years. While this is a natural process, it has had a negative impact to the pond's ecological system to a point that the balance of aquaculture is disappearing. If left unmanaged, the pond will further decline and eventually fill in completely.
Because of this unique habitat, the City of Dublin consulted MAD Scientist Associates, Inc. to develop a plan to restore the pond. The concept plans were presented at a public meeting held in March 2018 with positive feedback on plans to restore the pond's health. Based on feedback from that meeting, staff and consultants presented the final design plans at a second public meeting in November, again receiving very positive feedback from residents.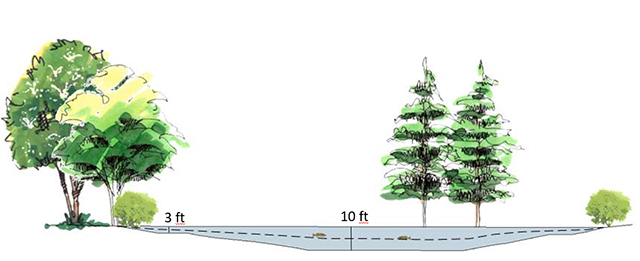 Key Design Elements
The City respects how valuable this park is and is taking every measure to minimize impacts to the areas of higher quality and utilize areas in poor condition for spoils and restoration efforts.
Spoils (sediment and debris) excavated from pond to ensure ecological impact to area is minimized
Tree survey conducted to identify tree species and whether they are dead, fair or poor in health
Areas with higher percentages of non-native plant species identified
Spoil zones directed to low value tree, understory plant, and habitat areas
Removed plants replaced with native species that provide better habitat and food sources for wildlife
Anticipated Length of Construction
Once State and Local Permits are acquired and a qualified contractor is selected, the project is anticipated to take four to six months to complete, pending favorable weather and site conditions. The construction area will be limited to the pond area, with occasional recreation path closures for equipment access from Brandonway Drive.  The paths will be open for use during most of the construction timeline.
The most up to date design plans and presentation renderings can be found here.
For additional information or questions regarding the plans for this project, please contact Landscape Architect Shawn Krawetzki at 614-410-4707 or skrawetzki@dublin.oh.us.
Public Meeting Presentations
Public Meeting Q&A – March 7, 2018
Q. Why maintain the 3:1 slope below the safety shelf? Couldn't you make it steeper/deeper past that point?
A. The main reason is that the slopes will be more stable over time. Steeper slopes, particularly underwater, may slump over time. The 3:1 slope helps to maintain slope stability, reduce erosion, and reduce long-term maintenance needs. We can still reach an acceptable pond depth with these slopes. Secondly the more gradual slope is a safety factor so that if someone fell into the pond, there is a gradual slope for them to recover on.
Q. Will you stock the pond with fish after construction?
A. Yes, Dublin plans to stock the pond after the project has been completed and the site has begun to re-vegetate.
Q. How does the pond fill with water?
A. This pond was constructed along a natural drainage way, and it fills primarily from direct precipitation and surface water runoff. Groundwater may also contribute as a minor water source. Excess water releases through an emergency spillway at the north end of the man-made levee.
Q. Is this pond a natural feature?
A. No. The berm bordering the southeastern edge of the pond indicates this pond was man-made, likely created by a farmer to serve as a water source (to irrigate crops, provide water for emergency fire suppression, or as a drinking source for cattle, etc.). In its original state (post-glaciation), it was likely a wetland in the uppermost portion of the watershed, where a stream channel was just beginning to form.
Q. What is done with the spoils?
A. Spoils will be methodically deposited around the park in areas of low ecological quality. Many of these areas are currently choked with invasive species, and/or are occupied by ash trees that have been killed by the emerald ash borer. Depositing spoils in these areas offers an opportunity to re-vegetate these areas with native species typical of forested communities. In more open areas, we may also consider planting flowering prairie species to encourage pollinators.
Q. Will there be a fountain? I prefer a more natural pond.
A. No. The intent is for this pond to look and function as a natural pond. Any maintenance is expected to be minimal, and focused on the control of invasive species and adaptive management to ensure the success of the project and long-term health of the pond ecosystem.
Q. Is the intent to make this a major attraction within the Dublin park system? We do not want this park to attract a lot of visitors.
A. The enhancements we are proposing for this pond may result in some increased usage, but Dublin does not intend to drive traffic to the park or add significant infrastructure that would attract or accommodate large crowds. Instead, the goal is to improve the overall ecological functioning and health of the pond so that the community can continue to enjoy the park for years to come.
Q. Why do anything at the pond? We want this park to remain natural.
A. The primary goal of this project is to improve overall ecological functioning. There are no plans to increase paved trails, create new areas covered in turf grass, mow around the pond, etc. The re-vegetation efforts following construction activities will set the pond on a path of recovery that will return it to a natural state fairly quickly.
Q. Will the drainage of water from the pond change?
A. The current water level of the pond is intended to remain the same, with no modifications to the elevation of the spillway. In other words, once the pond refills, water draining from the pond should remain essentially the same.
Q. Will condition and cleanliness of trails be maintained during and after construction?
A. Yes. This is written into the specifications for all projects of this nature.
Q. What is the timeline?
A. The plan is for construction to take place in fall of 2018 (during the driest part of the year), followed by planting in spring of 2019.
Residents are invited to submit feedback directly to Shawn Krawetzki, Landscape Architect at skrawetzki@dublin.oh.us before noon on Monday, March 12.
About Brandon Park
Located at 7800 Brandonway Drive and nestled in the middle of the park and between the Brandon, Woods of Dublin, Tree Tops of Brandon, and Bristol Commons Subdivisions. This naturally wooded area, observation/fishing dock, pond, and walking trails provide an accessible oasis of natural ecosystems amongst these subdivisions. This project will enhance the existing pond by enlarging, deepening, and benching areas to create a variety of aquatic ecosystems. These ecosystems will promote the ability of the pond to sustain aquatic life and give the community a place to enjoy an enhanced park experience.