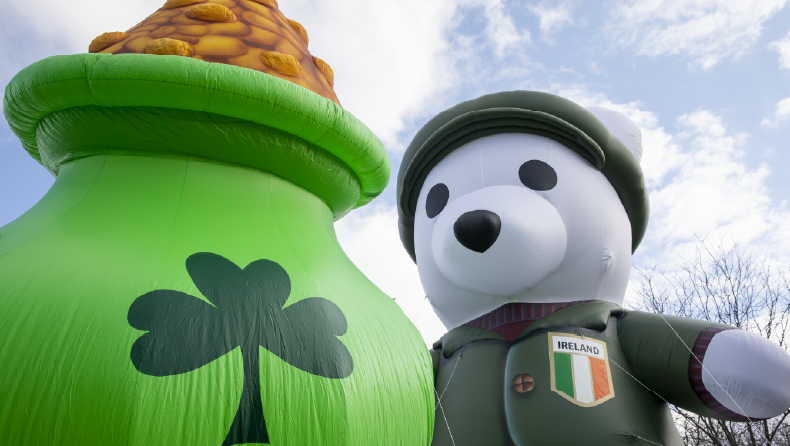 Following the cancellation of the City of Dublin's St. Patrick's Day Parade due to freezing temperatures and high winds, the City will host a community celebration on St. Patrick's Day, March 17, when the forecast is more favorable.
The Dublin St. Patrick's Day Family Celebration will take place from 4:30-7 p.m. at Coffman Park, 5200 Emerald Pkwy, near the Coffman Park pavilion and amphitheater.
Dublin St. Patrick's Day Family Celebration
Thursday, March 17
4:30-7 p.m.
Coffman Park, 5200 Emerald Pkwy
The free family-friendly event will include parade balloons and floats on display, equestrian units, bands, Irish dancers, interactive games, food trucks and giveaways.
Current Grand Leprechauns Keiko and Yoshihiro Hidaka will be in attendance as well as former Grand Leprechauns and the Dublin Irish Festival Honorary Chair Jason Liu.
"We want to thank the Dublin community for welcoming this alternate event as another unique way for Dublin to celebrate Irish heritage and culture," Director of Community Events Alison LeRoy said.
While this celebration is not a parade, there is still plenty of fun to be had with parade sponsors and participants set up in Coffman Park ready to bring the Irish spirit to all.
Here are some experiences that the community can plan to see:
Axe throwing experience with Throw Nation
Soccer skills with Dublin Soccer League
Touch a fire truck from Washington Township Fire Department
See a Dublin Police vehicle up close
Aerialist and other strolling entertainment from Amazing Giants
A favorite Dublin Irish Festival tradition, the Wishing Tree, returns for this special event. This ancient Irish tradition welcomes visitors to write a wish and tie it on the Wishing Tree.
Parking will be available at the Dublin Community Recreation Center, 5600 Post Rd.
Drivers should be aware that a portion of Coffman Park Drive will be closed beginning at 4 p.m. and will reopen at 7:30 p.m. following the close of the event.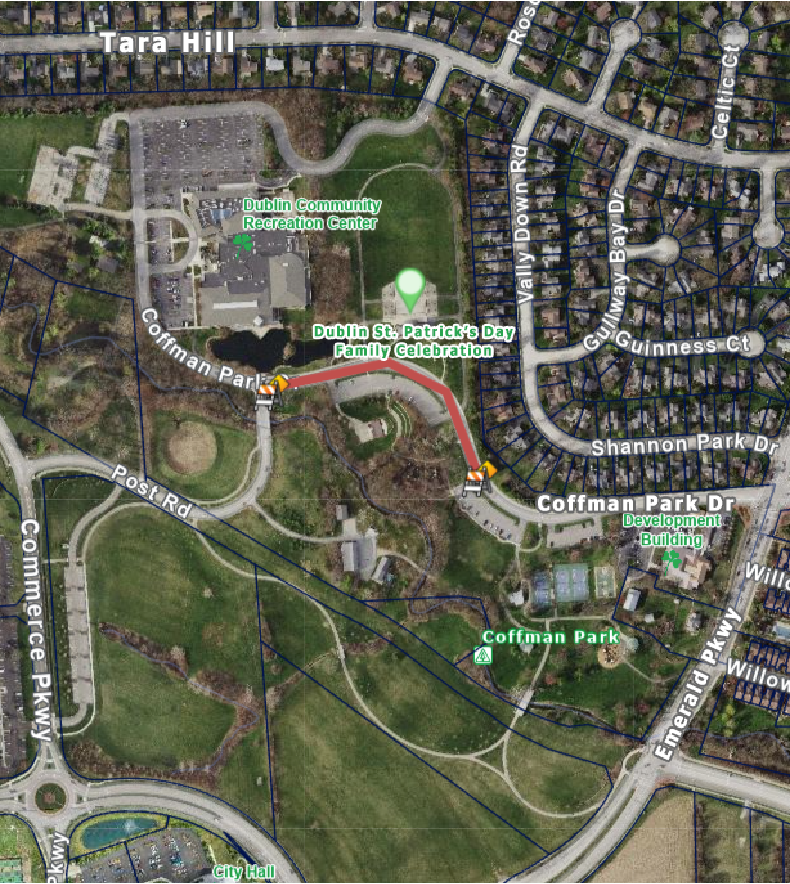 Other Fun Things To Do Around Dublin
St. Patrick's Day at Fadó Pub & Kitchen
The St. Patrick's Day at Fadó Pub & Kitchen will take place from 9 a.m. through 10 p.m. Thursday, March 17. Tickets are $20 per person. Enjoy live Irish music, dance, good eats and great drinks.
Only in Dublin: Dublin Village Tavern
For those looking to add a little Celtic flair to their visit to Dublin should look no further than Dublin Village Tavern. This Historic Dublin staple draws in residents and visitors alike with its stellar eats, historic charm and a little luck of the Irish that you can find only in Dublin.
Visit Dublin Ohio sits down with the manager of Dublin Village Tavern, Geri Ziemba and find out what makes Dublin Village Tavern such an iconic spot in Dublin, Ohio.
Irish Fairy Door Trail
For the young and young at heart, go on the hunt for fairies in Downtown Dublin! Visit Dublin Ohio recently updated their Irish Fairy Door Trail. There are 11 new fairies to find throughout Historic Dublin and Bridge Park. Along with new fairies, there are new Fairy Door Trail t-shirts available for those who complete the trail. Those who would like to participate can pick up a trail guide at Visit Dublin Ohio's Visitor & Information Center (9 S. High St.) to start their search for these magical creatures!
Celtic Cocktail Trail
Another way to get in the Irish spirit and stay warm during this cooler weather is to go on the Celtic Cocktail Trail around Dublin! Enjoy craft cocktails with an Irish twist at 18 unique destinations to redeem great prizes. Simply download your pass and you're ready to go!
Plus, there are plenty of great places to dine, shop and play in Downtown Dublin both in Bridge Park and Historic Dublin. We encourage the community to celebrate St. Patrick's Day any day in Dublin, Ohio, USA.
#
Media Contact:
Shirley Blaine
Public Information Officer
614.230.4683 – Cell
614.410.4523 – Desk
sblaine@dublin.oh.us
Newsroom: https://dublinohiousa.gov/newsroom/