(Dublin, Ohio) — After sending a delegation of City officials to Dublin, Ireland, the City of Dublin, Ohio, and its namesake have renewed their friendship city status — just in time for St. Patrick's Day.
On March 15, Mayor Jane Fox met with Dublin, Ireland's Lord Mayor Caroline Conroy to sign the friendship agreement at the Mansion House, the lord mayor's residence. Fox was also joined by the City's Community Events and Communications & Public Information division directors. Dublin City Council approved this agreement in December, and this visit by the Dublin, Ohio, delegation made it official.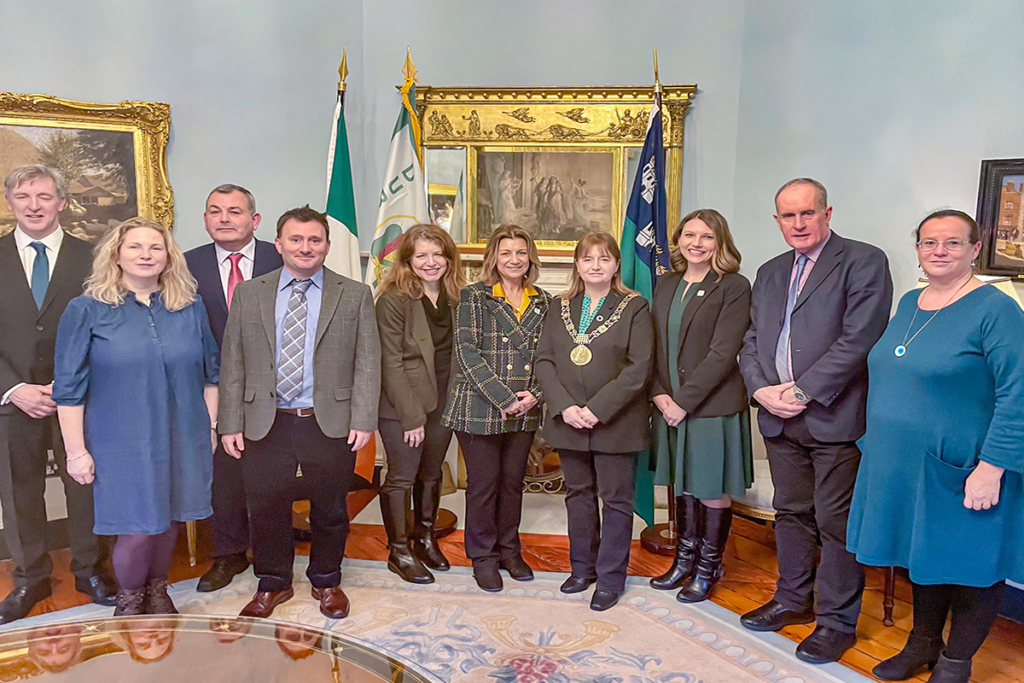 The two communities are continuing their longstanding partnership in order to find areas of future cooperation, address common goals, and deepen the alliance between the cities that proudly share a name. Their renewed declaration of friendship and cooperation will be active for four years, building on a previous agreement that has linked the cities since 2017.
"Cultivating new and renewed friendships with our neighbors, both near and far, is important now more than ever," Mayor Fox says. "Agreements like these help us remember that our communities' culture and values are at their best when shared with others. We hope by furthering our international relationship with the people of Dublin, Ireland, we can strengthen our own inclusivity as a global city of choice."
The partnership also highlights Dublin's Irish roots. In 1810, the then-village of Dublin was named for the land surveyor's homeland of Dublin, Ireland. To this day, Irish culture is celebrated with the City's annual St. Patrick's Day Parade and the Dublin Irish Festival, the largest three-day Irish festival on the planet.
Friendship city opportunities for learning and exchange of views include
Working toward achieving a green, low-carbon city
Continuing to grow a robust and diverse economy
Enhancing partnerships to support exchanging cultural arts
Supporting and engaging active, inclusive communities
Dublin residents who travel to Dublin, Ireland, are encouraged to serve as goodwill ambassadors of Dublin, Ohio.
The City of Dublin also holds a friendship city partnership with Mashiko, Japan, which was made official in 2015.
About the City of Dublin, Ireland
A city of 1.2 million, Dublin, Ireland, also includes a large student population as the region is home to five universities. Its service-driven economy, strong startup ecosystem and numerous research centers fuel innovation and quality of life. Dublin City Council has 63 democratically elected public representatives. The role of these councillors is to create the policy framework which the city operates within. Learn more from the city's visitors bureau. Lord Mayor Caroline Conroy, who has elected as mayor in 2022, has focused on sustainability and transportation issues while serving on the Dublin City Council.
About the City of Dublin, Ohio, USA
Dublin is a city of around 50,000 residents located just northwest of Columbus, Ohio. It offers residents and corporate citizens responsive services, attractive housing, superior public education, direct regional highway access, abundant park space, thoughtful and strategic planning, innovative ideas and technology and a dynamic community life. Dublin is consistently ranked one of the safest cities in the nation. It is home to more than 20 corporate headquarters, an entrepreneurial center, 4,300+ businesses, world-class events and the urban, walkable Bridge Street District.
#
Media Contact:
Rebecca Myers
Public Information Officer
614.381.5225 – Cell
rrmyers@dublin.oh.us