Reflecting on the past year, the Dublin Police Department designated the 2022 Officer, Civilian Employee and Volunteer of the Year honors as well as recognized accolades for service and life-saving measures taken by officers and 911 dispatchers.
On March 8, Chief Justin Páez, Deputy Nick Tabernik, Deputy Chief Greg Lattanzi and members of the Dublin Police Awards Committee honored several groups of employees from the agency.
2022 Officer of the Year Recipient: Officer Eric Boulware (pictured above)
Nominees: Officers Eric Boulware, Andrew Kinzel, Joe Popson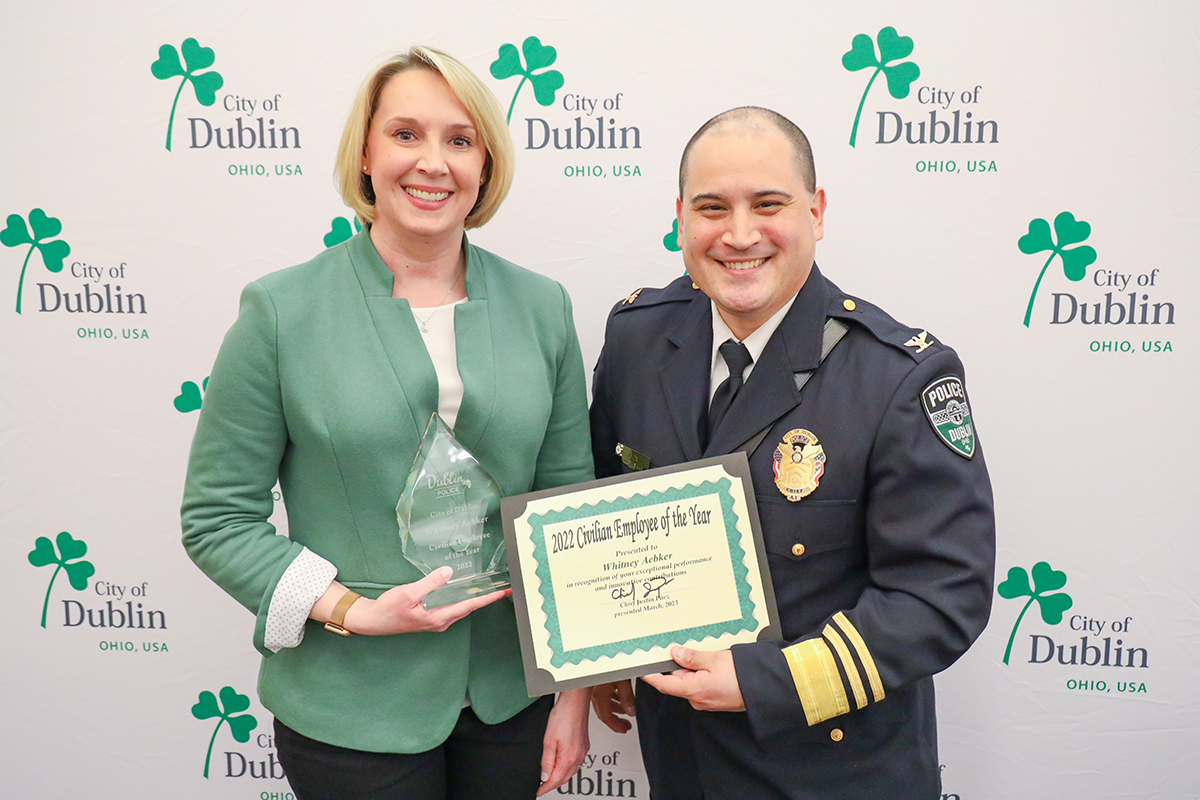 2022 Civilian of the Year Recipient: Human Resources Business Partner Whitney Aebker
Nominees: Human Resources Business Partner Whitney Aebker, Communications Technician Portia Algie, Records Technician Linda Richey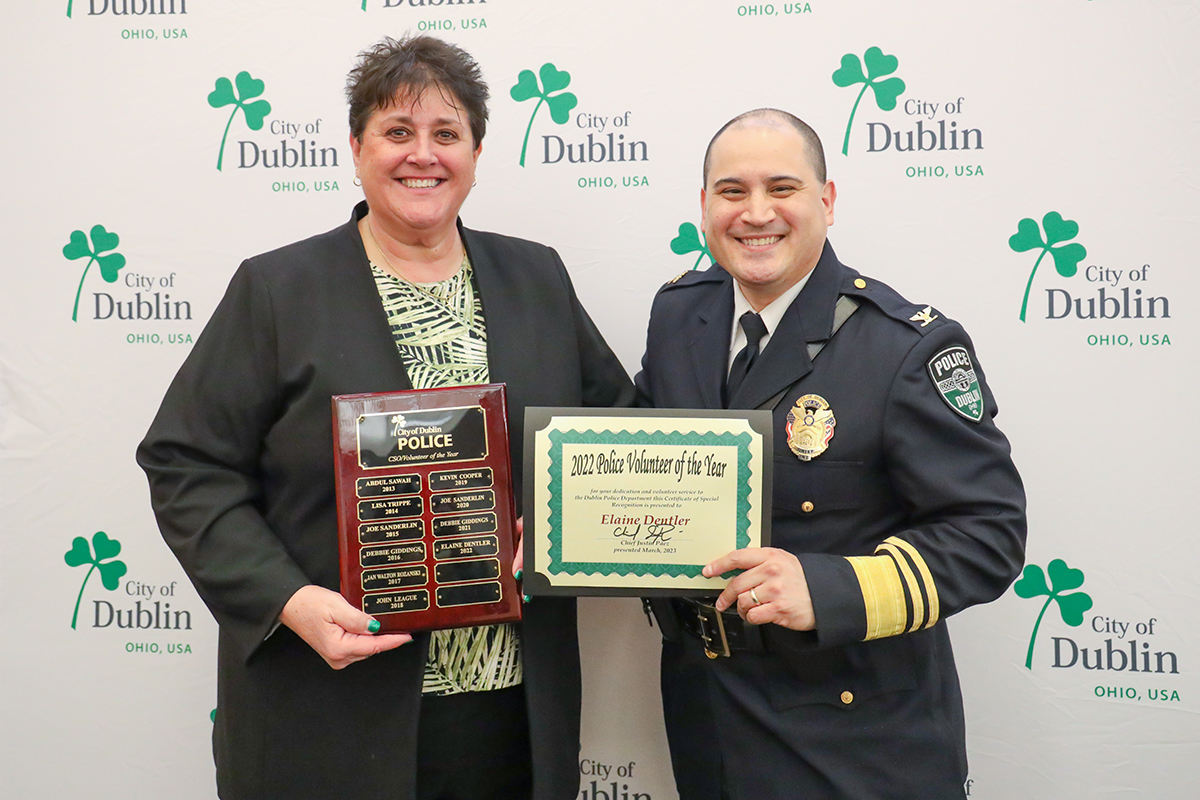 2022 Volunteer of the Year Recipient: Elaine Dentler
Nominees: Elaine Dentler
2022 Service Awards
Certificate of Merit: Communications Technician Jessica Johnson for exceptional teamwork during a fire 
Life-Saving Awards: Sergeant Alex Carlson, Officer Joseph Jones (NarCan use and CPR); Officers Mathew Keehl, Andrew Maddox (NarCan use); Officer Andrew Kinzel (water rescue); Communications Technician Kris Harris (giving instructions to a trapped fire victim); Communications Technicians Anna Hinderer, Judith Hummer, Lennie Hunt (giving CPR instructions); Communications Technicians Lennie Hunt, Jordan Schumacher (efforts to locate a person experiencing suicidal thoughts)
Exceptional Service Awards: Communications Technician Zach Hungler (efforts to locate a victim of child abuse); Communications Technician Caitlynn Wood (NRECC mapping application); Communications Technicians Kate Cutrer, Angie Flesher, Judith Hummer, David Mason, Jessica Posey, Megan Schiff (efforts to locate a missing person)
2023 Longevity Awards
25 Years — Communications Technician Chris Burkhardt, Communications Technician Barbi Conaway
20 Years — Chief Justin Páez, Detective Andrea Shull, Investigator Dave Jaeger, Officers Eric Cochrun, Phillip Hetzel, Jeremy Miller, Chad Patrick, Communications Manager Amy Heger, Communications Technician Ben Karns
15 Years — Communications Manager Stephanie Skipworth
10 Years — Corporals Andrew Clark, Devin Howard, Detective Steve Borton, Communications Technicians Rita Distelhorst, Jessica Posey, Professional Standards Coordinator Lynn Odenthal
5 Years — Corporal Ian Kovacs, Detective David Aronovic, Officers Larry Gatton, Andrew Kinzel, Luke Sinclair, Communications Technician Lennie Hunt
2 Years — Officer James Williamson, Communications Technicians David Mason, Jordan Schumacher, David Strominger, Records Technician Sherrie Yoakam
Public Safety in Dublin
The Dublin Police Department is dedicated to protection, service and public safety in partnership with the community. Learn more at YourDublinPolice.org.
#
Media Contact:
Rebecca Myers
Public Information Officer
614.381.5225 – Cell
rrmyers@dublin.oh.us
Newsroom: https://dublinohiousa.gov/newsroom/