Did you know the City of Dublin has a "No peddlers/solicitors" ordinance? The ordinance is managed and enforced through Dublin's Code Enforcement office.
The City's ordinance states:
No person shall engage in the business or activity of peddler or solicitor or acting on behalf of a 501C charitable organization in the City of Dublin without first obtaining a license through the Code Enforcement Office.
No person acting as a canvasser to disseminate a lawful message, (political or religious) and not soliciting funds or donations is required to register with the City of Dublin.
No person or organization shall peddle, solicit or conduct market research in the City of Dublin prior to 9 a.m. or after 9  p.m. or on any Sunday or Holiday.
Companies such as roofing or cable providers seeking to solicit business for their products or services must obtain a license through the City's Code Enforcement office.
Active solicitor licenses are as follows:
Moxie Pest Control (through August 13)
Who may solicit without a license? Religious organizations and political campaigns that are providing information only and are not soliciting donations.
Door/window clings in white/clear are available for residents at City Hall. Call 614.410.4400 or stop by City Hall, 5555 Perimeter Drive.
The City of Dublin has a "no peddlers/solicitors" ordinance, which prohibits peddling or solicitation on behalf of a business or charitable organization without first obtaining a license through Code Enforcement.
Solicitors
Your permit must be displayed at all times while soliciting in the City of Dublin. The Dublin Police Department will be given a copy of each solicitor badge and the expiration date for each permit.
Obtaining a Permit to Solicit Door to Door
Complete an online application. Instructions can be found here.
Upload BCI background check
Pay $110.00 by cash, check or credit card
Once you have submitted your application, filled in all the requested personal information, uploaded your BCI background check (valid for one year from date listed on your background check)  driver's license, and paid your fee, our Code Enforcement Office will receive and review your application.
Permits are valid for 30 days. Each person soliciting must have a badge. Hours for permitted solicitation are Monday through Saturday, excluding holidays, from 9 a.m. – 9 p.m.
All Solicitors Must Honor "No Peddlers or Solicitors Invited" Stickers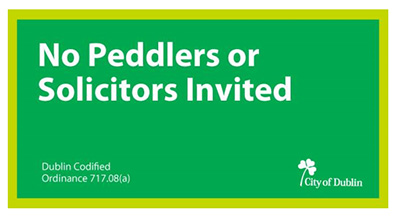 Use Common Sense
Do not ring a doorbell of a house that has posted a sign that says, "sleeping baby."
Do not repeatedly ring a doorbell. There may be a young, sick or elderly person at home alone.
Do not solicit after dark.
Do not solicit to children.
Know that "no" means "no."
Your badge may be revoked if you are reported.
Homeowners
Approved solicitors are required to prominently display their City of Dublin Peddler/Solicitor Identification Badge.
If someone approaches your home and does not have the official Peddler/Solicitor Identification Badge, you may call the City of Dublin Police non-emergency number (614.889.1112) and report a non-approved solicitor in your neighborhood.
Questions or concerns? Call Greg Jones, Code Enforcement Supervisor, at 614.410.4647.