Phase 2: A public meeting for Phase 2 of this project was held Tuesday, Aug. 22, 2023.  Download the Presentation
As part of the Downtown Historic District beautification efforts, the City of Dublin will relocate the overhead utility lines (AEP and telecommunications) underground. Burying lines eliminates fire hazards, accidents, safety risks, and power outages due to downed lines.
Work Status
Utility burial project consisting of relocating overhead utilities to underground duct banks
Boring utility services to residences and businesses within project area
Beginning underground conversions in the week of Sept. 18. 
Traffic Impact
Lane restrictions around Mill Lane, Franklin Street,  Sells Alley and John Wright Lane for utility conduit work
The utility burial project will be completed in two phases:
Phase 1 project area is Bridge Street to the north, Short Street to the south, Franklin Street to the west and the west side of South High Street to the east.
Phase 2 project area is Bridge Street to the north, Short Street to the south, east side of South High Street to the west and south of South Riverview Street to the east.
All overhead utility lines and poles will be removed at the completion of these projects.
The City of Dublin is working with consultants Korda/Nemeth Engineering to design and coordinate the project and installation process, as well as Horner Appraisal and MS Consultants to acquire certain utility easements necessary for the project.
The South High Street Utility Burial Phase 1 Project will include:
Installing new underground distribution lines along Franklin Street, Mill Lane and Sells Alley for AEP and all existing telecommunication services.
Much of the underground conduit in areas outside of the roadway will be installed utilizing horizontal direction drilling (HDD) to minimize disturbance and inconvenience.
Most areas within the roadway of Franklin Street, Mill Lane, and Sells Alley will need to be installed by excavating a trench to locate and avoid existing underground utilities during the utility burial process.
New underground conduits will be installed utilizing HDD for individual service laterals to homes and businesses within the area. A representative from the City of Dublin will contact affected properties to coordinate the installation of the conduit and discuss the transition of the electric and telecommunication services to underground in 2023.
The transition from aerial to underground service will require access to affected properties for installation of conduit to buildings, modification/replacement of meter boxes, and removal of existing overhead service lines. A licensed electrician hired by the City of Dublin will make the electrical conversion at each affected property.
Your current telecommunication company will contact property owners to coordinate transition of phone, internet and/or cable transition from the overhead line to the new underground line.
There will be no cost to the property owners for the transition of existing overhead connections to the new underground system.
Restoration of landscape areas disturbed by the project will be completed at no cost to the property owner.
A separate project will perform resurfacing on impacted streets after the Utility Burial Project is complete.
Timeline:
Phase 1 will begin October 2022 and finish in October 2023
Phase 2 will begin Summer 2023 and finish in Spring 2024
Spring 2024 – Removal of utility poles on South High Street
This schedule is subject to change.
Utility Phasing Map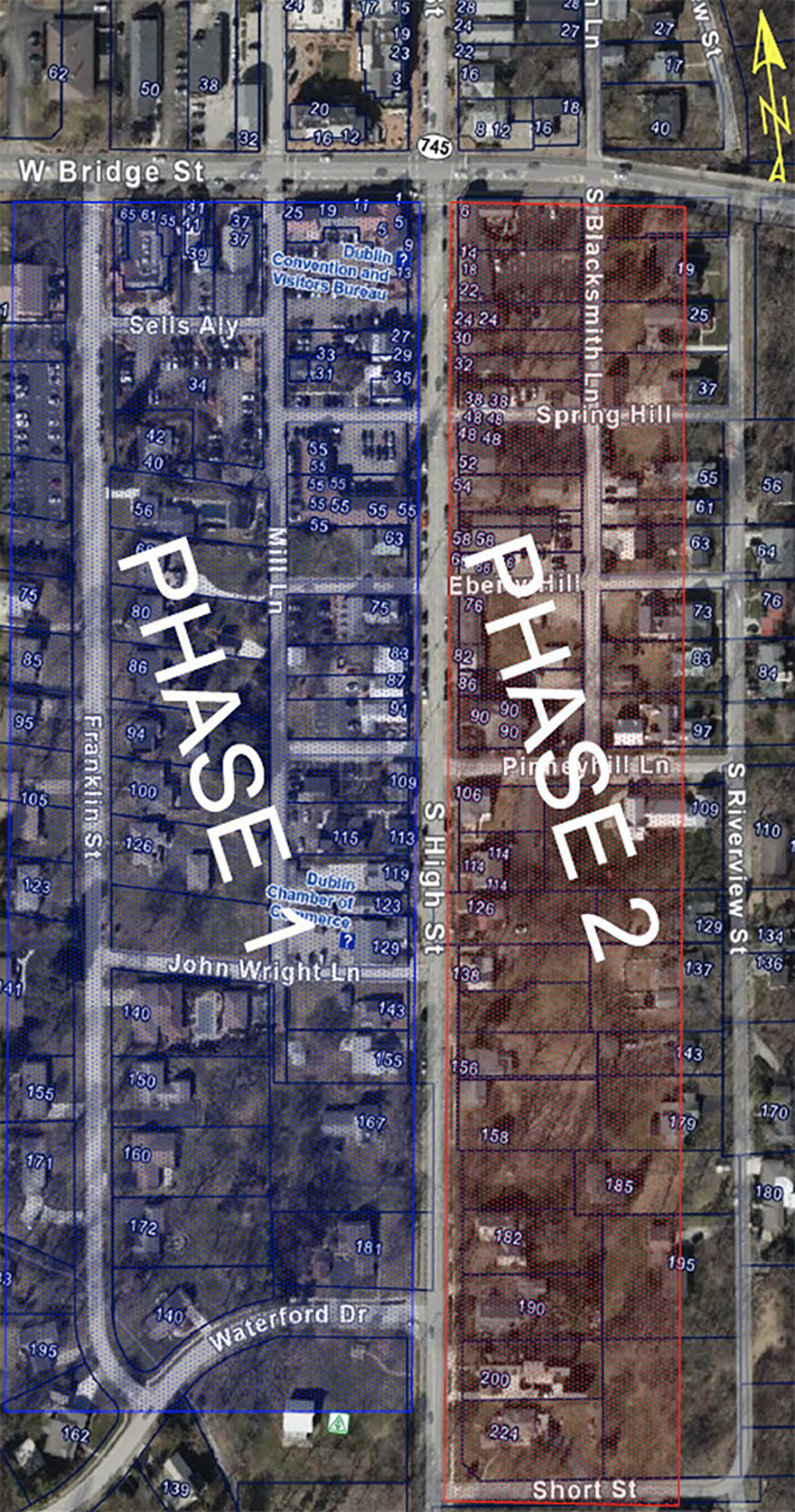 How will I be affected during construction?
Access to the street, and individual driveways, may be obstructed temporarily during construction. Some streets may be closed to through traffic for a short period of time. All efforts will be made to minimize closures and coordinate access.
Affected properties will be requested to provide access to buildings for the new electric connection to service panels. Power will be briefly interrupted during the aerial to underground conversion process (1-3 hours).
Each property's current telecommunication company will coordinate with each service for the installation and transition of your current overhead service to the new underground service.
What about other city services?
There will be no changes in your emergency services. The police and fire departments will be notified of all traffic restrictions. All lawn waste, garbage and recyclable collection will continue according to their normal pick-up schedules unless you are advised otherwise.
If you have any concerns throughout the process, please contact:
Brian Gable, PE, Deputy Director of Engineering – Design and Construction, at 614-410-4641 | bgable@dublin.oh.us
or
Beth Hugh, Korda Engineering at 614-643-1194 | beth.hugh@korda.com
We will be working diligently to make the installation and transition as smooth as possible.