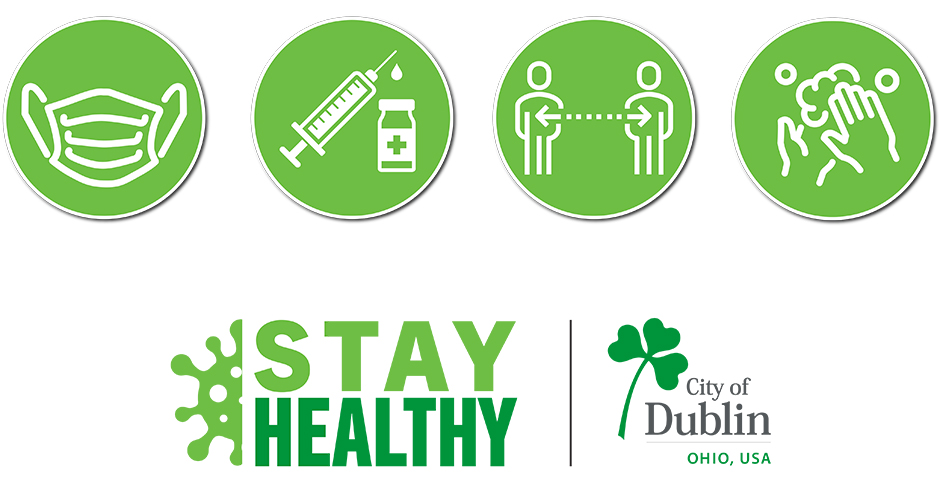 COVID-19 Update
At this time, Franklin County has been ranked a high transmission area for COVID-19 by the CDC. That means masks are recommended indoors and in crowded areas regardless of vaccination status. Starting Aug. 5, Franklin County Public Health has issued a mask advisory until further notice recommending everyone wear a mask indoors and in crowded areas regardless of vaccine status to stop the spread of COVD-19 and the Delta variant.
Safety Recommendations
Get vaccinated!
Vaccinated and not vaccinated people are strongly encouraged to wear a face covering while indoors and in crowded spaces (both indoors and outdoors).
Practice physical distancing from people who do not live in your household.
If you are sick, please stay home. Monitor your health daily.
Wash hands frequently with soap and water or use alcohol-based sanitizer.
Cover your coughs and sneezes.
Things to Know
The City of Dublin will continue to follow federal, state and local guidance.
Ohioans age 12 and older are eligible for a vaccine: gettheshot.coronavirus.ohio.gov
Vaccines are being administered by physicians, local health departments, hospitals, federally qualified health centers, in-home health service providers and some retail pharmacies. Eligible people are encouraged to

first ask their health care provider if the provider is administering vaccinations;
use a local pharmacy or county health department to receive a vaccination.

An individual is considered fully vaccinated two weeks after their second dose of a Pfizer or Moderna COVID-19 vaccine or two weeks after the single dose of the Johnson & Johnson vaccine.
Learn about myths versus facts regarding COVID-19 vaccines from the Ohio Department of Health.
COVID-19 Testing Available in Dublin — Dublin's Drive-Thru Testing Site is now reopen
The City of Dublin lifted the City of Dublin's state of emergency June 18, 2021.
Franklin County Public Health
Franklin County Public Health (FCPH) is the City of Dublin's health agency.
For Dublin residents, there are many providers available to distribute the vaccine.
Check the Franklin County Public Health website for updates on the next clinic; there are many walk-in clinics available.
Free child care is available during a person's vaccination in Franklin County.