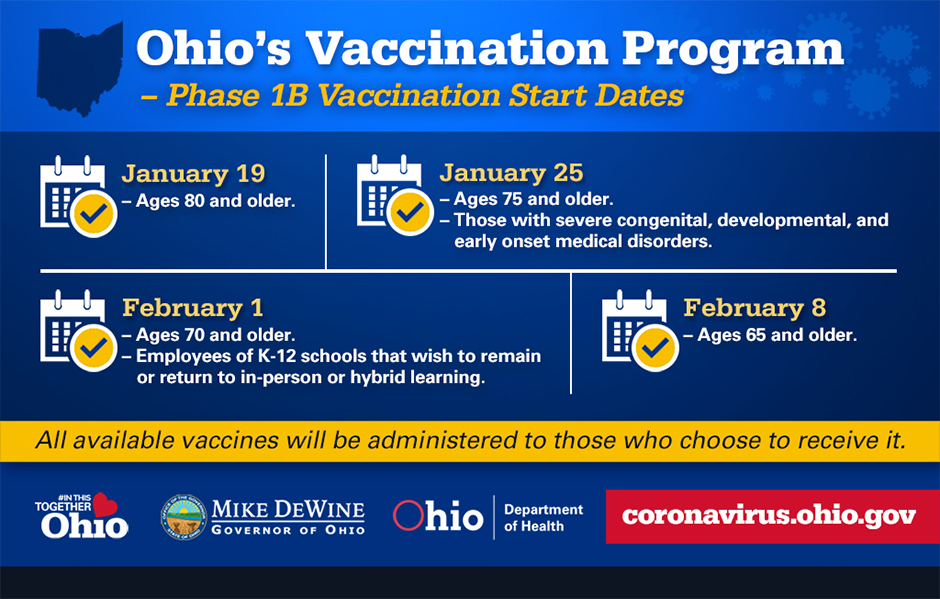 COVID-19 Vaccines
Phase 1B of Ohio's COVID-19 vaccination program started Jan. 19. This phase began with vaccinating people 80 years and older and will eventually include people 65 years and older.
The vaccine supply is very limited.
Vaccines will be administered by physicians, local health departments, hospitals, federally qualified health centers, in-home health service providers, and some retail pharmacies. Eligible people are encouraged to

first ask their health care provider if the provider is administering vaccinations;
use a local pharmacy or county health department to receive a vaccination;

On Jan. 15, the Ohio Department of Health announced a statewide list of vaccine providers by county.
Franklin County Public Health
Franklin County Public Health (FCPH), the City of Dublin's health agency, began Phase 1B of the state's phased vaccination program Jan. 20.
In Franklin County, there are many providers available to distribute the vaccine.
Starting Jan. 21 by appointment only, FCPH will administer vaccinations

 

for individuals 75 years and older.
FCPH encourages residents to check with their primary care provider and hospital system first as that may be a more convenient option. There are only 1,200 scheduled spots for the week of Jan. 25.
Eligible people (or people scheduling on their behalf) may make an appointment with FCPH starting Jan. 21 from 1 to 4 p.m.
For eligible people with an appointment, vaccines will be administered at

1700 Morse Road, Columbus, 43229

.
Eligible Dublin residents, regardless of the county they reside in (Franklin, Delaware or Union), can use Franklin County Public Health department for vaccines (based on supply and appointment). Dublin residents in Union County or Delaware County can also contact health departments in those counties for vaccine availability.
The Franklin County and Columbus Medical Reserve Corps is dedicated to establishing teams of local volunteer medical, public health and other professionals to contribute their skills and expertise during times of disaster and public health emergency, as well as throughout the year for community health promotion.

Latest Orders
 

and Advisories