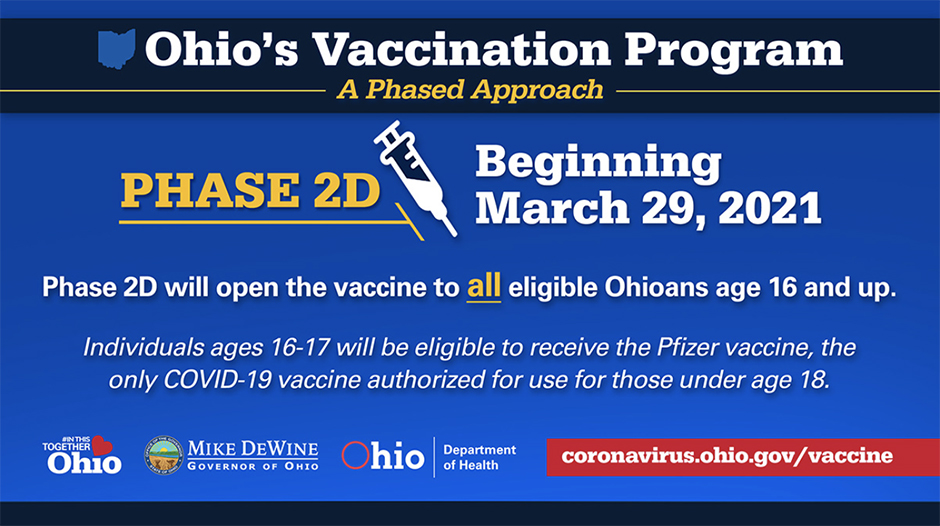 COVID-19 Vaccine Update
Ohioans age 16 and older are eligible for a vaccine.
Vaccines are being administered by physicians, local health departments, hospitals, federally qualified health centers, in-home health service providers and some retail pharmacies. Eligible people are encouraged to

first ask their health care provider if the provider is administering vaccinations;
use a local pharmacy or county health department to receive a vaccination.

Visit gettheshot.coronavirus.ohio.gov to find out if you are eligible to receive a COVID-19 vaccine and to book your appointment.
Regarding mass vaccination sites, Governor Mike DeWine has announced 11 stationary sites and four mobile clinics that will travel throughout specific regions of the state.
Dublin's drive-thru COVID-19 testing site, 475 Metro Place South, closed March 31. This site was in partnership with Clinical Lab Consulting, Lucid Diagnostic Labs and Franklin County Public Health. There are other testing locations available in Dublin.
Governor Mike DeWine has announced Ohio will begin to vaccinate all college students who want the vaccine. His office also said the state will start working with businesses, labor unions and other groups to provide vaccinations to employees at their work locations.
Governor Mike DeWine has announced that he has asked Ohio's local health departments and vaccine providers that are offering the Pfizer vaccine to coordinate with local high schools to offer vaccinations to high school students who are 16 or older. Pfizer is the only vaccine that is currently approved for children as young as 16.
Amended Order for Social Distancing, Facial Coverings and Non-Congregating

Six feet of separation between tables at restaurants, drinking establishments and banquet facilities must be maintained unless there is a physical barrier between them.
Other than the facial covering requirements, the social distancing, congregating, and capacity requirements of the order do not apply to religious observances and First Amendment activity, including activity by the media, as has been the case since the beginning of the pandemic.
The K-12 mask requirement mandate remains in effect and unchanged.
Franklin County Public Health
Franklin County Public Health (FCPH) is the City of Dublin's health agency.
For Dublin residents, there are many providers available to distribute the vaccine.
Check the Franklin County Public Health website for updates on the next clinic.
Delaware, Union and Franklin counties remain under a Red Alert Level 3 on the Ohio Public Health Advisory System.
Continue to be vigilant and follow social distancing and mask wearing protocols to continue the fight against COVID-19.
For updates, please go to FCPH and/or the Ohio Department of Health.
Learn about myths versus facts regarding COVID-19 vaccines from the Ohio Department of Health.
The Franklin County and Columbus Medical Reserve Corps is dedicated to establishing teams of local volunteer medical, public health and other professionals to contribute their skills and expertise during times of disaster and public health emergency, as well as throughout the year for community health promotion.

Latest Orders
 

and Advisories