2022 Eid ul-Fitr
Description:
Did you know that today marks the end of one of the biggest celebrations of the year in Islam?
For the past month, Muslims have been fasting every day from dawn to sunset as part of the holy month of Ramadan. So why do we fast?
Fasting is one of the ways Muslims show spiritual discipline and contemplate our faith. It helps us build empathy for people in need and to be grateful for the gifts we have.
During Ramadan, we also offer our charity and generosity to others in our communities, and we concentrate on studying the Quran.
Although it sounds very serious, it is also a time of celebration and joy, to be spent with family and friends!
Today is Eid ul Fitr, a celebration that literally translates to the "Festival of the Breaking of the Fast."
People typically dress in their nicest clothes to pray at the Mosque, enjoy time and meals with their loved ones, and exchange gifts.
2022 Ramadan
Ramadan Mubarak! Meaning "Blessed Ramadan," this greeting is often shared during the holy month of fasting recognized by Muslims around the world.
This year, the month of Ramadan began with the sunset on April 1. The Muslim community started with the late-night congregational prayers called "Taraweeh," and the observation of fasting began before sunrise on Saturday morning. (It continues daily between sunrise and sunset.) The observance culminates on May 2 with Eid al-Fitr, meaning "festival of breaking the fast" in Arabic.
🟢⚪️ The Dublin Link will be lit green and white April 2, showcasing two colors that represent peace for many Muslims. Islam itself is rooted in the Arabic word "Salam," which also means peace.
Imran Malik, a member of Dublin's Community Inclusion Advisory Committee, shares how Ramadan is centered on core pillars of Islam: fasting and charity.
"The whole philosophy of fasting is that you are able to build your spiritual connection with your creator and then you can empathize when you are fasting," he says, noting how Muslims spend this month giving back to their communities to help address challenges such as food and financial insecurity.
Want to know more about Ramadan? Visit the Culture Corner hosted at the Dublin Community Recreation Center throughout April.
Welcome to the City of Dublin's Culture Corner! The City recognizes many holidays and cultural observances at the Dublin Community Recreation Center (DCRC) and on the City's social media channels. The selected holidays and observances are reflective of Dublin's diverse population.
Dublin is a global city. Census estimates (2017 American Community Survey) indicate 18.3% of Dublin residents are of Asian descent, the highest concentration of any Ohio city. Dublin is home to the second largest population of foreign-born residents in the state, with 17.9% of residents born outside the U.S. The top languages spoken in Dublin include Arabic, Chinese, Gujarati, Hindi, Japanese, Korean, Telugu and Urdu. Dublin City Schools is one of Ohio's most diverse school districts, with students from more than 70 countries speaking more than 60 languages.
The DCRC's Culture Corner is an activity table and bulletin board display celebrating and educating guests about a variety of holidays. Additionally, The Dublin Link pedestrian bridge may also be lit as part of the celebrations. View the lighting schedule for more information.
2022 Culture Corner Calendar
Feb. 1: Chinese/Lunar New Year
Jan. 17: Dr. Martin Luther King Jr. Day
February: Black History Month
March 18: Holi
April 1 to 30: Ramadan
All May: Asian American and Pacific Islander Heritage Month
All June: Pride Month
June 19: Juneteenth
July 7: Tanabata Festival
Sept. 10: Mid-Autumn Festival
Sept. 15 to Oct. 15: Hispanic Heritage Month
Sept. 25 to 27: Rosh Hashanah
Oct. 10: Indigenous Peoples Day
Oct. 24: Diwali
All November: Native American Heritage Month
Nov. 18 to 26: Hanukkah
Dec. 25: Christmas
Dec. 26, 2022 to Jan. 1, 2023: Kwanzaa
Culture Corner Displays
2022 Holi Celebration
Holi is the festival of colors! This celebration is pronounced "holy" and is recognized as a one of the most celebrated holidays in India and many other countries. It is celebrated on the full moon in March and is a symbol of spring. Celebrants wish one another a Happy Holi and put dry color (Gulal) on one another's faces. People also splash colored water on each other with water guns and water balloons.
There are various legends associated with the festival.
Prahlad and Hiranyakashyap
There was once a King Hiranyakshyap who demanded everybody in his kingdom to worship him, but his devout son, Prahlad, became a follower of Lord Vishnu. Hiranyakashyap wanted his son to be slayed. He asked his sister Holika to enter a blazing fire with Prahlad in her lap as Holika had a boon which made her resistant to fire. The story goes that Prahlad was saved by the lord himself for his extreme devotion and evil-minded Holika was scorched to ashes, for her boon worked only when she penetrated the fire alone.
Krishna and Gopikas
It is said that this is the day when Lord Krishna teased the gopikas (female cowherds) by throwing colored powders on them and this is how the tradition of Holi started. This day is also associated with divine playfulness that Krishna embodied.
Information shared by City of Dublin volunteers who celebrate Holi.
The Tanabata Festival display at the Dublin Community Recreation Center July 2 – 9, 2021.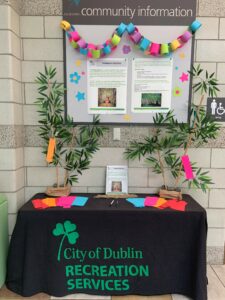 The Mid-Autumn Festival display at the Dublin Community Recreation Center Sept. 19 – Oct. 3. Dublin teens from the Ohio Contemporary Chinese School joined together to share their creativity and information on this special Chinese celebration.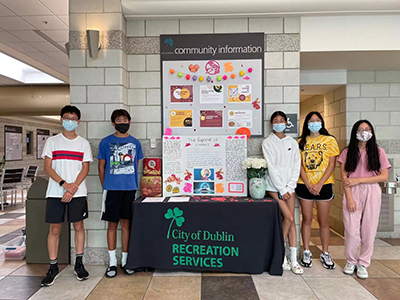 Our goal is to highlight a variety of holidays and cultural traditions to embrace Dublin's diverse demographic and create a sense of awareness and pride for the differences within our community.
Volunteer
Help celebrate Dublin's diversity by teaming up with volunteers and staff to create educational and creative displays highlighting the many cultural holidays celebrated in Dublin. The Culture Corner is on display at the Dublin Community Recreation Center as well as digitally on the City of Dublin social media sites. Email the City's Outreach & Engagement division at volunteer@dublin.oh.us to get involved.