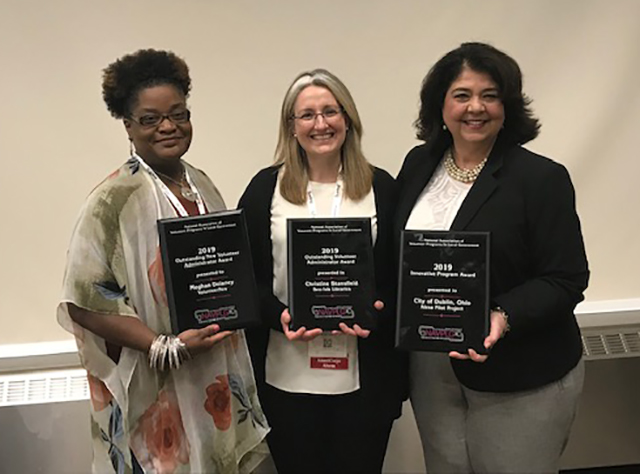 (Dublin, OH) The City of Dublin's Alexa Pilot Program received the Innovative Program Award from the National Association of Volunteer Programs in Local Government (NAVPLG) at their annual meeting June 18.
The program, which is part of the City's Forever Dublin Aging in Place initiative, was recognized for its unique way of implementing citizen volunteers.
Launched in June 2018, the program aims to help older residents better utilize technology. Participants were supplied Amazon Echo devices and matched with tech-savvy volunteers to help implement and troubleshoot the devices over a nine-month pilot period. The City partnered with local counseling center Syntero to identify willing participants.
"I ask Alexa all kinds of questions: the lottery numbers, when the games play, what was the score of the previous game, play podcasts," said Mary Bowen, a participant in the program.
Between June and December 2018, 100% of volunteers and senior participants reported that they felt great about their community and appreciated giving and receiving help from their fellow Dublin residents.
"We want to continue down this path to find innovative ways to connect residents to their fellow older adult citizens. Technology is a great way to do that, and we are looking forward to facilitating more ways to make this happen," said Christine Nardecchia, Director of Outreach & Engagement for the City.
About Forever Dublin
Forever Dublin is a partnership between the City of Dublin and Syntero aimed at providing resources for residents to make Dublin their forever home. Forever Dublin is a product of the City of Dublin's Aging in Place Plan, launched in early 2018. Reviewed by the Community Services Advisory Commission and accepted by Dublin City Council, the City's Aging in Place Plan is a strategic priority of City Council in planning for the future. The plan involves many aspects and future concepts, including mobility and transportation, housing, health and wellness. For more information and to view the City's Aging in Place Plan, visit dublinohiousa.gov/living/aging-in-place.
About NAVPLG
NAVPLG is an organization dedicated to fostering the spread of information, volunteer work, education and more at the local government level. The Innovative Program Award is given to local governments that creatively implement a service program where volunteers help to serve their community. The City of Dublin has been awarded the Innovative Volunteer Program Award in the past for Camp Project L.E.E.D.
Media Contact:
Claire Kudika
Communications & Public Information Intern
ckudika@dublin.oh.us
Newsroom: http://dublinohiousa.gov/newsroom/