Dublin residents are encouraged to sign up for the new ALERT Franklin County mass notification and warning system. The new county-wide system will be used to notify residents about emergencies and other important community news in all jurisdictions within Franklin County.
ALERT Franklin County enables officials to provide critical information directly to residents via text message, phone and email as emergencies happen.
This county system will supplement the Dublin Emergency Calling System, which will continue to provide localized alerts specific to Dublin.
Dublin Police suggest signing up for the weather alerts through the Dublin Emergency Calling System, as those alerts are automated and go out immediately after the National Weather Service issues a severe weather warning. If you are already signed up for the Dublin Emergency Calling System, you will remain registered. If not, you can sign up here.
Both systems are customizable and allow residents to choose what kind of community notifications they want to receive and how they would like to receive them.
Residents can elect to receive emergency notifications about severe weather and disasters as well as location specific information regarding crime alerts, road closures, transportation incidents, utility outages, government closings and other important community news.
Registering for ALERT Franklin County is quick and easy. Residents can sign up online at https://alertfranklincounty.org.
Individuals and businesses that have their information available in the white and yellow pages are already included in the ALERT Franklin County system and will receive emergency notifications through landlines only. Registering will allow you to customize your alert experience.
Together, the Dublin Emergency Calling System and ALERT Franklin County will provide an unprecedented level of emergency awareness for Dublin residents.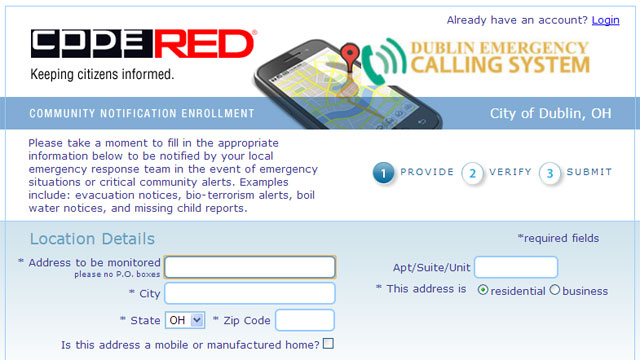 Dublin Emergency Calling System:
The Dublin Emergency Calling System automatically alerts residents and businesses in times of crisis, such as severe weather, hazardous materials spill, natural disaster, child abduction or homeland security threat. While most residents and businesses in Dublin are already in the City's system, signing up now confirms that you will be notified in case of an emergency.
Sign-up to receive Dublin Emergency Calling System Alerts
Established in 2005 – successfully serving Dublin residents for more than a decade
Localized alerts specific to Dublin
Automated weather alerts – immediate and efficient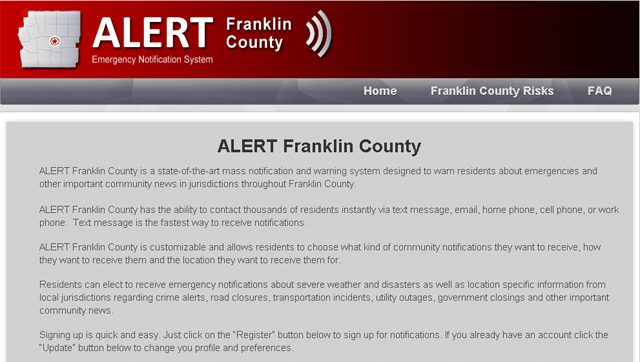 ALERT Franklin County:
Sign-up for ALERT Franklin County
State- of-the art system that will provide mass notification and warning services for all 42 jurisdictions in Franklin County
Interactive experience – call recipients have ability to request additional information or assistance
Notification via text message, email, cell phone, home phone, or work phone. Text message is the fastest way to receive notifications.
ALERT Franklin County FAQ | ALERT Franklin County News Release