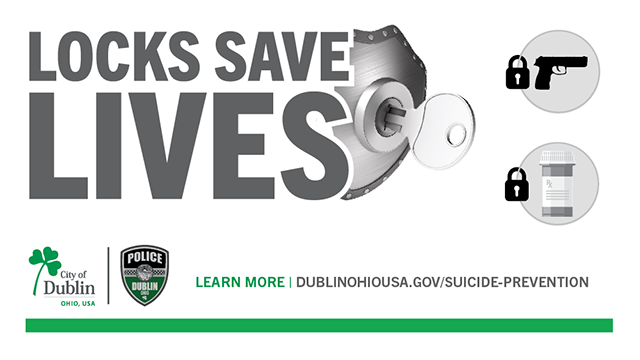 Preventing suicide needs community solutions. The City of Dublin and Dublin Police are committed to providing the community with the resources they need to prevent self-harm and suicide and feel empowered to ask for mental health support.
Locks Save Lives
The Dublin Police has partnered with Columbus Public Health to distribute lock boxes to help limit access to lethal means in homes.
Limiting access to lethal means, such as firearms and medications, is an effective way to save the life of someone who is experiencing a suicidal crisis.
Call the Dublin Police's non-emergency number: 1.614.889.1112 to ask for a lock box.
Follow these steps to help keep young people safe:
Connect Right Away
If your child or teen makes statements about death, dying, self-harm, harming another or makes an attempt to end their life or another person's life, listen and take ALL comments and attempts seriously and use these resources.
Call 911 for immediate medical or safety
Visit the nearest emergency room
Netcare Access for Crisis Assistance: 614.276.2273
Franklin County Suicide Prevention line: 614.221.5445
Franklin County Youth Psychiatric Crisis Line: 614.722.1800
National Suicide Prevention Lifeline: 1.800.273.8255
Closely Supervise Your Child
Provide close supervision of your child or teenager.
Observe and pay attention to any changes in mood and behavior
Keep bedroom doors open
Do not allow your child alone in any room without the door open
Do not allow your child to visit other homes unless there is close adult supervision
Talk with your child's school or workplace to discuss supervision and safety needs
Frequently check in on your child and let them know you are available to listen when ready
Safety-Proof Your Home
Reducing or limiting access to lethal means, such as firearms and medications, can determine whether a child or teen at risk for suicide lives or dies.
It is very important that all knives, firearms and ammunition be removed from the home. If that is not possible, lock these items and store ammunition in a separate place from the firearm.
Search your house and your child's room for any items that could be harmful (sharp objects, cleaning supplies, alcohol, belts, power tools, etc.).
Secure or remove ALL medications (Tylenol, Ibuprofen, vitamins, supplements, etc.).

"Out of Reach" is not enough in this situation; these items must not be accessible. It is possible that these items may need to be removed from the home for an extended period of time. A safety lock or lock box is recommended for all medication in the home.

Be conscious of other potentially harmful items in the home such as plastic bags, belts and cords of any kind (electric cords, window blind cords, etc.).
Do not allow your child to have access to a car without adult supervision. Take a teen's keys until necessary.