The City of Dublin is committed to preserving green space with its 60+ parks, encouraging bicycling with its 100+ miles of paths, reducing emissions with one of the greenest fleets in the nation—the list goes on. Dublin is truly home to environmental stewardship.
Here are several unique ways you can celebrate our planet throughout the month of April.
Earth Day Logo
Congratulations to Wyandot Elementary School student Inaaya on her winning 2021 logo design as this year's Earth Day Celebration logo!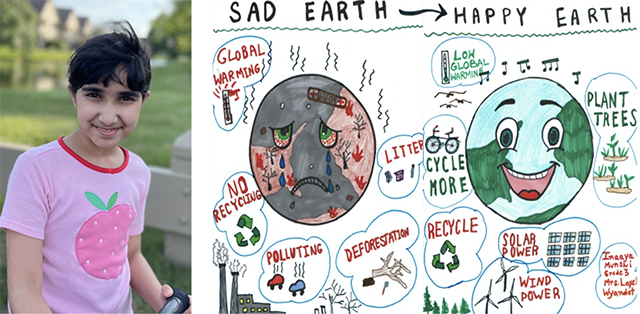 Description: Happy Earth Day!!! My poster shares the story of Happy Earth vs Sad Earth, I wanted to highlight how our actions as human beings make earth happy or sad. How planting more trees, recycling and use of renewable energies will help us to conserve precious natural resources for current and future generations and at the same time makes our Earth a Happy place.
Earth Month Giveaway
The City of Dublin. hosted a giveaway on its Instagram page @DublinOhio between April 6-12. Congrats to. @helloyudihtandgaby on winning an epic eco-friendly prize basket! This giveaway is made possible by the Downtown Dublin Strategic Alliance.
Earth Month Events
Document Destruction Day
Saturday, April 16, from 9 a.m. to Noon
City of Dublin Fleet Complex, 6351 Shier Rings Road
Document shredding services will be offered to City residents at no cost on this day.
Learn more.
Brandon Park Pond Planting Event
Saturday, April 23, from 10 a.m. to 3 p.m.
Brandon Park Pond, 7800 Brandonway Drive
Volunteers are needed (families welcome) to plant trees and shrubs around Brandon Pond. This is the final part of the Brandon Park Pond restoration project.
To sign up, please email volunteer@dublin.oh.us or call 614.410.4446.
Arbor Day Celebration
Saturday, April 30, from 9 a.m. to Noon
Tree planting at 10 a.m.
Belvedere Park
8055 Summerhouse Drive East
Please join the City of Dublin in celebrating Arbor Day in a fun community event! The City's forestry experts will be handing out free tree seedlings while answering everything you ever wanted to know about trees.
At 10 a.m., your City foresters will plant a tree in commemoration of Arbor Day while demonstrating good tree planting techniques. Volunteers from the crowd will be invited to help add soil around the tree's roots. You can also learn the proper way to prune and mulch trees in your yard, enter a raffle for a larger tree and discover the important role trees play in our community.
Come mingle with neighbors and enjoy light refreshments. This event will take place rain or shine.
Dublin Drug Take Back Event
Saturday, April 30, from 10 a.m. to 2 p.m.
Dublin Justice Center, 6565 Commerce Pkwy.
Help keep prescription and over-the-counter drugs out of our waterways and attend the Dublin Police's drive-thru Drug Take Back Event. This is part of the Drug Enforcement Agency's National Take Back events.
Learn more.
Household Hazardous Waste Collection Day
Saturday, May 7, from 8 a.m. to 2 p.m.
City of Dublin Fleet Complex, 6351 Shier Rings Rd.
The Solid Waste Authority of Central Ohio (SWACO) is hosting a household hazardous waste disposal event in Dublin.
Learn more.
Dublin Community Recreation Programs & Activities
Get outdoors this spring with the DCRC! You do not need to be a member to register. Click on each activity to learn more and to sign up.
River Ramblers (18+)
April 25, 6-7 p.m.
Amberleigh Park, $5/person
Bubbles in the Park (3-6 years)
April 29, 10-10:45 a.m.
Coffman Park, $5/person
View a complete list of April activities at the DCRC.
Keep Dublin Green Kits
Park clean-up kits are available for groups looking to give back. The kits include trash and recycle bags, gloves, safety vests, a scavenger hunt for kids, and even a selfie stick. To reserve a kit, please complete this form.
Collage: The Art of Recycling
On view at Dublin Arts Council
7125 Riverside Dr., Dublin
April 26 – June 2, 2022
Columbus, Ohio-based artist N. Penney Denning composes collages from recycled images that have had a previous life in old and new photographs, magazines and printed materials that arrive at her doorstep. She fits cut images together in irrational and quirky ways, removing them from their original context to give them a new and unique frame of reference. Denning's solo exhibition, Collage: The Art of Recycling, will be on view by appointment at Dublin Arts Council, 7125 Riverside Dr., Dublin, Ohio from April 26 through June 2.
Beginning April 15, schedule your appointment to view this art.
Dublin Compost
The City of Dublin offers access to a free compost disposal site at the Service Center complex located at 6555 Shier Rings Road. Compostable materials such as food scraps and yard clippings can be dropped off 24/7.
Learn more.
Recycle E-waste
The offers a convenient location where residents can recycle e-waste such as old cell phones and computers. Items can be dropped off Monday-Friday, 8 a.m.-5 p.m. at the Dublin Service Center, located at 6555 Shier-Rings Rd.
Learn more.
Fun Facts
The City of Dublin is a Tree City of the World for the second year in a row. This designation comes after 34 years of Dublin being named a Tree City USA.
On March 26, 2021, the State of Ohio Senate unanimously passed a bipartisan resolution to designate April 2021 as National Native Plant Month.
Earth Day is officially celebrated around the world on April 22.
Arbor Day takes place across the globe on April 30.
Other Ways to Celebrate
You can also join us in celebrating Earth Month this April by committing to being more environmentally friendly through:
Get Involved
Nature Education Docents
Park Docents
Water Quality Monitoring Team
Giving Garden
Keep Dublin Green Kits
Citizen Science
Learn more about these volunteer opportunities.
Get Social
We want to see how you're making a positive impact on our planet! All month long, share your photos using #GreenerInDublin on Instagram (be sure your profile is set to public) for the chance to be featured. If you do not have an Instagram account, please feel free to submit your photos here.
#
Media Contact:
Shirley Blaine
Public Information Officer
614.230.4683 – Cell
614.410.4523 – Desk
sblaine@dublin.oh.us
Newsroom: https://dublinohiousa.gov/newsroom/