The City of Dublin is committed to preserving green space with its 60+ parks, encouraging bicycling with its 100+ miles of paths, reducing emissions with one of the greenest fleets in the nation—the list goes on. Dublin is truly home to environmental stewardship.
As the City of Dublin continues to limit the gathering of groups due to the coronavirus pandemic, we will not be scheduling large, in-person Earth Day projects this year. Instead, staff created unique ways we can safely celebrate our planet throughout the month of April.
Get Social
We want to see how you're making a positive impact on our planet! All month long, share your photos using #GreenerInDublin on Instagram (make sure your profile is set to public) and 10 winners will be randomly selected on May 3 to receive a free native plant! If you do not have an Instagram account, please feel free to submit your photos here.
Earth Day Poster Contest
April 1 – May 9
Dublin kids of all ages are encouraged to submit artwork depicting how Earth Day is celebrated in the Dublin community. The winning design will be featured as the 2022 Dublin Earth Day Celebration logo!
Submit your Earth Day artwork by Sunday, May 9, 2021.
There are two age categories:
1. Ages 10 and under
2. Ages 11 – 17
City of Dublin Parks staff will select four finalists (two from each age group). The finalists will be posted on the City's Facebook page later in May; the design with the most likes will be designated the winner.
The contest is open to anyone 17 or younger who lives in the City of Dublin or Dublin City School district.
To be considered, artwork must:
Be related to Earth Day
be original
include nothing derogatory, profane or obscene
be non-partisan
not incorporate movie or television characters or any other copyrighted material
be submitted as a PDF file
Questions? Contact volunteer@dublin.oh.us
Earth Month Events
Document Destruction Day
Saturday, April 10, from 9 a.m. to Noon
City of Dublin Fleet Complex, 6351 Shier Rings Road
Document shredding services will be offered to City residents at no cost on this day.
Learn more.
Create Your Own Native Garden Drive-Thru Event
Saturday, April 24, from 10 a.m. to Noon
DCRC West Parking Lot, 5600 Post Rd.
Pick up a set of five free native plants for your backyard.
Pre-registration is required. Registration is now full — thank you!
If you'd like a chance at winning a free tree seedling, share a photo of you doing something good for our planet this month on Instagram using #GreenerInDublin or on our website to be entered to win!
Prescription Drug Take Back Day
Saturday, April 24, from 10 a.m. to 2 p.m.
Dublin Justice Center, 6565 Commerce Parkway
Help keep prescription drugs out of our waterways and attend the Dublin Police's drive-thru prescription Drug Take Back Event. This is part of the Drug Enforcement Agency's national Take Back Day events.
Learn more.
Household Hazardous Waste Collection Day
Saturday, May 8, from 8 a.m. to 2 p.m.
City of Dublin Fleet Complex, 6351 Shier Rings Road
The Solid Waste Authority of Central Ohio (SWACO) is hosting a household hazardous waste disposal event in Dublin.
Learn more.
Earth Month Video Series
Tune in each week on the City's YouTube channel to learn about a new topic and complete the corresponding activity!
Water Quality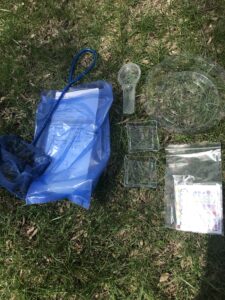 An example of the water quality testing kit. Limited quantities remain, sign up for your kit today!
Native Plants
Registration is now closed for the Create Your Own Native Garden Drive-Thru Event on April 24!
For those who are registered to attend, check out the five free native plants you will receive.
If you would like a chance at winning a free tree seedling, post a photo of you doing something good for our planet this month on Instagram using #GreenerInDublin or share via our form here.
Composting
Arbor Day
Take Action: Plant a tree or another Earth Month activity and snap a photo. Share it on Instagram or our website with #GreenerInDublin for your chance to win one of 10 free tree seedlings.
There are several ways to celebrate Arbor Day!
Dublin Community Recreation Programs & Activities
Get outdoors this spring with the DCRC! You do not need to be a member to register. Click on each activity to learn more and to sign up.
Hide & Seek Scavenger Hunt
April 3 – 18, from sunrise to sunset
Coffman Park
Storybook Forest
April 14 and 28
Art Stable in Coffman Park
Can you Dig It?
April 14 to May 5
DCRC
Spring Hike Series
Saturday, April 17, at 10 a.m.
Indian Run Falls Park
Family Fishing Fun
Wednesday, April 21, from 6 to 7 p.m.
DCRC Pond in Coffman Park
Twilight Trek on Earth Day!
Thursday, April 22, from 7 to 8 p.m.
Kiwanis Riverway Park
View a complete list of April activities at the DCRC.

Dublin Arts Council Wishing Tree
April 1 – 30 (planting April 30)

During the month of April, visit Dublin Arts Council's ARTboxes throughout the community to complete a biodegradable wish tag. Inscribe it with your wishes and hang it on the Wishing Tree on the Dublin Arts Council plaza at 7125 Riverside Drive. On Arbor Day, April 30, the Wishing Tree will be planted on Dublin Arts Council's grounds, along with the wishes to nurture, heal and grow. The tree is a Kindred Spirit Upright Oak, specially selected by the City of Dublin's Forestry team.
Dublin Compost
The City of Dublin offers access to a free compost disposal site at the Service Center complex located at 6555 Shier Rings Road. Compostable materials such as food scraps and yard clippings can be dropped off 24/7.
Learn more.
Recycle E-waste
The offers a convenient location where residents can recycle e-waste such as old cell phones and computers. Items can be dropped off Monday-Friday, 8 a.m.-5 p.m. at the Dublin Service Center, located at 6555 Shier-Rings Rd.
Learn more.
Fun Facts
The City of Dublin was recently a Tree City of the World for the second year in a row. This designation comes after 34 years of Dublin being named a Tree City USA.
On March 26, 2021, the State of Ohio Senate unanimously passed a bipartisan resolution to designate April 2021 as National Native Plant Month.
Earth Day is officially celebrated around the world on April 22, 2021.
Arbor Day takes place across the globe on April 30, 2021.
Other Ways to Celebrate
You can also join us in celebrating Earth Month this April by committing to being more environmentally friendly through:
Get Involved
Nature Education Docents
Park Docents
Water Quality Monitoring Team
Giving Garden
Keep Dublin Green Kits
Citizen Science
Learn more about these volunteer opportunities.
#
Media Contact:
Shirley Blaine
Public Information Officer
614.230.4683 – Cell
614.410.4523 – Desk
sblaine@dublin.oh.us
Newsroom: https://dublinohiousa.gov/newsroom/