Dublin Corporate Area Plan
Shifting office and employment demographics are re-shaping suburbs and urban areas.
Dublin has defined itself as a premier employment center in the Columbus region since the 1980s. Business retention and attraction is vital to our community's corporate income tax base which funds City services, quality infrastructure and community amenities. To remain competitive, the City of Dublin's Economic Development and Planning teams have been studying the existing conditions, market conditions, stakeholder requirements, and effects of the changing work space demands on older suburban office complexes – legacy office spaces in older office parks like Metro Place.
The study area is approximately 1,000 acres and includes all legacy office parks within the Metro, Blazer, and Emerald business districts and the Frantz Road corridor. This study was initiated in 2015 with public engagement and input in 2016, 2017 and continuing into 2018.
Join us to review the updates to the Draft Plan. The City's Planning team will be available to answer questions regarding updates to the Plan.
What is the Dublin Corporate Area Plan?
Map of the Dublin Corporate Area Plan
Public Meetings
One of the underpinnings of this planning process has been engagement with two key constituencies: the employees who work in the planning area and the residents who live in the adjacent neighborhoods. A variety of outreach efforts have been undertaken that has provided us with a rich amount of input, which has shaped the final policies in this plan.
Draft Dublin Corporate Area Plan
Background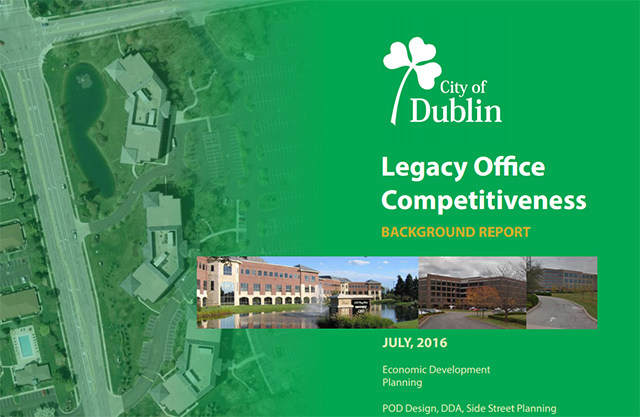 An office competitive study was initiated in 2015. The information for this initial phase is available in this brief summary report – Legacy Office Competitiveness Background Report (PDF). This Phase I study serves as a launching point for the more detailed Dublin Corporate Area Plan study underway.
The City's emphasis on jobs, particularly higher-wage office jobs, is the foundation of its economic health and high quality of life for residents. Approximately 87% of Dublin's office inventory (Class A, B and C) was built in the 1970s, 1980s, and 1990s following the traditional suburban office parks model. Approximately 12% of that space is currently vacant. Several factors contribute to these vacancy rates including:
Lower parking ratios
Lack of walkable amenities
Building age
Visibility/Wayfinding
Lack of public transit
Lack of sustainable practices to gain maximum benefits of the land and location
Location
Floor plate size and building size
Lack of basic curb appeal
Two primary factors are reshaping the demand for suburban office:
A shift in the perceived and actual parking demand for some businesses that now utilize a much higher employee per square foot ratio than in the past.
The consistently increasing employee desire for nearby convenience and entertainment amenities, ideally within a walking distance.
The current homogenous, non-walkable/car-centric office development pattern in the City of Dublin has a direct impact on the ability to lease office space, as well as leasing rates. Today employees expect to be able to walk to lunch, fitness centers and other services. And they expect them to be open after work. The challenge for outdated office parks is to find the space for such uses, as well as the facilities that support walking, biking and transit connectivity.
For example, Frantz Road is an important north-south corridor with older offices along the west side including a diverse range of businesses, and residential neighborhoods along the east side. The corridor currently lacks a number of amenities that would serve businesses and neighborhoods within walking distance. It is also a challenging corridor for pedestrians with landscaping barriers that are no longer valuable or relevant.
The consultant team for this project includes POD design, Side Street Planning, and DDA advisors.