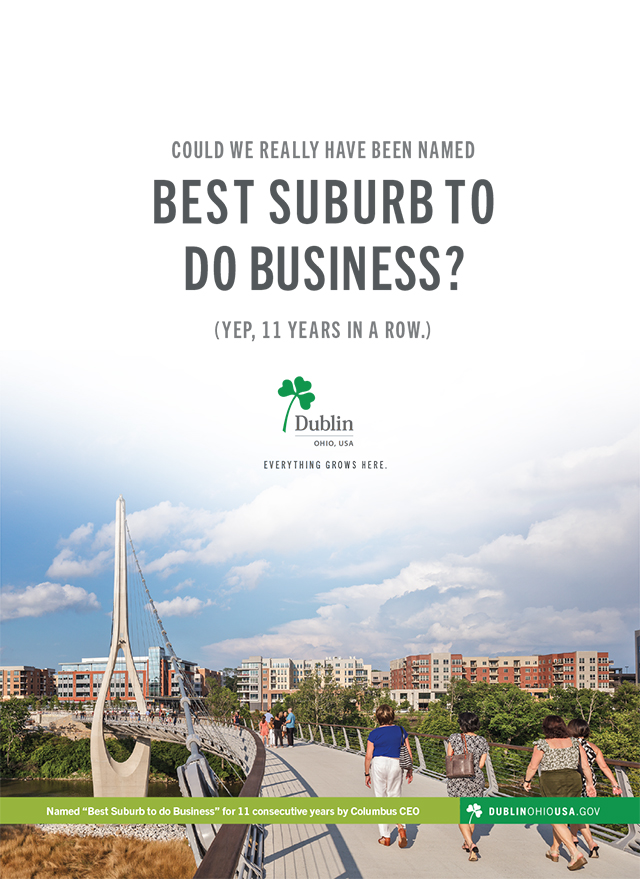 For the eleventh consecutive year, the readers of Columbus CEO magazine have voted the City of Dublin the Best Suburb to do Business. The Best of Business poll shines a light on the best of the best in the Columbus region. It's the magazine's longest-running and most far-reaching recognition program and is based on the votes of Columbus CEO readers.
"The City of Dublin is honored to receive this recognition from those who work, live and do business in Dublin," says Colleen Gilger, Economic Development Director for the City of Dublin. "We strive to create the best environment for businesses to thrive, and this acknowledgement validates that what we do makes a difference for our business community."
Dublin is a global city of choice, with a national reputation for quality development and managed growth. With a 100 Gig fiber optic network, an educated workforce and more than nine million square feet of office space, Dublin is a highly desirable home for more than 4,300+ businesses, including growing health care, tech and research and development clusters.
Click here to read more about the 2021 Columbus CEO Best of Business poll.
###
Media Contact:
Lindsay Weisenauer
Public Affairs Officer
614.704.9742
lweisenauer@dublin.oh.us
Newsroom: https://dublinohiousa.gov/newsroom/