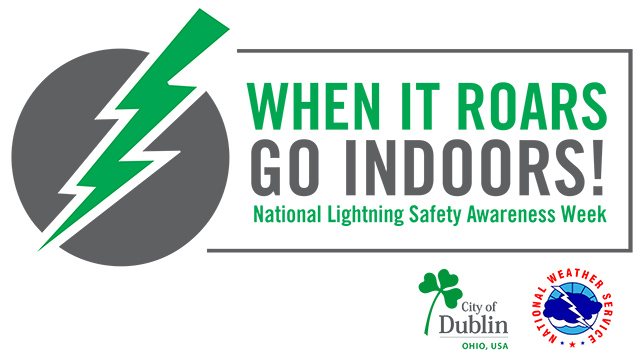 Lightning Safety Awareness Week is June 24 – 30

This week marks National Lightning Safety Awareness Week, a great time for all of us to remember to keep an eye on mother nature. Although lightning strikes can occur at any time during the year, summertime is usually peak season for thunder and lightning storms. There is no safe place outside when thunderstorms are in the area. If you hear thunder, you are likely within striking distance of the storm. So, "When thunder roars, go indoors!"
Each year in the United States, more than 400 people are struck by lightning. On average, 31 people are killed and hundreds of others suffer permanent neurological disabilities. Most of these tragedies can be avoided with a few simple precautions. When thunderstorms threaten, get to a safe place. Lightning safety is an inconvenience that can save your life.
All thunderstorms produce lightning and are dangerous. In the United States, in an average year, lightning kills about the same number of people as tornadoes and more people than hurricanes. Lightning often strikes outside the area of heavy rain and may strike as far as 10 miles from any rainfall. Many lightning deaths occur ahead of storms or after storms have seemingly passed. If you can hear thunder, you are in danger. Don't be fooled by blue skies. If you hear thunder, lightning is close enough to pose an immediate threat.
Many lightning victims say they were "caught" outside in the storm and couldn't get to a safe place. Other lightning victims waited too long before seeking shelter. Some people were struck by lightning because they went back outside too soon. Others were in contact with plumbing, a metal door or a window frame when lightning hit the structure they were inside.
With proper planning, these tragedies could be prevented. When you hear thunder or see lightning, do the following.
Head to a safe place immediately. By heading to a safe place 5 to 10 minutes sooner, you could avoid being struck by lightning. Examples of a safe place include: home, school, church, hotel, office building, shopping center, hard topped car, minivan, bus, or truck.
Stay inside a safe building or vehicle for at least 30 minutes after you hear the last thunder clap.
Do not use electrical equipment or corded telephones when inside a building during thunder and lightning. Also avoid contact with other electrical conductors inside a building (i.e. plumbing, metal doors, or window frame).
The City of Dublin's Lightning Prediction System
The Thor Guard system is a lightning "predictor" which measures and analyzes the electrostatic field in the atmosphere and ground to predict the risk of a possible lightning strike. The system consists of sensors placed at the park and pool sites that measures electrostatic changes at ground level and in the atmosphere. When the two charges become very diverse, the chances of lightning increase significantly.
For more information about lightning/lightning safety, please visit:http://www.weathersafety.ohio.gov/ThunderstormsAndLightningSafety.aspx