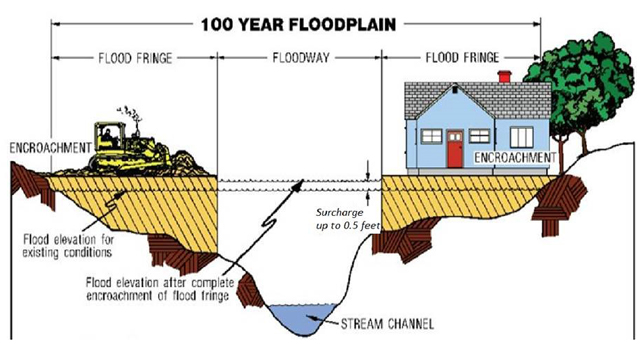 The City of Dublin, City of Columbus, Franklin County, and Delaware County, in accordance with National Flood Insurance Program regulation 65.7(b)(1), hereby give notice of the intent to revise the floodway along the Scioto River, generally located between the intersection of Dublin Road and Rings Road north approximately 4.2 miles to just upstream of the confluence of Deer Run in Delaware County.
Effective vs existing floodplain elevations:
The effective flood elevations are the current flood elevations as designated by FEMA.
The existing flood elevations are the proposed flood elevations based on revised data within the flood study.
The 100-year flood has a 1% chance of occurring in any given year. The 500-year flood has a 0.2% chance of occurring in any given year, however the 500-year is not a regulated floodplain line, and has no impact on flood insurance rates.
A "Regulatory Floodway" means the channel of a river or other watercourse and the adjacent land areas that must be reserved in order to discharge the base flood without cumulatively increasing the water surface elevation more than a designated height (Franklin County requirement=0.5 feet).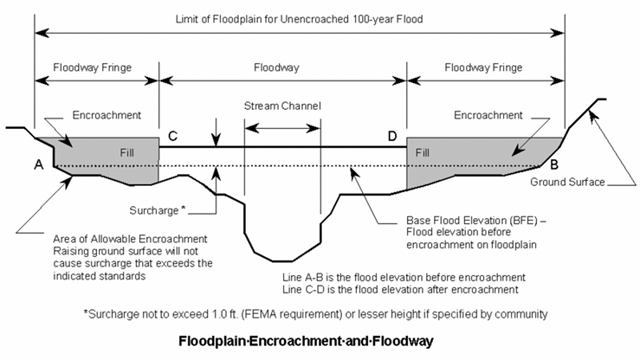 The City of Dublin is also revising the floodway of Indian Run from its confluence with the Scioto River to 180 feet upstream of the centerline of Dublin Road. As a result of the floodway revisions, the Scioto River floodway has a maximum widening of 85 feet at a point approximately 675 feet south of the intersection of Riverside Drive and Heathrow Drive in Delaware County and a maximum narrowing of 185 feet at a point approximately 200 feet south of Indian Run in the City of Dublin. The Indian Run floodway has a maximum narrowing of 94 feet at a point approximately 74 feet upstream of the centerline of Dublin Road.
Maps and detailed analysis of the revision can be reviewed at the City of Dublin, 5800 Shier Rings Road, City of Columbus at 1250 Fairwood Avenue, Franklin County at 150 South Front Street, FSL Suite 10, or Delaware County at 50 Channing Street, City of Delaware. Interested persons may call Barb Cox, City of Dublin at 614-410-4600, Renee Van Sickle, City of Columbus at 614-645-5642, Matt Brown, Franklin County at 614-525-5647, or Duane Matlack, Delaware County at 740-833-2200 for additional information.