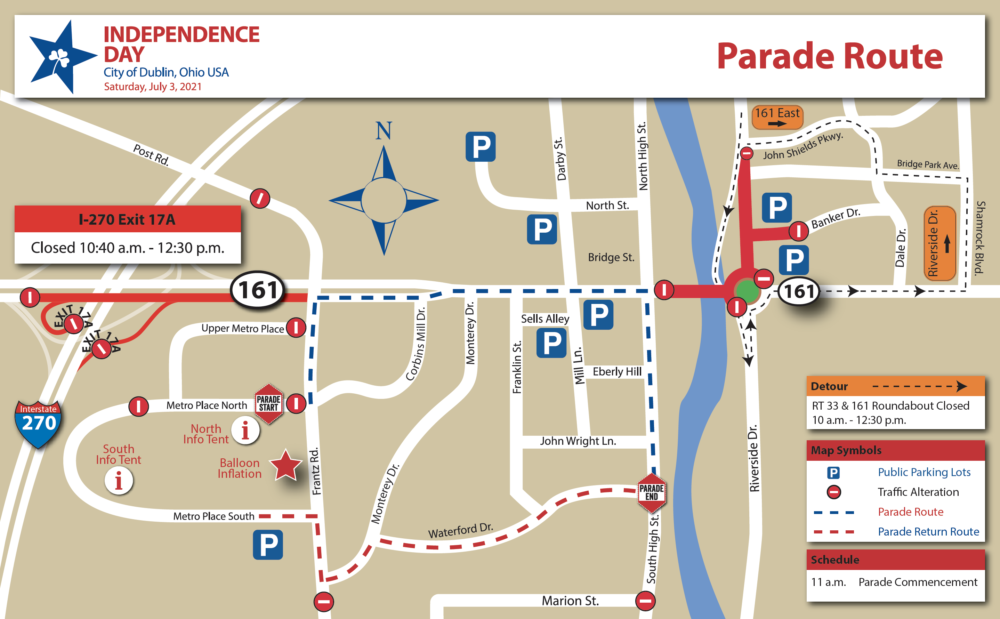 The following closures will be in effect Saturday, July 3 from 10:30 a.m. to 12:30 p.m. for the City's Independence Day Parade:
SR 161 between Dale Dr. and the Frantz/Post Rd. intersection
Frantz Rd. between SR 161 and Monterey Dr.
High St. between North St. and Waterford Dr.
Monterey Dr. and Waterford Dr. between Frantz Rd. and High St.
I-270 Exit 17A will be closed 10:40 a.m. to 12:30 p.m.
Eastbound drivers can turn left onto Post Road but will not permitted to turn right onto Frantz Road.
Westbound drivers will be directed to head north on Dale Drive then west on John Shields Parkway. The entrance to the Shoppes at River Ridge will remain open.
As a safety precaution, there will be no trash receptacles along the parade route this year. Please plan to bring reusable containers for water or snacks, and take any trash home with you.