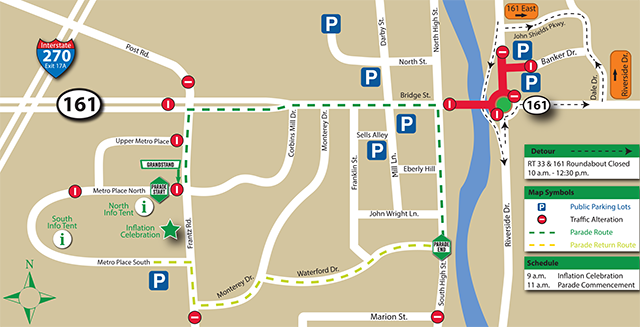 Dublin, Ohio, USA is located just 20 minutes northwest of downtown Columbus. To reach parade line-up location, take exit 17A off I-270, take a right on Frantz Road and then a right on Metro Place.
Traffic and Parking Pattern Alterations
Saturday, March 10, 2018
Limited
8 – 10 a.m.
Metro Place N. from the Crowne Plaza Hotel to Frantz Rd.
Limited
9:30 a.m. – 12:30 p.m.
Access to Metro Center through Metro Place S.
Closed
10 a.m. – 12:30 p.m.
RT 33 & 161 – RT 33 southbound bypass and northbound Dale Rd. Detour
Closed
10 a.m. – 12:30 p.m.
Metro Place N. at Frantz Rd.
Closed
10:40 a.m. – 12:30 p.m.
Frantz Rd. from Metro Place N. to Bridge St./Bridge St. from Frantz Rd. to Riverside Dr./ S. High St. from Bridge St. to Marion St.
Limited  
11:15 a.m. – 12:30 p.m.
Waterford Dr. from South High St. to Monterey Dr./ Monterey Dr. from Waterford Dr. to Frantz Rd.