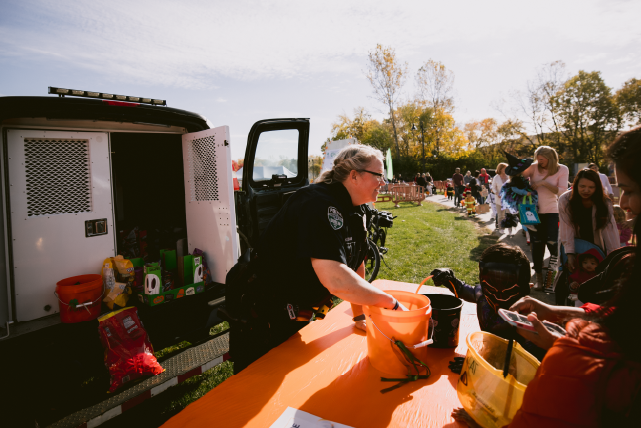 Participant ApplicationReserve Tickets
The Halloween Spooktacular Trunk or Treat Trail is a safe and fun alternative to traditional door-to-door Trick-or-Treating. Fun for the whole family, dress up and visit 20 local businesses and community organizations, handing out candy and treats in the Coffman Park south lawn.
While Halloween Spooktacular is free and open to the public, free timed tickets are required for participating in the Trunk or Treat Trail.
The Trunk or Treat Trail is limited to Dublin residents and Dublin City Schools district residents only. Complimentary timed tickets may be reserved by clicking the "Reserve Tickets" button above starting at 9 a.m. Monday, Oct. 11. A limit of five tickets per household. Tickets are not required for adults and infants.
Using the online ticket system, guests can select a 15-minute time slot, ranging from 4:30-7:45 p.m. Thursday, Oct. 14, and 1:30-4:45 p.m. Friday, Oct. 15. Guests should only enter the Trunk or Treat Trail line during their confirmed time slot.
The east and west shelters will have volunteers on hand to help create creature crafts and bags to collect candy on the Trunk or Treat Trail.