The community hall is perfect venue for parties, receptions, meetings and community events.
Amenities
Upscale finishes and furnishings
Comfortable seating
State-of-the-art audio/visual equipment and high-speed cable Internet access (free of charge)
Dance floor, optional stage/risers (available for additional fee)
Use of an adjacent warming kitchen (subject to availability)
Table linens and food/beverage service are not provided by the City of Dublin
Dublin Community Hall available rental hours:
Monday – Thursday: 5:30 a.m – 9:30 p.m.
Friday: 5:30 a.m. – midnight
Saturday: 8 a.m. – midnight
Sunday: 8 a.m. – midnight
Community Hall Diagram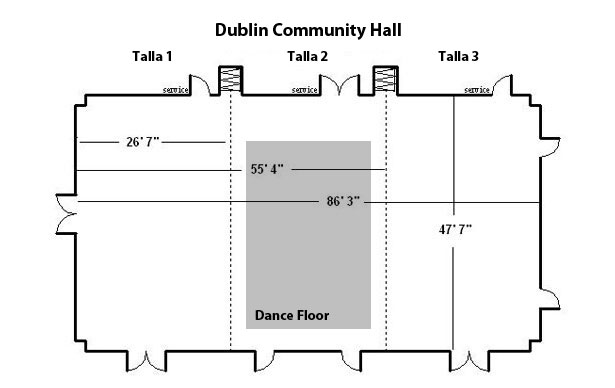 Alcohol Policy
Rental groups are limited to serving beer and wine after 7:30 p.m. on Friday and Saturday nights only. All alcohol must be served by a licensed caterer. Consumption is limited to the confines of the Community hall, and must comply with State of Ohio liquor laws. Additional proof of insurance may be required. Special Duty Police Officer(s) must be contracted by the rental group and are required on the premises throughout the entire event when alcohol is being served.
External Food/Beverages and Catering
Guests may bring in their own food/drink or hire a caterer (subject to Dublin Community Recreation Center approval).
Fees
Indoor Space

Seating with Tables

Seating without Tables

Dublin Resident

or Dublin

non-profit

Dublin School District

or Corporate Resident

Non-resident

1/3 Community Hall

72

90

$55/hr.

$75/hr.

$135/hr.

2/3 Community Hall

144

180

$90/hr.

$120/hr.

$225/hr.

Community Hall (Full)

225

280

$120/hr.

$165/hr.

$315/hr.
Stage/Riser can be added for $65 (flat fee). No additional fee for use of audio/visual equipment.
An initial payment of $200 is required at the time of booking. Groups renting the facilities are financially liable for any damage to the facility or equipment caused by them during use.
For more information or to reserve the community hall, please contact the Reservations Staff at 614.410.4550.