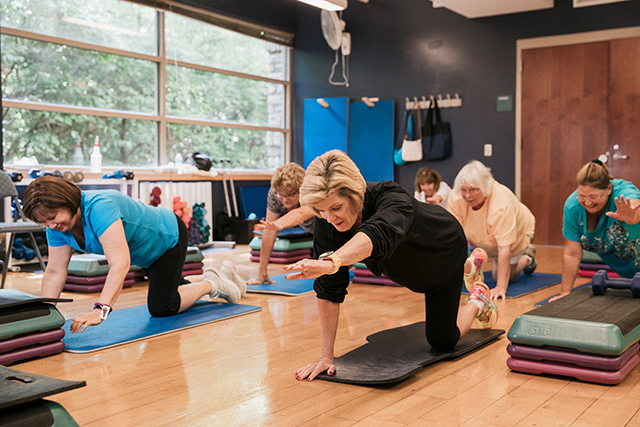 Group Fitness Calendar
The Dublin Community Recreation Center has a class or service to help you start a fitness program, update your current program or provide one-on-one training. Many of our fitness attendants have completed or are pursuing degrees in the health and exercise industry. View the Group Fitness Calendar.
Group Fitness Classes
The Dublin Community Recreation Center offers many group fitness classes. Current class schedules are available on the fitness board, fitness desk, and online and are regularly updated. The DCRC reserves the right to cancel or change the class format to meet member needs and requests. A shortened schedule of classes is offered during times of low participation, i.e. holidays or City of Dublin events. Upon written request, patrons may transfer the balance of pass uses to others. Requests should be directed to the Fitness Supervisor for approval. Passes are intended for individual purchase and use. Group Fitness passes do not expire, are non-refundable, and are not prorated. Water Fitness passes cannot be used to participate in land classes.
Using a Pass
Class slots are on a first-come, first-served basis. Class capacities are determined by the equipment used, available space and patron safety. You may sign up for a class 30 minutes beforehand but no later than 10 minutes after the class starts. Purchase Group Fitness passes at the front desk.
Use your pass to check in at the check in desk.
You'll receive a class pass number to give to the class instructor.
Group Fitness Passes
Passes are sold in four different packages.
10 Class Pass – $45 for DCRC pass holders or $60 for non-pass holders. No expiration, non-refundable, pass is not prorated.
20 Class Pass – $70 for DCRC pass holders or $85 for non-pass holders. No expiration, non-refundable, pass is not prorated.
Trial Pass – $10 for a single group fitness class. Must be used on date of purchase.
Unlimited Monthly Pass – $50 for DCRC Members or $60 for non-members. Non-refundable, pass is not prorated.
Classes are subject to reaching participant limit prior to scheduled class time.
The minimum age requirement to participate in group fitness classes is 12. Participants under age 18 must have a parent/guardian sign the registration card each time a new pass is purchased.
Group Fitness Descriptions
Most classes are 45-60 minutes. Class schedules are updated regularly. Some classes listed below may not be offered.
Kick & Sculpt:A fast paced kickboxing workout followed by sculpting exercises.
Power Sculpt:No-impact strengthening program using exercise bands, weights, resist-a-balls and body bars.
Total Body Workout:An athletic cardio and strength workout – boot camp style!
Step:A classic fitness class using the Step platform and great choreography.
20/20/20:20 minutes each of kickboxing, step/BOSU and sculpt.
Zumba:A Latin dance-inspired workout to get you moving, sweating and having fun!
Questions? Contact:
Pat Casto
Fitness & Wellness Program Supervisor
614.410.4572
pcasto@dublin.oh.us
Fitness & Wellness Program Coordinator
614.410.4584