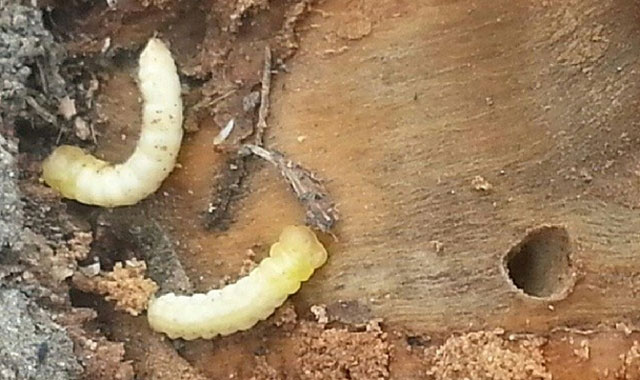 Emerald Ash Borer
The Emerald Ash Borer is a non-native insect that burrows into ash trees, eventually killing them. The insect is spreading throughout Ohio and is killing millions of ash trees in the country.
We have been treating select ash street trees since 2008.
In the spring of 2014, during full leaf expansion to the end of June, we will be treating the street trees with a chemical injected in the tree trunk. Areas that will receive this treatment include Adventure Drive, Blunden Road, Chatelaine Drive, Chatterfield Drive, Corey Swirl Drive, Erin Isles Court, Ernest Way, Fitzgerald Road, Great Novel Court, Greensway Loop, Haddler Drive, Innovation Drive, Johntimm Court, Manteo Drive, Missy Park Court, O'Connell Court, Old Pond Drive, Pirthshire Street, Starkeys Court, Stover Court, Walden Circle, Wellston Court, Willow Run Drive, Wiltshire Drive, Wyndburne Drive.
We can take steps to treat some trees, but the sheer number of ash trees in Dublin mean some will die because of the insects. There are thousands of ash trees in town, including approximately 1,928 street trees along roadways.
Ash Trees on Commercial Properties
Because of their tolerance of urban conditions, ash trees were planted on commercial properties to satisfy specific code requirements. Existing ash trees were also preserved in many areas around the development of commercial properties.
Many of the Ash trees that became infested with Emerald Ash Borer were removed.
Dead and dying trees pose a threat to patrons and property and should be removed as soon as possible. Dublin City Code requires the replacement of dead and dying trees on commercial properties. However, trees do not need to be replaced until the next growing season regardless of when the tree is removed. Arrangements can be made to spread out replacements over several planting seasons if necessary. Some trees may not need to be replaced depending on its location on the property.
If you have ash trees on your property, contact Brian Martin, Zoning Inspector, at 614.410.4660 or bmartin@dublin.oh.us. For more information, visit www.emeraldashborer.info.
What can residents do?
There are many arborist companies and some landscape companies that can perform trunk injection and soil treatment. Homeowners can purchase soil treatment chemicals at home improvement stores, but tree injections must be done by professionals. The City recommends that arborists be ISA Certified.
The decision to treat, remove or retain ash trees on private property belongs to the property owner. When evaluating replacement options, remember to consider the appropriateness of specific species in terms of size, location, access to utilities, and other factors.
Questions?
Contact the City of Dublin Forestry team in the Division of Parks and Open Space at 614.410.4701.
What does an Ash Tree look like?
Follow the Ash Tree Identification Guide: http://datcpservices.wisconsin.gov/eab/article.jsp?topicid=17
Emerald Ash Borer Management Plan
Introduction
The Emerald Ash Borer (EAB) is an introduced pest that is killing ash trees in much of the United States and Canada. Since its discovery in Detroit, Michigan in 2002, the borer has spread, killing virtually all ash trees in its path.
As of 2014, Dublin inventories show approximately 1,928 (8%) of the City's 23,582 street trees are ash trees. Thousands more ash trees are growing on other city property in wooded lots and stream beds as well as private property.
Street Trees
During the spring of 2007 ash trees were removed from major arterial roads such as Emerald Parkway, Rings Road and Woerner Temple Road. Since then, systematic ash removal has been suspended. If there is a problem with an ash and it is not deemed a good candidate for treatment then the tree will be removed. Ash trees will be evaluated on their health, vitality, and location.
A soil injection program was started in the spring of 2008 in the Wedgewood Hills subdivision where ninety one ash were treated. Chemical injections began in 2009 and has been the preferred method of treatment ever since. The product is called Emamectin Benzoate, or commonly called TreeAge. Product information can be found at the following link: http://www.arborjet.com/label/8.5x11TREEageInsert4_19A
Wood Disposal
There are no longer quarantine regulations in place for emerald ash borer within the state. Despite the fact that the Ohio quarantine has been lifted, to prevent the spread of EAB and other pests, it is still recommended to continue to use caution when moving firewood.
Canopy Replacements
As budget permits, all removed ash trees will be replaced with non-host specific species that will enhance the planting site, are appropriate for the planting site, and add diversity. Trees will be planted in accordance with the Ohio Nursery and Landscape Association/Ohio Division of Forestry Planting Specifications and be in the 2" to 2.5" caliper. All new plantings will conform to the "10-20-30" tree Species diversity rule – no more than 10% or any species of tree, 20% of any genera of tree, or 30% of any one family of tree.
Trees on Private Property
There are many ash trees on private property in Dublin. No inventory exists and ash density varies by neighborhood.
Property owners are urged to monitor the ash borer's movements. The decision to treat, remove, or retain private tree rests with the property owner. Residents should consider many variables when evaluating options, including tree size, location, and condition; access to the tree; potential targets should the tree fall; property value; shade, heating and cooling values; treatment techniques, efficacy, and costs' proximity of EAB infestation; and intangible costs. Keep in mind that insect has been in the area for some years and a decision to treat may not be an option.
The City will enforce the relevant section of the Ordinance 153.134, Section K, through its Code Compliance program should it receive complaints about hazardous private trees. Private trees that are a threat to private property will be inspected only as complaints are received.
When hiring for insecticide control or tree removal it is encouraged to contact a qualified ISA Certified Arborist. Contractors should be able to provide proof of liability insurance and worker's compensation coverage. The City also encourages residents to replace trees lost with species appropriate for the site, or to plant new trees in advance of EAB infestation and ash removal.