City Council has approved the purchase of the Delta Energy building at 5555 Perimeter Drive to be used as the future home of City Hall. The purchase of this property will provide a unique and unanticipated opportunity to pursue the realization of the City's 1997 and 2007 Community Plan for the area of Coffman Park and adjacent property to serve as Dublin's civic/government center while consolidating City operations. This new civic complex would also facilitate more effective services as the center of municipal government.
For many years, the City of Dublin has occupied multiple buildings to house City departments and divisions. Over the last three years the City has reorganized its operating departments, divisions and support staff to better serve the community. Recent accomplishments include:
Expanded and renovated the Justice Center that houses the Department of Police, Northwest Regional Emergency Communications Center, and Municipal Court.
Expanded and renovated the City's Service Center to add its Engineering Division to the Department of Public Works and Events Staff to co-locate with the Parks & Recreation Department administrative staff.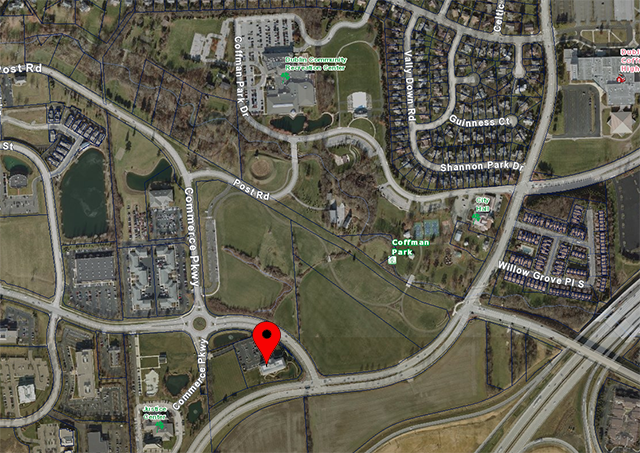 The City has been assessing the feasibility of renovating the 5800 Shier Rings Road facility, which currently houses its Department of Development. Given the age, the type of building (warehouse/office) and location, the City has concluded that further investment in this building, estimated at approximately $3.5 million, would be better served to go towards the purchase of the Delta Energy building.
Plans include the following:
The relocation of City Hall staff to 5555 Perimeter Drive and a conceptual long-term vision (needing further study) which includes the possible construction of two buildings on City-owned land adjacent to the Justice Center. The first building would house the Department of Development and Information Technology and a second building would annex to the existing building to accommodate Council Chambers and meeting space for boards and commissions and other community meetings. This would serve as a central location in the community with convenience and easy public access for residents and visitors.
The City will re-purpose the existing City Hall for use by Recreation Administrative staff currently housed in the Community Recreation Center. Doing so will open up more programming space in the Recreation Center and potentially accommodate additional recreational programming in the existing Municipal Building.
The City anticipates selling the 5800 Shier Rings Road facility at some point in the future with the proceeds of the sale going toward the purchase of the property at 5555 Perimeter Drive.
The City will purchase the existing 5555 Perimeter Drive facility for $4 million. This facility was originally constructed for $5.2 million.
Exact timing of moves, renovations are yet to be determined. The first step would be to relocate staff currently occupying City Hall to the 5555 Perimeter building. This would consolidate the Office of the City Manager, Department of Finance, Legislative Services, and City Council.