Improving the infrastructure of our neighborhoods is an investment in our City that adds value and high-quality city services for our residents.
The City is extending public sanitary sewers to serve the area on Glencree Place and along Summit View Road between Wedgewood Glen Park and Glencree Place (sewer extension Area 1C). The work also includes road reconstruction and improvements to the existing sidewalks and ramps.
Traffic Impact:
The week of Oct. 18, crews will begin road removal/milling on Glencree Place for cement stabilization. Milling will take place Oct. 20 and cement stabilization will take place Friday, Oct. 22. Residents may be greatly delayed getting in and out of the neighborhood on Friday.
Summit View Drive at Glencree Place will have temporary lane restrictions of one lane, two-way traffic controlled by flaggers.
The shared used path on the south side of Summit View Road is closed between Conine Drive and Glencree Place. This includes the path connection between Summit View Road and the Wyandotte Woods neighborhood.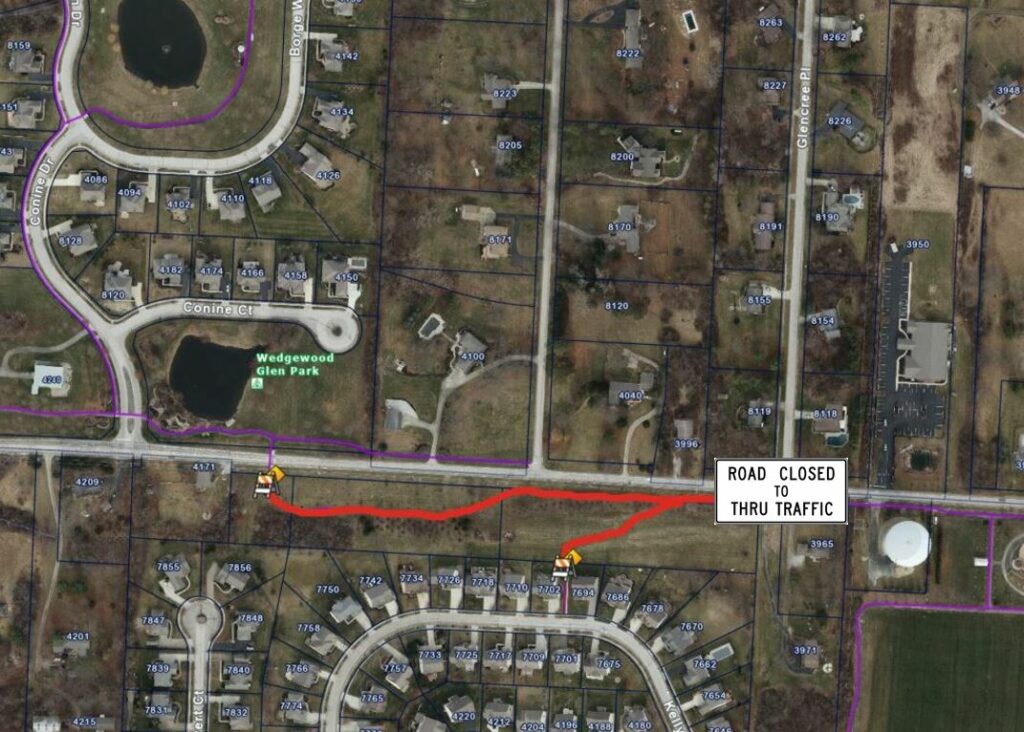 Tentative timeline:
August 2021 – Start Project

Work not in roadway, possible short term lane closures on Summit View Road, Trails End Drive and Glencree Place utilizing flaggers. Always maintain access to residents.

September 2021

Install sanitary sewer from Glencree Place to the water tower – Requires the closure of Summit View Road for up to 10 calendar days. Always maintain access to residents.

Detour: Riverside Drive to Powell Road or Hard Road to Sawmill Road

August 2021 to December 2021

Install sanitary sewer on Glencree Place, restore pavement, tree clearing and trimming, install ADA ramps, striping, signage, seed and mulch. Always maintain access to residents.
The City held a virtual public information meeting on Wednesday, May 26, 2021. Click here to view the presentation.
Should you have any questions, please contact Kenneth B. Richardson, Senior Civil Engineer, by phone at 614.410.4631 or email at krichardson@dublin.oh.us or Mark Grady, Engineering Technician II, by calling 614.410.4624 or e-mailing mgrady@dublin.oh.us.
Who is paying for this?
The City funds 100% of the design and construction cost of public utility extensions
Property owners are responsible for all private connection costs, tap fees and capacity charges, private services lines from public utility main lines to their structure, an any modifications to existing interior plumbing necessary to connect.
As an incentive, property owners receive a waiver of 50% off Dublin's tap fees and capacity charges so long as connection is made within a two year timeframe of notification that the public utility services are available.
How do I connect?
Obtain Dublin ROW Residential Permit Application
Submit ROW Permit and Plan for review/approval
Apply and pay for Dublin sewer charges/fees
Hire contractor to install service line
Contractor coordinates inspections with Dublin and Franklin County
Why is this important to you?
Safety and health
Water quality
Improved opportunity for resale
Opportunity to invest in a permanent solution instead of a temporary system if problems arise in existing systems