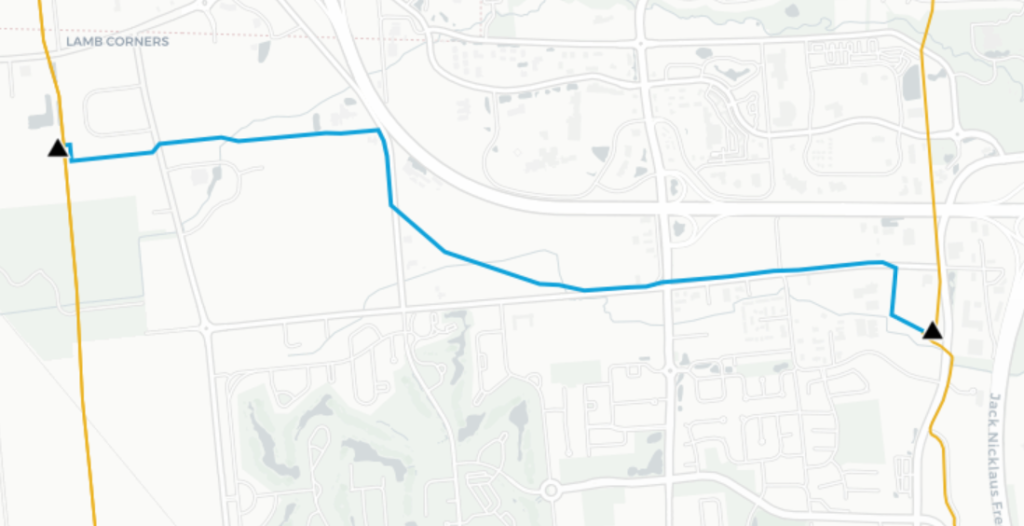 Update: Matting along pole route has been installed and pole foundations are being drilled and set. Next, new high-voltage transmission lines will be installed from Shier Rings Road power substation to Amlin substation.
In affected areas, drivers can expect two to five-minute traffic impacts. Affected landowners should have been directly contacted by AEP. Questions about this project can be directed to Joe Demaree, AEP Project Outreach Specialist, phone: 380.205.5046.
Traffic Impact:
Temporary flagging operations to allow equipment mobilization/demobilization. Work is currently taking place between the Amlin Substation and Eiterman Road.
Background
AEP Ohio plans to strengthen the electric transmission system in the Dublin West Innovation District. This project has received Ohio Power Siting Board (OPSB) approval. Additional information about this project, including a timeline, is available at https://www.aeptransmission.com/ohio/WestDublin/
On January 21, 2020, Dublin City Council approved a route for AEP to present to the Ohio Siting Board. The route follows Shier Rings Road from the east toward the future University Boulevard and then sweeps northwest just west of the Dublin Service Center along the future University Boulevard up to Eiterman Road.
AEP Ohio officials filed a Letter of Notification with the Ohio Power Siting Board (OPSB) for the power line May 2020 and received approval August 2020. As the project develops, company representatives plan to file an additional Letter of Notification with the OPSB for an adjustment to the approved route later this year.
Construction activities begin on the route approved by OPSB November 2021 and continue through summer 2022. Upgrades to the power grid will increase electric reliability and support economic development.
Crews will be walking or using all-terrain vehicles to access the power line during construction. Crews use existing roads or lanes whenever possible. If any damage results from the activities, AEP Ohio representatives can work with you to reimburse you or restore your property to its previous condition.
Ronda Megger of O.R. Colan, serves as the right-of-way agent representing AEP Ohio on this project. If you have any questions about construction activities on your property or want to reach out to Ronda, you can call her at 614.940.3935 or email her at rmegger@orcolan.com.
To ask questions or submit comments about this project please contact:
Joe Demaree, Project Outreach Specialist
Phone: 380.205.5046
PREVIOUS PRESENTATION
On Monday, November 18, 2019, Dublin City Council held a Work Session at 5:30 p.m. (before their regular Council meeting, which will begin at 7 p.m.). The Work Session was held at Dublin City Hall, located at 5200 Emerald Parkway.
Download presentation from November 18, 2019, Work Session
Submit comments or questions to AEP | Submit comments to Dublin City Council