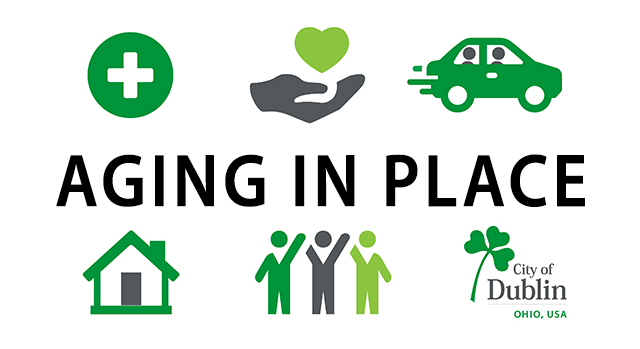 In early 2018 the City of Dublin launched its first Aging in Place Plan. Reviewed by the Community Services Advisory Commission and accepted by Dublin City Council, the City's Aging in Place Plan is a strategic priority of City Council in planning for the future. The plan involves many aspects and future concepts, including mobility and transportation, housing, health and wellness. Partnering with Ohio University College of Health Sciences and Professions, the City worked with nearly 40 social service and older adult-serving practitioners to develop a strategy that allows residents to live full lives in their later years.
News
What is Aging in Place?
"Aging in place" is the ability for individuals to remain in their homes or neighborhoods, safely, independently and comfortably for as long as possible, regardless of age or ability. Every older adult in our community has a different set of needs that allow him/her to live a full life.
You Spoke, We Listened.
In the spring and summer of 2018, more than 200 residents and 40 social service agencies attended a Community Conversation session to envision the future of aging, design solutions, and share their stories. From there the City analyzed feedback and identified short- and long-term goals for its Aging in Place Plan.
Common themes from the Community Conversations fell into three categories:
Navigation Services – assistance in finding and understanding available resources
Health/Wellness/Social Services – making more services available in Dublin
Community Connections/Engagement – remaining engaged in the community from a social, cultural, recreational and civic standpoint
Coming Initiatives
Among many projects the City is pursuing, Dublin City Council has approved funding for a community resource center housed by Syntero, staffed with "Navigators" to guide residents on relevant choices and resources when seeking assistance for aging, support and caregiving topics.
Additional projects include:
Transportation "Circulator" service
Dedicated website with information and resources
Education sessions
In-person "Help Desk" in Dublin Community Recreation Center
Age-Friendly Business Certification program
The City of Dublin is partnering with social service and older adult-serving agencies, in addition to Counties serving Dublin (Franklin, Delaware and Union), the State of Ohio and AARP in its Aging In Place initiatives.
Get Involved

Now seeking volunteer leaders for The Forever Dublin Community Team. Reporting to the co-leaders of the Forever Dublin Hub – Syntero and City of Dublin Outreach and Engagement – this team is will meet regularly to address and accomplish the following:
Serve as ambassadors for healthy and supportive aging in Dublin
Function as a volunteer consultative team for planning, design and implementation of programs and initiatives for the aging population and caregiving community
Serve as thought leaders on topics of the Aging in Place movement in Dublin
Develop, implement and monitor programming and initiatives
Research and connect the movement with diversified funding opportunities
Learn more here and apply here.
Questions? Comments?
Contact Christine Nardecchia, Outreach & Engagement Director at cnardecchia@dublin.oh.us or 614-410-4406.
Aging Trends in Dublin:
In January, 2015 the City engaged Ballard-King Associates in a study to examine City-wide recreational programming needs. As part of this study, they reviewed 2010 US Census data and estimated 2013 population calculations. With this information they estimated the City's 2018 population by age group.
For Dublin's older adult population, numbers trended similarly to state and national growth estimates. The 55-64 year age group is projected to grow 25.6% between 2010-2018 and the 65-74 year age group is projected to grow 71.8% in that same time period. The 75+ age group is also expected to grow by 15.9% between 2010-2018.