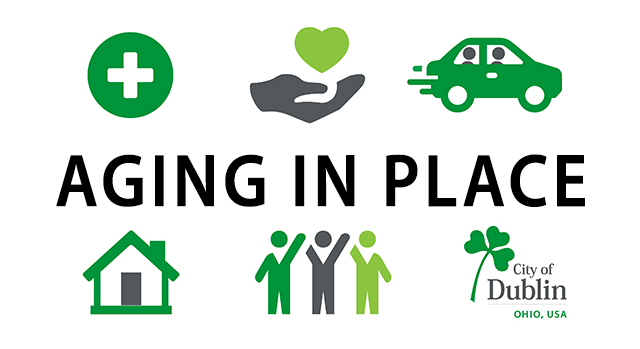 The City of Dublin is in the process of launching a comprehensive Aging in Place plan for residents to experience every phase in life to the fullest. "Aging in place" is the ability for individuals to remain in their homes or neighborhoods, safely, independently and comfortably for as long as possible, regardless of age or ability.
Reviewed by the Community Services Advisory Commission and accepted by Dublin City Council, the City's Aging in Place plan is a strategic priority of City Council in planning for the future. The plan involves many aspects and future concepts, including mobility and transportation, housing, health and wellness. Partnering with Ohio University College of Health Sciences and Professions, the City has been working with nearly 30 agencies and service providers to develop a strategy that allows residents to live full lives in their later years.
This spring and summer, the City hosted several Community Conversations for the public to engage in conversation and envision what "aging in Dublin" could look like. The City hosted separate Community Conversations with caregivers. Based on these valuable conversations, perceptions and visioning sessions, the next step is to fine tune the ways in which we approach important areas for our aging community in areas such as technology, neighbor-to-neighbor connections and recreation/wellness options.
Heading into the fall and 2019 and beyond, residents will begin to see more education and awareness around the topics of caregiving, aging in place and healthy aging. Key partnerships will begin to emerge with expert practitioners who specialize in helping people navigate through this phase of life. And there will continue to be opportunity for citizen engagement and discussion.
Also this fall, Syntero is hosting panel discussion on aging:
Someone I love is Aging… and so am I
Wednesday, October 17, 7 p.m.
Dublin Community Recreation Center
To start making a difference today, consider checking up on your neighbors, making a friendly visit on a regular basis, or even offering to help with yard work and errands. Simply being a good neighbor can go a long way in helping make Dublin a healthy, vibrant and especially caring community where all ages may thrive.