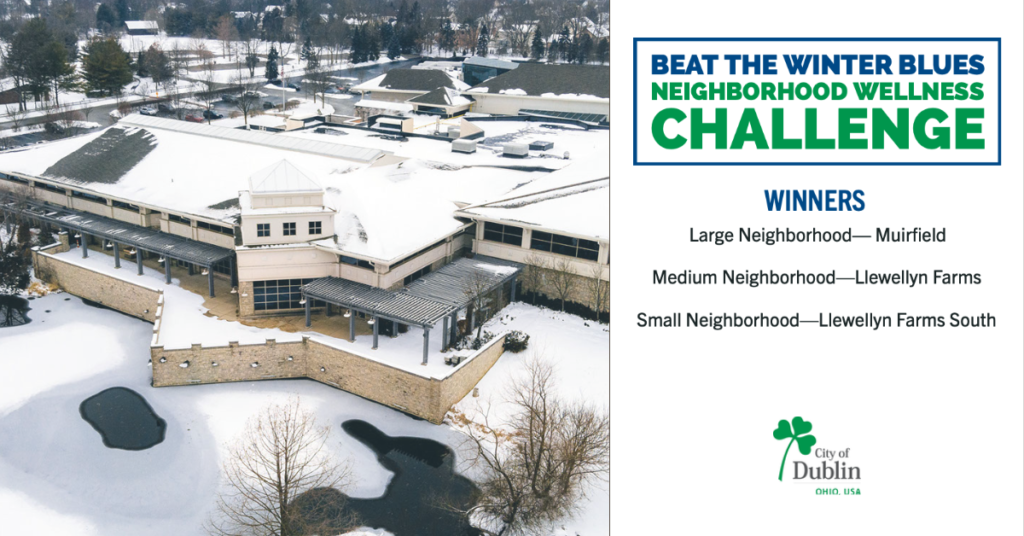 UPDATE: Thank you to everyone who participated in the Beat the Winter Blues Neighborhood Wellness Challenge. Now for the winners! Drumroll please … our congratulations goes to the following neighborhoods:
Large — Muirfield (100 activities completed)
Medium — Llewellyn Farms (695 activities completed)
Small — Llewellyn Farms South (162 activities completed)
Overall, 28,458 minutes of physical activity were recorded, which is nearly 20 days of non-stop activity! A total of 145 residents signed up and completed 1,622 challenges — that's an average of 11 challenges per participant. Congrats to our winning neighborhoods. We will be in touch with your HOA leaders to discuss your prize!
Join forces with your neighbors and face off against other Dublin communities in a friendly competition of physical and mental wellness.
This challenge is open to Dublin residents of all ages to compete against each other to see which neighborhood can accumulate the most points to win bragging rights and a shared community prize.
The City of Dublin created a handy tracking system and dashboard for you to check your progress compared to other neighborhoods. We understand how hard it is to find motivation to maintain our health during the pandemic — let alone during the winter — so the staff at the Dublin Community Recreation Center developed this fun, competitive program to encourage our community members to prioritize their individual health and wellness.
How to Join Your Neighborhood in the Challenge
Challenge takes place Feb. 5 – 28, 2021
Residents of all ages can participate
Register to receive challenge updates and be notified if your neighborhood wins
Complete tasks and activities from the wellness categories
Access the wellness tracker log, select your neighborhood and then record the activities you have completed and any minutes of exercise
Check out the interactive dashboard to see how your neighborhood measures up
The winning neighborhoods will be announced in early March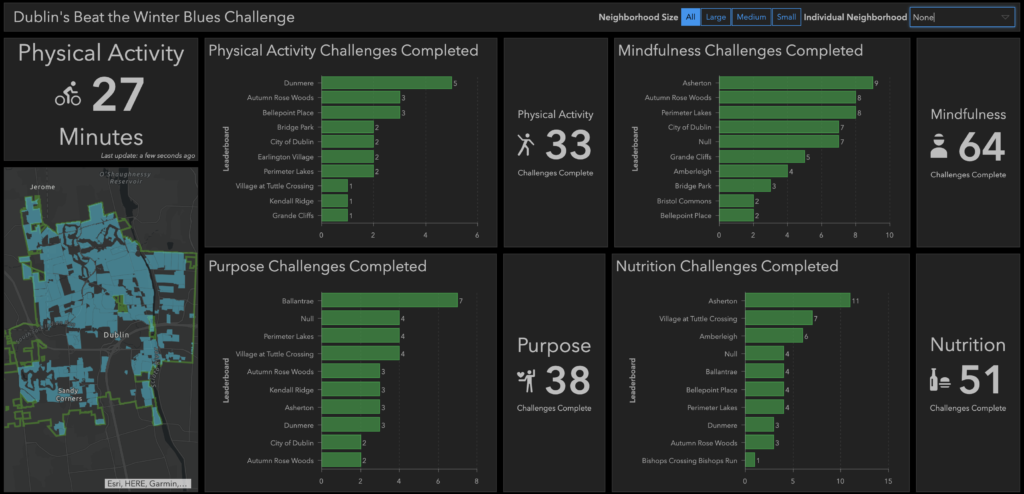 To the Top Neighborhood Goes the Prize
We know Dublin neighborhoods come in all shapes and sizes, so we've devised three categories (small, medium and large) to make sure communities of any size have the chance to win. The prizes will be determined at a later date based on interest, but could include a food truck visit, movie in the park, free block party, a City horticulture expert consultation for the neighborhood's entrance, free yoga class in the park and more. And of course, bragging rights are a given!
Wellness Categories and Activities
The Wellness Challenge includes four categories: Physical Activity, Nutrition, Mindfulness and Purpose. When you complete one of the suggested activities listed below, enter your participation in the dashboard. Plus, track your minutes of exercise to earn additional points.
Physical Activity:
Walk 10,000 steps per day for 5 consecutive days.
Use a standing desk at work or make time for frequent standing breaks throughout your day.
Go for a 30-minute walk on the bike paths or in a Dublin park.
Participate in a virtual fitness class offered by the DCRC.
Perform a 10-minute stretching routine at least twice per week.
Have a dance party with your family or friends.
Park in the back of the parking lot and take the stairs instead of the elevator/escalator as much as you can.
Do bodyweight exercises during the commercial breaks of your favorite TV show (squats, push-ups, lunges, burpees, etc.)
Deep clean your house and attack your to-do list.
Go for a walk with a friend that you haven't seen in awhile.
Try a new activity (biking, yoga, a new fitness class, etc.).
Participate in the "We HEART Our Parks" Scavenger Hunt between Feb. 15-22 offered by the DCRC. For more information and to register, go to We Heart Our Parks Scavenger Hunt.
Nutrition:
Create a colorful plate. Choose 3 different colored foods per meal.
Substitute water for a caffeinated or sugar sweetened beverage daily.
Choose a serving of fruit instead of that dessert you're craving.
Have dinner as a family or with a friend at least 2x/week.
Eat a healthy vegetarian meal a minimum of one time per week.
Drink 64 ounces of water a day for a minimum of five days.
Take time to start your day with a healthy breakfast.
Eat five servings of fruits and vegetables for a minimum of five days.
Share a healthy meal or recipe with a friend or co-worker.
Plan your snacks and choose a healthy one each day for a week.
Eat your meals on smaller plates to control portion sizes and avoid overeating.
Try at least one new healthy recipe each week.
Avoid eating fast food every day for a week.
Mindfulness:
Spend at least 15 minutes doing a creative activity such as painting, writing, coloring, playing an instrument, etc.
Go to bed 30 minutes earlier than normal.
Participate in a virtual yoga class offered by the Dublin Community Recreation Center.
Make your bed every morning for a week to set the tone for accomplishment throughout the day.
Spend time connecting with nature by visiting a Dublin park and look for objects you've never noticed before.
Clean out and organize a closet, desk, or drawer that needs it.
Define 3 daily goals, write them down, and focus on achieving them throughout the day.
Spend 10 minutes practicing mindful breathing every day for a week and observe your emotions.
Watch the sun set or rise.
Eat a meal mindfully – choose healthy foods and eat slowly to appreciate the look, taste, feel, and smell of what you are eating.
Take a digital break – step away from your digital devices two to three times in a day for 10 minutes each and tune into your environment and emotions.
Participate in a Mindfulness Movement on the Ball class offered by the Dublin Community Recreation Center.
Purpose:
Start each day for a week by saying something positive to yourself in the mirror.
Call someone you haven't spoken to in a while just to "catch up".
Compliment 3 different strangers.
Donate at least an hour of your time to a local charity or church group.
Handwrite someone a nice note or letter.
Complete a project you have been putting off.
Pay it forward. Complete a good deed or random act of kindness.
Give your undivided attention to someone else for 15 minutes.
Introduce yourself to a new neighbor or co-worker and spend some time getting to know them better.
Explore your interests and try something new (read a book on a topic that interests you, try a new class, have a conversation with someone who is an expert in your area of interest, etc.)
Give to a cause that you believe in with your time and/or money.
After you wake up in the morning or before you go to bed at night, write 10 things that you are grateful for.
Participate in "Virtual Coffee with a Cop" on Feb. 10th from 8:30-9:30am with the Dublin Police Department and engage in meaningful conversation. For more information and to register, go to Virtual Coffee w/a Cop.
Questions
If you have any questions, contact Recreation Administrator Mollie Steiner at msteiner@dublin.oh.us or 614.410.4553.