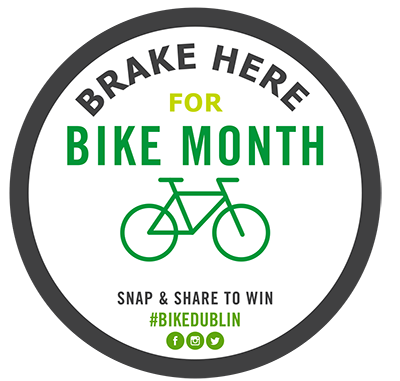 In Dublin and across the nation, May is Bike Month, a chance to showcase the many benefits of bicycling, and encourage more people to give bicycling a try.
In recognition of Bike Month, we're once again challenging social media users to "Brake Here for Bike Month".
During the month of May, bike to the 10 locations shown on the map, snap a photo, and post it on your public Facebook, Twitter or Instagram account using the hashtag #BikeDublin. Those who find and post all 10 will be entered into a random drawing to win either a $50 gift card to Trek Bicycle, a new helmet, or an insulated cooler bag.
Balgriffin Park, next to the bike repair station
Coffman Park, looking up at Exuvia sculpture
BriHi Square, with Daily Chores sculpture
Dublin Tunnel Mural, located underground at the Brandonway Drive and Dublin Road intersection
Avery Park, by an Out of Bounds soccer ball
Ballantrae Park, with the dancing bunnies (Dancing Hares)
Thaddeus Kosciuszko Park, by Feather Point
M.L. Red Trabue Nature Preserve, by Fleming Cabin
Field of Corn in Sam & Eulalia Frantz Park, with an osage orange if you can find one!
Bristol Commons Park, by the playground
Need a bike? Grab a LimeBike.