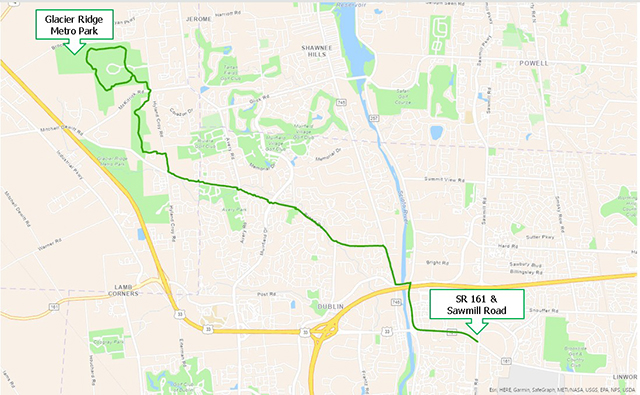 Dublin is home to the Emerald Trail!
The Central Ohio Greenways Board designated a popular trail through Dublin a Regional Trail of Significance in early 2021. The trail, shown in green on the map, runs from Glacier Ridge Metro Park to SR 161/Sawmill Road, connecting the park to the Central Ohio Greenway network.
The Board approved two names for consideration – Emerald Trail and Glacier Ridge Trail. More than 200 residents weighed in through an online poll and 67% favored Emerald Trail.
Central Ohio Greenways (COG) is a trail network of national significance spanning 230+ miles, connecting Central Ohio to other parts of the state and country.
These trails are traveled more than 12 million miles annually providing economic, quality of life and health benefits to the community.
The Central Ohio Greenways Board is a committee of MORPC. Learn more here.