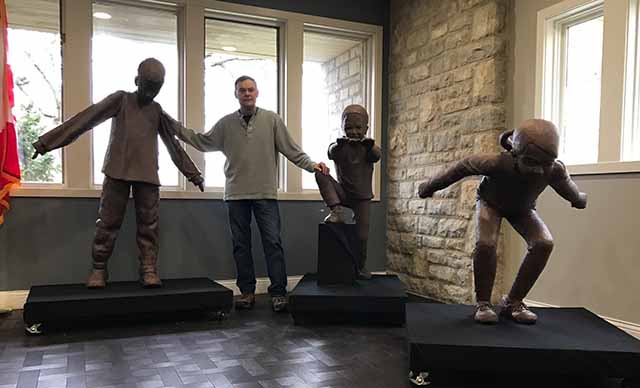 A new set of sculptures depicting children at play is being permanently installed on top of boulders at Barronsmore Mound in the Ballantrae neighborhood. Mike Tizzano, the same artist behind the Daily Chores sculpture at BriHi created the sculptures.
Project Details:
Starting date: January 11, 2016
Date of completion: December 14, 2016
Total hours to sculpt using lath and resin for:

Jacob: 126.25
Mallory: 112.5
Kane: 97.25 hours
336 total hours of sculpting

Total amount of resin used for:

Jacob: 59.5 lbs.
Mallory: 51.75 lbs.
Kane: 41.8 lbs.
05 lbs. total resin used

Each sculpture weighs approximately 80 lbs
The sculptures will be on display at City Hall through March 27. The Ballantrae Community Association, which commissioned the artwork, will host a dedication ceremony Saturday, April 1, 2 pm at Barronsmore Mound.