The City of Dublin, Washington Township and SWACO are teaming up to introduce Recycle Right, Make a Difference — an initiative aimed at improving Franklin County's rate of recycling.
In Franklin County, only five kinds of materials are accepted for recycling:
Paper and cardboard
Plastic bottles, jugs, containers and certain cups
Glass bottles and jars
Metal cans, including aluminum cans and cups
Cartons and paper cups
Everything else should be reused, donated, composted or disposed of safely.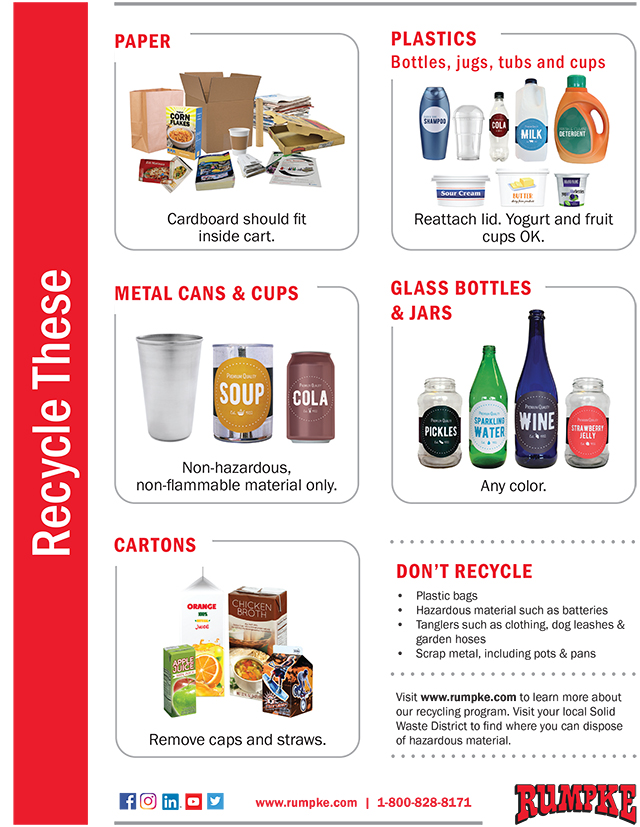 Dublin's Curbside Recycling Program
Trash and recycling are collected on Wednesdays. Collection can occur any time between the hours of 7 a.m. and 7 p.m. so please have your bins out to the curb by 7 a.m. The schedule may change during a holiday week. See the Holiday Schedule for exact weeks.
Please note: yard waste is collected on Mondays. Visit the curbside yard waste collection page for information on that service.
New Items Being Accepted – Paper, Plastic and Aluminum Cups 
Effective February 1, 2022, paper, plastic and aluminum cups will be accepted for recycling in Franklin County. This includes poly-lined paper cups such as disposable "to-go" coffee cups. The paper sleeves frequently added to these cups are also accepted but their plastic lids should be thrown away.
Plastic fast-food cups are also accepted. Empty them, remove straws and place the plastic lids back on. Please avoid throwing the lids loosely into the cart.
Finally, aluminum cups such as those used at many stadiums and some dedicated outdoor refreshment areas (DORAs) are now accepted. Again, these items should be empty when put in with recycling.
With the addition of cups, Franklin County's current list of acceptable materials includes the following items: Paper and cardboard, plastic bottles, tubs and jugs, glass bottles and jars, metal cans, cartons and disposable cups.
What to Keep Out of Your Recycling Bin

In order to recycle these items correctly, it's important to know which items are still not accepted for recycling in Franklin County's curbside and drop-off recycling programs. Items on the 'no-no' list include disposable plastic party cups ("Solo" is one common brand), Styrofoam cups, K-cups, plastic coffee cup lids, straws, take out containers and clamshell containers like those used for strawberries and blueberries.
Unfortunately, if you aren't able to avoid using these items, the only current options for disposing them are to either reuse them (look for someone in your local Facebook Freebies group who may use them for a craft, to organize art supplies or a school project) or put them in the trash where they'll be safely disposed at the landfill.
To learn more about the Recycle Right campaign or the many benefits of recycling, visit RecycleRight.org