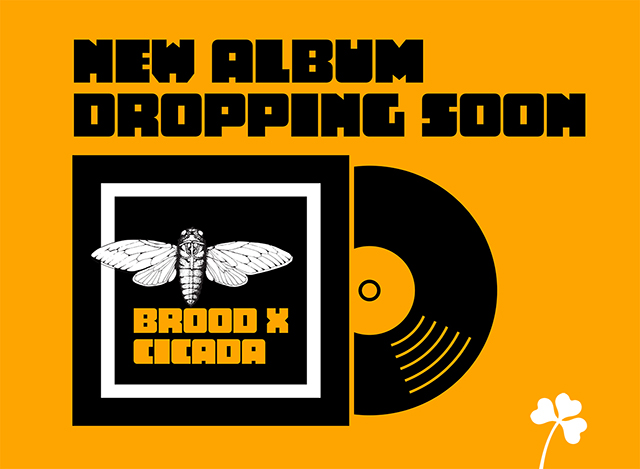 June 22, 2021 Update:
The Brood X cicadas are slowing down and reaching the end of their lifespan. A few sporadic areas, often just single trees or a small cluster of trees still have active singing males. Most females have mated now and laid eggs and most of this brood is now dying. Folks are likely to see some crawling on the ground or slowly moving in a tree or bush, with the occasional spurt of buzz.
There will be "latecomers" who emerged a week or so behind the main cluster, and so there will be some singing but no more of the deafening noise!
Annual cicadas are emerging now (they have big, green eyes!) and will make up the background buzz that's the soundtrack of summer.
About Brood X Cicadas
Have you heard the buzz? After 17 years of living underground feeding on sap from the roots of plants, one of the largest broods of cicadas will be emerging soon to lay their eggs in trees.
Brood X, or the Great Eastern Brood, will spend 2-4 weeks in late May and early June courting, mating and flying. The eggs they lay will hatch 4-6 weeks later. Their presence will be hard to ignore, as cicadas can emit sounds between 80 and 100 decibels, equivalent to a low-flying airplane or a lawn mower! You can expect to see them in Ohio and about 14 other states as soon as the weather reaches 64 degrees. Their offspring will head back underground and will not be heard again until 2038.
These red-eyed insects, although very noisy, provide a rich food source for many animals including snakes, squirrels, chipmunks, birds, small hawks and owls, in addition to all of our common mammals from fox to raccoons to opossums, voles and bats.
Plus, wildlife rescuers collect them and freeze them as the nutrient-packed insects are a great, natural food for sick and injured animals in rehabilitation!
So all that noise still plays a very important role in the circle of life!
Cicada FAQs
Are you finding cicadas in your backyard? Here are some ways Dublin residents can coexist with these red-eyed insects.
🦟  What should I do if I find a cicada?
No need to do anything, as cicadas will not hurt anyone or anything. Keep car windows closed or they might fly into cars in areas where they are super thick. There are very heavy populations along the river and most of the streams.
🦟  What should I do with the cicada skin that's left behind after they molt?
Homeowners can pick up the cicada's exoskeleton remains and compost them at the Dublin Compost location at 6555 Shier Rings Road, or toss them out. Other wildlife, such as squirrels and small mammals, will eat the shells for the chitin.
🦟  Help! My dog/pet ingested a cicada, what should I do?
Cicadas are edible, however, make sure no neighbors are putting out insecticides for cicadas. There is no need to kill cicadas. While they have a straw-like appendage like butterflies, they do NOT eat plants … they do suck a bit of moisture from leaves in order to stay alive to breed, but they may go days without needing any moisture.
🦟  When should I expect the cicadas to be the loudest?
They will be the loudest starting around the second week of June, for about 2-3 weeks, as each wave of the brood hatches. By the end of June, we should notice the sound waning gradually each week thereafter. Other cicada species will also be hatching through the summer, so we will hear cicadas all through summer, but most in July and August will be these small populations of annual cicadas.
Become a Cicada Citizen Scientist
If you're curious about cicadas and would like to participate in a citizen science project, download the free app Cicada Safari (available on iOS and Android). This easy-to-use app was created at Cincinnati's Mount St. Joseph University and lets the cicada-curious community record cicada sightings. You can also record sightings at the websites Cicada Mania and iNaturalist, a joint initiative of the California Academy of Sciences and the National Geographic Society. Cicada mapping helps scientists verify the insects' life cycles, as well as broods' relationships to one another, to gain a better understanding of biodiversity, biogeography and ecology.
According to The Ohio State University, the Ohio cities that will see the heaviest populations of Brood X cicadas include Dublin, Fairfield, Delaware and Galloway!
Cicada Art
Did you know there's a sculpture in Dublin that's inspired by cicadas? See if you can find Todd C. Smith's Exuvia in Coffman Park! This unique work is part of the Dublin Art Council's Art in Public Places collection. Learn more about this art and hear from the sculpture.
Cicada Resources
Buckeye Backyards: "Cicada Observations and Educational Opportunities"