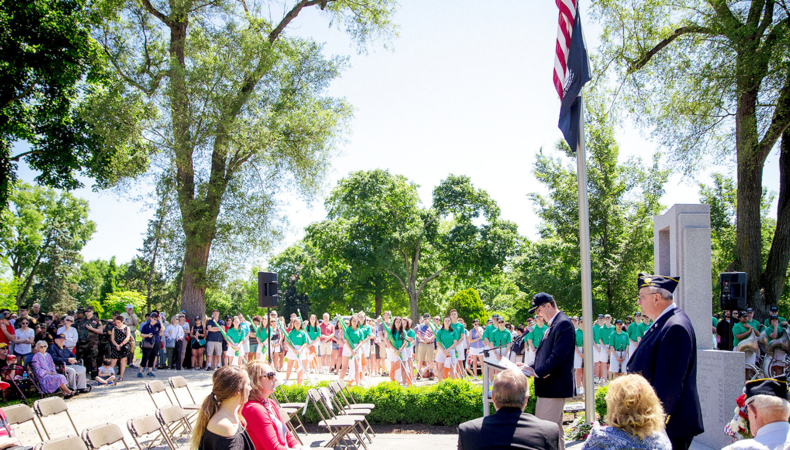 (Dublin, OH) – The City of Dublin, in partnership with the Wesley G. Davids Dublin Post 800 of the American Legion, will host the annual Memorial Day Ceremony on Monday, May 31. In lieu of an in-person event, meaningful virtual activities will give residents and community members the opportunity to honor veterans who lost their lives in service to our country.
Ways to remember the fallen:
Visit DublinVeterans.com to watch a special virtual tribute video posted at 11 a.m. on Memorial Day.
Watch the Abbey Theater of Dublin's virtual adaptation of former President Garfield's Decoration Day speech on DublinVeterans.com at 11:15 a.m.
Explore The Remembrance Project – Honoring Dublin's Veterans initiated by the Dublin Chamber of Commerce's Leadership Dublin Executive Program Class of 2021. The ongoing project's goal is to set the guidelines for future volunteers to gather information about the veterans interred at the Dublin Cemetery and uses today's technology to provide those stories to the public. Once the stories are collected, a QR code will be placed in the cemetery. Visitors can scan the code to visit a website where they can learn more about the veterans, locate their gravesites on a map, and hear their story as told by their family and friends.
Watch WSYX ABC 6's documentary titled "Duty First" at 7 p.m. May 31. Originally aired last December, reporter Stacia Naquin follows the family of former Dublin resident and current City of Dublin staff member, 1st Lt. Alex Rozanski, during the year he was deployed to the Middle East. Alex's brother, Captain Nicholas Rozanski, also served in the military and tragically died on April 4, 2012 in Afghanistan while serving his county. Nick is buried in the Dublin Cemetery and honored on the KIA Memorial.
The Dublin Link pedestrian bridge will be illuminated in red, white and blue the evening of May 31 in honor of Memorial Day.
Community members are also encouraged to participate in the following individual or small group activities:
Participate in the National Moment of Remembrance. Pause for a moment of silence at 3 p.m. on Memorial Day.
Raise your American flag to half-staff from sunrise until noon on May 31.
Visit one of the Dublin cemeteries this weekend to reflect and pay tribute to the interred veterans.
Visit the National Veterans Museum in Columbus to view "The Wall That Heals," a traveling, 3/4-scale replica of the Vietnam Veterans Memorial. The Wall will be open to the public 24-hours a day starting Friday, May 28, and ending at 2 p.m. on Monday, May 31. The names of over 58,000 U.S. service members are inscribed on 140 panels, spanning 375 feet in length.
Share a photo of your beloved fallen service member on social media.
#
Media Contact:
Shirley Blaine
Public Information Officer
614.230.4683 – Cell
614.410.4523 – Desk
sblaine@dublin.oh.us
Newsroom: DublinOhioUSA.gov/newsroom/