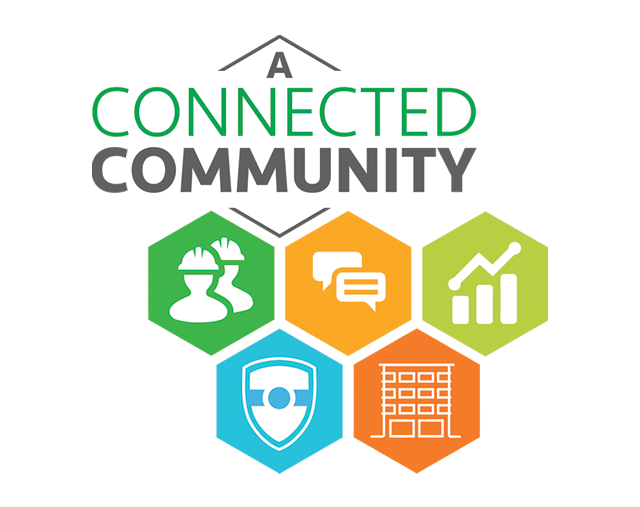 What:
The City of Dublin presents the 2019 State of the City
When:
Thursday, March 14, 2019
6 – 7 p.m. – Community reception and exhibits
7 – 8 p.m. – State of the City Presentation
8 – 8:30 p.m. Dessert and Networking
Where:
The Exchange at Bridge Park
6520 Riverside Drive, Dublin, OH 43017
Public is invited
The City of Dublin will present the State of the City on Thursday, March 14, at The Exchange at Bridge Park.
The theme, A Connected Community, will highlight the many partnerships and organizations that help make the City of Dublin a global city of choice and help us provide best-in-class services and quality of life for residents and Dublin's businesses/workforce.
City Manager Dana McDaniel said the State of the City is an opportunity to report the accomplishments of 2018 and highlight priorities for 2019.
The State of the City will also highlight how technology and infrastructure will continue to connect our community through Dublin's smart city "connected" initiatives and projects such as the Pedestrian/Bicycle Bridge and the new Columbus Metropolitan Library Dublin Branch.
McDaniel will provide an overview of the City's innovation strategy focused on technology, mobility, and economic development. Members of the City's leadership team will be presenting brief highlights from 2018 and there will be an update on the Aging in Place Amazon Alexa Pilot project.
"The City of Dublin remains fiscally strong and well-positioned for the future," states McDaniel. "Our City Council and City employees take great pride in serving this community and connecting with our residents, businesses and organizations to provide best-in-class services and a safe environment for all to live and work."
The event is open to the public. The State of the City will also be live-streamed.
###
CONNECT WITH US   Facebook Twitter LinkedIn Nextdoor
Media Contact:
Sue Burness
Director Communication & Public Information
sburness@dublin.oh.us
614.226.5382
Twitter @sueburness | @dublinohio | www.dublinohiousa.gov
About the City of Dublin, Ohio, USA
Dublin is a city of more than 48,000 residents located just northwest of Columbus, Ohio. It offers residents and corporate citizens responsive services, attractive housing, superior public education, direct regional highway access, abundant park space, thoughtful and strategic planning, innovative ideas and technology and a dynamic community life. Dublin is consistently ranked one of the safest cities in the nation and in 2015 was named one of America's Top 20 Creative Class Cities. It is home to more than 20 corporate headquarters, an entrepreneurial center, 4,700+ businesses, world-class events and the urban, walkable Bridge Street District. For more information, visit DublinOhioUSA.gov or call 614.410.4400.