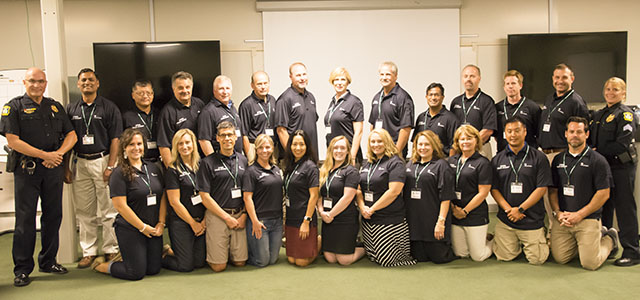 (Dublin, OH) A graduation ceremony on November 17, 2016 honored 24 participants who took part in the 5th class of the Dublin Citizen Police Academy. The academy started in 2012 and has grown in popularity.
"The Dublin Police Department can only be successful if we engage with our community and have and maintain their support. Our Citizens Police Academy (CPA) continues to be a very popular method to help us achieve those goals. Every year, we get more applicants than we have spots available in the class. That is a testament to the caliber of the program and the hard work of Academy Coordinator, Sgt. Renae Rice and all of the Police personnel who dedicate countless hours planning and instructing the sessions. It is also a result of the dedication of the Dublin CPA Alumni Association and our partners and sponsors. Most importantly, it is a reflection of our community and the level of engaged citizens here in Dublin who give up their time to be involved in the community and learn more about the How to keep our community safe."
This 12-week program gives participants an inside look at the Dublin Police Department and the law enforcement profession. The graduates practiced life-like scenarios including impaired driving traffic stops and incident response. They also learned how to safely handle a firearm during shooting experiences at the Dublin Police shooting range.
The class recently paused to show off their new skills in a Mannequin Challenge.
All graduates are invited to join the Citizens Police Academy Alumni Association. A small number of association members go on to become Community Service Officers, which are trained volunteers who help police with activities such as vacation house checks, business checks, vehicle lock outs, traffic surveys and special event assistance.
"Congratulations to Class number 5 of the CPA on their graduation. I look forward to working with them in the future to make our city and community a safer and better place," says Sgt. Renae Rice. "The CPA increases communication and helps establish a wonderful partnership between the police and our citizens. This class would not be as successful without the support of the Dublin Citizen Police Academy Alumni Association and the businesses that support it."
The Dublin Police Department thanks the following supporters who have contributed to the success of the Citizens Police Academy:
Dublin CPA Alumni Association
BMI
Jason's Deli
Martino's Sports Bar
Dewey's Pizza
Jimmy John's
El Vaquero
Olive Garden
Matt The Miller's
PF Chang's
Chic Fil A
101 Beer Kitchen
Mezzo
The Dublin Police Department will likely start accepting applications for the 6th Citizens Police Academy in spring 2017.
All applicants must be 18 years or older. Those who have committed a felony and illegal drug users will not be considered. A full list of disqualifiers can be found here https://dublinohiousa.gov/dublin-police/citizens-police-academy/
Media Contact:
Lindsay Weisenauer
Senior Public Information Officer
614.704.9742 – Cell
lweisenauer@dublin.oh.us
Newsroom: dublinohiousa.gov/newsroom