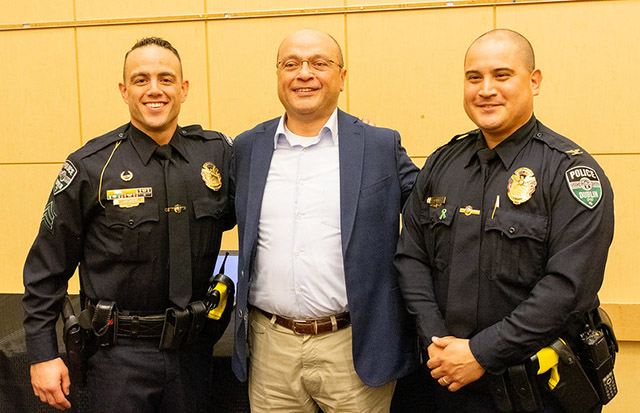 (Dublin, OH) A graduation ceremony on November 6, 2019 honored 24 participants who took part in the 8th class of the Dublin Citizen Police Academy.
This 12-week program gives participants an inside look at the Dublin Police Department and the law enforcement profession. The graduates practiced life-like scenarios including impaired driving traffic stops, incident response, active shooter training, take fingerprints and use a tourniquet. They also learned how to safely handle a firearm during shooting experiences at the Dublin Police shooting range.
"One of my favorite things about the class was when members of SWAT came. Those guys were awesome and it was amazing to see. I never had any idea of the things they do, or what the police department does," said Rayno Serfaty.
"The reason I took the class is because I never had interaction with police before besides a speeding ticket," said Gaurav Goel. "I always had a fear of hesitation when I saw a police officer walking towards me. I automatically am thinking is there something negative? Is there something bad here? Did something bad happen? This class changed my perspective. Next time I see a police officer I feel more secure and safe because they are there doing their job. That was a big change for me."
"I thought it was interesting on the scenarios. That was my favorite part," said Christy Clark. "How quickly you have to make a decision when sometimes you don't have an opportunity to get all the details."
"It gave us an appreciation for what officers do," said David Hopper. "I have left this class with a whole different mindset. My bad day at the office is nothing compared what the officers' experience."
"I have lived in Dublin for over 15 years. Not only did this class reinforce my already good feelings about our police officers, but I never realized their duty and responsibility not only in the community," said Kari Hertel. "I very much appreciate what they do and I am really glad to live here."
"I really liked the night that the officers walked us through step-by-step on how they solved the Duchess gas station shooting," said Rosann Mercer. "That was fascinating. It gave us a different perspective and more of a real perspective then we see on TV."
"I got a lot more out of it then what I was expecting," said Venu Ravipati. "This class was a unique experience and I learned a lot. I really enjoyed it and got a lot of information.
"The Dublin Police Department can only be successful if we engage with our community and have and maintain their support," said Chief Justin Paez. "Our Citizens Police Academy (CPA) continues to be a very popular method to help us achieve those goals. Every year, we get more applicants than we have spots available in the class. Most importantly, it is a reflection of our community and the level of engaged citizens here in Dublin who give up their time to learn more about the how we do our job."
All graduates are invited to join the Citizens Police Academy Alumni Association. A small number of association members go on to become Community Service Officers, which are trained volunteers who help police with activities such as vacation house checks, business checks, vehicle lockouts, traffic surveys and special event assistance. This class would not be as successful without the support of the Dublin Citizen Police Academy Alumni Association and the businesses that support it."
The Dublin Police Department thanks the following supporters who have contributed to the success of the Citizens Police Academy:
Dublin CPA Alumni Association
Kroger – Hospital Drive
Mezzo
Sunny Street Café
Chic Fil A
Dewey's Pizza
Firehouse Subs
Costco
Napa
City BBQ Powell
Bridge Street Pizza
The Dublin Police Department will likely start accepting applications for the 9th Citizens Police Academy in spring 2020.
All applicants must be 18 years or older. Those who have committed a felony and illegal drug users will not be considered. A full list of disqualifiers can be found here https://dublinohiousa.gov/dublin-police/citizens-police-academy/
Media contact:
Melanie Amato
Public Information Officer
614.410.4501 – Desk
614.318.3009 – Cell
mamato@dublin.oh.us
Newsroom: https://dublinohiousa.gov/newsroom
@DublinOhio | @DublinPolice | www.DublinOhioUSA.gov