American Electric Power (AEP) is notifying Dublin residents of two upcoming projects.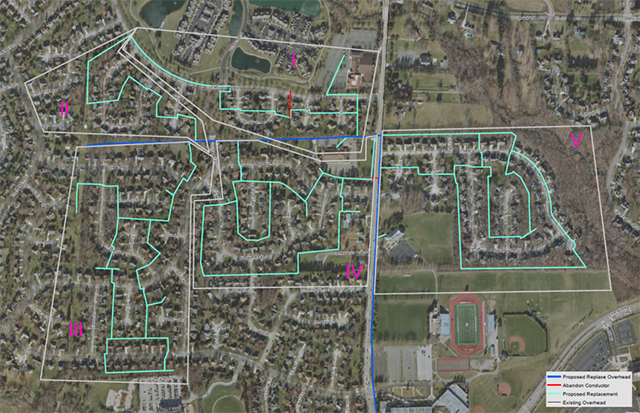 Circuit Reconstruction
Significant reconstruction is necessary on an AEP circuit that serves much of Dublin. AEP plans to start with the area depicted in map above. The work will be performed in phases, and the full project could take a few years to complete. The reconstruction p AEP will be performing this work in phases and estimates it will take the rest of this year (and perhaps into 2018) to complete the work shown. Future phases of the project could take a few years to complete.
Any service interruptions are expected to be brief, and AEP will notify residents of any planned interruptions ahead of time.
Crews will need to access private properties to bore holes in the ground to place new cable. Customers will receive notifications ahead of work on their property.
Line Clearing
AEP, in partnership with tree service contractors, is reaching out to some Dublin property owners to discuss necessary tree work. The tree trimming, and in some cases tree removal, activities will not begin until impacted property owner have been contacted.
Property owners with questions may contact AEP at 800.277.2177.
AEP Ohio is constantly working to improve reliability by minimizing the number and length of outages, and the number of customers affected by each outage.
Of course, outages occur for a variety of reasons, including lightning, ice storms and animals. But one of the most common causes of power outages is tree limbs falling across power lines. Just one tree limb can knock out electric service to dozens of families up to several miles away. In fact, a single tree initiated a power outage in 2003 for over 50 million Americans and Canadians from the Midwest to the East Coast.
That's why AEP Ohio has a comprehensive program to manage trees and brush that grow around power lines – and it has been shown to be effective at improving service reliability.
To learn more about AEP Ohio's plans, and why vegetation management is so important – check out AEP Ohio's Tree Trimming and Reliability web page – https://www.aepohio.com/info/TreeTrimming
Right Tree, Right Place | Keeping Your Lights On
–
AEP Ohio is based in Gahanna, Ohio, and is a unit of American Electric Power. AEP Ohio provides electricity to nearly 1.5 million customers. News and information about AEP Ohio can be found at AEPOhio.com.
American Electric Power is one of the largest electric utilities in the United States, delivering electricity and custom energy solutions to nearly 5.4 million customers in 11 states. AEP owns the nation's largest electricity transmission system, a more than 40,000-mile network that includes more 765-kilovolt extra-high voltage transmission lines than all other U.S. transmission systems combined. AEP also operates 223,000 miles of distribution lines. AEP ranks among the nation's largest generators of electricity, owning approximately 31,000 megawatts of generating capacity in the U.S. AEP's utility units operate as AEP Ohio, AEP Texas, Appalachian Power (in Virginia and West Virginia), AEP Appalachian Power (in Tennessee), Indiana Michigan Power, Kentucky Power, Public Service Company of Oklahoma, and Southwestern Electric Power Company (in Arkansas, Louisiana and east Texas). AEP's headquarters are in Columbus, Ohio.