(Dublin, OH) – Dublin and Hilliard Police Departments have received recent calls on mail being stolen from resident mailboxes.
The morning of April 16, 2013, Dublin Police received two calls reporting mail stolen from mailboxes on Nassau Loop in Dublin, Ohio. A witness observed a suspicious vehicle in the area. The vehicle was described as an older model green van driven by a black female.
On the morning of April 22, 2013, Hilliard Police received a call from a resident who saw a black female in a green van pull up to his mailbox. The female opened the mailbox, looked at his mail and then drove off. No mail was taken in this incident. The resident took a photo of the vehicle stating it was approximately a 1996-year Plymouth green minivan with gray lower trim. The van did not have a front tag and was missing the fuel door on the driver's side.
A photo of the suspicious vehicle is attached. Anyone with information on this vehicle is encouraged to contact the Dublin Police at 614.889.1112.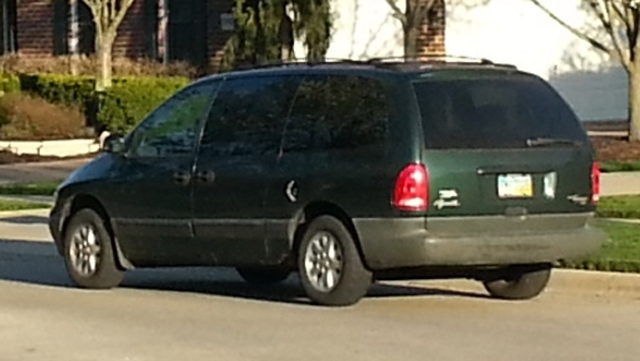 ###
Media Contact:
Sue Burness
Public Affairs Officer
614.226.5382 (mobile)
614.410.4508 (office)
sburness@dublin.oh.us (email)
@SueBurness @DublinOhio/@DublinPolice (twitter)