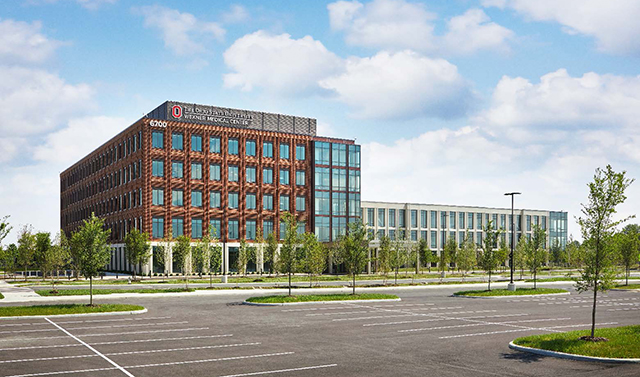 COLUMBUS, Ohio – The Ohio State University Wexner Medical Center will extend its convenient access to primary and specialty care services in central Ohio when the first patients are treated at its new state-of-the-art Outpatient Care Dublin on Wednesday.
Located at 6700 University Blvd. near U.S. Route 33 and Avery Road in Dublin, Ohio, the $161.2 million, 272,000 square-foot building is the second of three outpatient care centers that are part of the medical center's strategic expansion of outpatient services. The goal is to offer patients access to the advanced health care of Ohio State's nationally ranked experts in a convenient community setting – right in their own neighborhood.
The first facility – Ohio State Outpatient Care New Albany– opened last summer at the corner of state Route 161 and Hamilton Road in northeast Columbus, and another is in the planning stages for Powell, Ohio for 2025.
"Many surveys and studies have demonstrated that convenient access is one of the key factors in ensuring patients get the healthcare they need. That's particularly important when it comes to preventative care because it improves outcomes and keeps people healthier in the long term – even saving lives. This new facility is yet another example of Ohio State's longstanding commitment to fulfilling our land-grant mission by sharing our expertise, resources and nationally-recognized healthcare services with the communities we serve," said Ohio State University President Kristina M. Johnson.
At the Dublin and New Albany locations, patients can have multiple appointments with different health care providers all in the same place — and often on the same day. Patients can take care of all their major health care needs, from prevention to surgery, in just one building.
Experts from 22 different specialties, including allergy and immunology, cardiology, diabetes and endocrinology, primary care, orthopedics, physical therapy and more, will diagnose and treat patients on site at Outpatient Care Dublin. More than 450 faculty and staff will provide more than 100 different services here, with the ability to easily refer patients to other specialists at Ohio State Wexner Medical Center if additional care or treatment is needed.
"We understand that our patients have busy lives, and Outpatient Care Dublin will help us provide more people with better access to high-quality, highly specialized care. With our suburban outpatient care centers, including one being planned for Powell, we're going beyond the traditional centralized hospital approach to improve patient-centered care, access, and reduce patient costs," said Jay Anderson, chief operating officer at Ohio State Wexner Medical Center. "Our experts at Outpatient Care Dublin are dedicated to improving lives and providing a comprehensive range of care in a single location to help you live your best life."
Advanced Immediate Care is another essential service available at Outpatient Care Dublin. This gives patients access to emergency medicine specialists without the cost, wait times or travel to a traditional hospital emergency department.Walk-in health care will be available seven days a week for common conditions as well as serious, non-life-threatening illnesses and injuries — no appointment needed and MyChart users can reserve a spot in line.
Ohio State's nationally ranked physicians provide the latest in comprehensive medical care, as well as outpatient procedures in the state-of-the-art surgery center, such as same-day joint replacement. Same-day surgery services and outpatient procedures will include cosmetic vein treatment, interventional radiology, orthopedic surgery, otolaryngology, and vascular surgery.
In addition, advanced imaging services and diagnostic testing, as well as cancer screening and diagnosis from the experts at The Arthur G. James Cancer Hospital and Richard J. Solove Research Institute will be available, including mammography services. An onsite pharmacy also allows patients to leave with their medications in hand.
"Dublin is a safe, resilient and inclusive city with the best quality of life and environment for all to thrive – physically, mentally, socially and emotionally. This partnership with The Ohio State University Wexner Medical Center is a key contributor to that resilience," said City of Dublin City Manager Dana McDaniel. "We are beyond proud to bring this world-class university-based medical center to Dublin and look forward to accomplishing much together to enhance the community and quality of life."
Ohio State's newest comprehensive health care center was designed to be comfortable and easy to navigate, filled with natural light and flexible space for patients and families. The BistrOH café offers a variety of food and beverage options that can be enjoyed inside or in relaxing outdoor spaces, including outdoor Wi-Fi, walking paths open to the public, a landscaped courtyard with tables and benches, along with more than 1,000 trees on the 34-acre-site. Physical therapy patients can even receive treatment outside in nature during good weather.
Outpatient Care Dublin is located at 6700 University Blvd. The facility is open Monday-Friday 7:30 a.m. – 9:30 p.m. and Saturday & Sunday 10 a.m. – 9:30 p.m. For information and scheduling, call 614-363-6078.
# # #