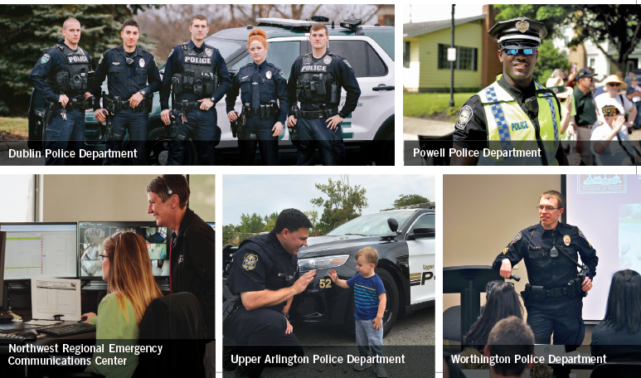 (Dublin, Ohio) – The Dublin Police Department, Columbus Division of Police, Powell Police Department, Upper Arlington Police Department, Worthington Police Department and the Northwest Regional Emergency Communications Center (NRECC) will hold the area's second joint recruitment event on Saturday, January 11, 2020.
The recruitment event will begin at 1 p.m. and include informal informational sessions with officers and leadership from the participating agencies. The event is open house style and participants are free to come and go anytime between 1 p.m. and 3 p.m.
Details:
Central Ohio Police Agencies Partnering for Joint Recruitment Event
Saturday, January 11, 2020
1 – 3 p.m.
Dublin Community Recreation Center (Tallas 1 & 2)
5600 Post Road, Dublin, OH 43017
"Partnering with other agencies is a great way to cast a wide net to attract a broad and diverse candidate pool," says Dublin Police Cpl. Kevin Keiffer. "We are all facing the same ongoing challenges when it comes to recruiting top talent into our profession. So, it only makes sense to collaborate on events like this."
Opportunities for individuals with varying levels of experience are available including many introductory-level positions that require no prior experience or training.
More information on each of the participating departments is available:
Dublin Police – JoinDPD.org
Columbus Police – columbus.gov/police-recruitment
Powell Police – email recruitment@cityofpowell.us or visit  cityofpowell.us/government/employment-opportunities/
Upper Arlington Police – Upperarlingtonoh.gov/police-division/
Worthington Police – Worthington.org/8/Departments
NRECC – JoinDPD.org
###
Media Contact:
Lindsay Weisenauer, Public Affairs Officer
614.704.9742 – Cell
lweisenauer@dublin.oh.us
Newsroom: https://dublinohiousa.gov/newsroom/