General Information:
The City of Dublin is taking measures to ensure the safety and security of guests at its annual Independence Day Celebration on Friday, July 4 at Dublin Coffman High School Stadium (DCHS).
This year's festivities, themed "Shining Stars and Stripes," will be overseen by Grand Marshal and former Dublin mayor Jan Rozanski.
The patriotic salute in Dublin will kick-off with the Sherm Sheldon Fishing Derby at 8 a.m., followed by the annual parade at 11 a.m., and the Skyhoundz Hyperflite Canine Frisbee Disc Championship at 5 p.m. The Celebration at the stadium begins at 4:30 p.m., including a live concert by Earth, Wind & Fire. The evening will also include a remarkable display of fireworks and the Grand Finale at 9:50 p.m.
Confirmed sponsors of the celebration are Chevrolet of Dublin, Dublin Methodist Hospital, Sunny 95, Premier Allergy, Dr. Pepper/Snapple, O'Neil Tents and Party Supplies, LIVE! Technologies, Inc., DiBella's Old Fashioned Submarines, Golf Car Company, Tim Hortons and ThisWeek Newspapers.
For more information, please visit https://dublinohiousa.gov/independence-day-celebration/ or contact City of Dublin Events Administration at 614.410.4545.
Parade:
The Independence Day Parade will step–off on Metro Place North at 11 a.m. The parade will then turn north onto Frantz Road, east onto Bridge Street and then continue south on High Street ending at Waterford Drive. Click here to view the Parade Route Map.
Restricted access for vehicles along the route will occur from 8 a.m. to 12:30 p.m.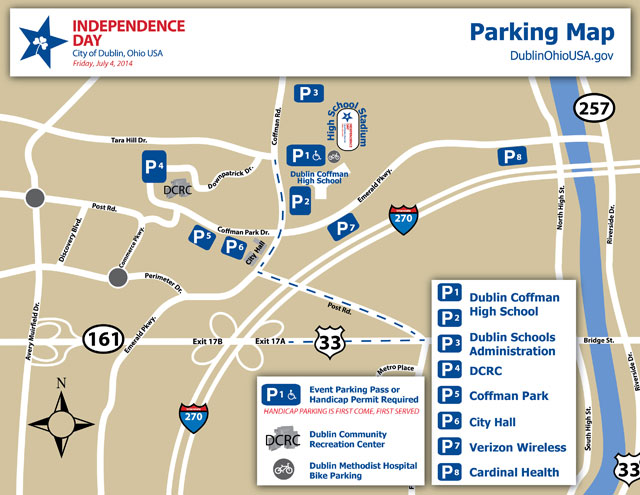 Evening Celebration:
Gates open to the Evening Celebration at 4:30 p.m. Reserved table seating on the field is sold out. Free seating is available in the bleachers at the stadium on a first-come, first-served basis. Guests who choose to leave the stadium will not be guaranteed re-entry if maximum capacity is reached.
Guests are not permitted to bring alcohol, pets (except assistance dogs), weapons (including knives), or fireworks of any kind, including those that are legal in the State of Ohio such as sparklers. Security personnel will be on-site searching bags, baskets, coolers, etc. at all entrances to the stadium.
Prohibited items found at the bag check locations will be confiscated and disposed. Patrons may return legal items back to their vehicle. Illegal items will be confiscated; officers will address as appropriate.
Food and non-alcoholic beverages are permitted on high school grounds; however, alcohol is strictly prohibited. No chewing gum, confetti, candles, sparklers or open flames of any type will be permitted and smoking is not allowed anywhere on school property.
Guests must take extra care to protect the DCHS property, both inside and outside of the stadium. To help protect the school practice fields, guests may not place any tarps or tent stakes on the grass to reserve space.
In addition, fences will be erected as a safety measure around the fireworks launch site to keep people out of the safety zone. Guests are prohibited from entering the safety zone at any time.
Handicap parking is first-come, first-served at the DCHS Stadium. Additional parking is available at the DCHS North and South parking lots, the Dublin Community Recreation Center, Dublin Schools Administration Building, Dublin Municipal Building, Coffman Park, and east portion of the Verizon Wireless and Cardinal Health parking lots. Guests are encouraged to carpool or use Dublin Methodist Hospital Bike Parking located just outside the stadium. Click here to view a Parking Map.
Private Use of Fireworks:
Dublin officials want residents to exercise caution on this holiday and remind residents that the use and sale of fireworks in Dublin is illegal. There are popular items that are legal to use, but must still be treated with care. Those items include: sparklers, smoke devices and party poppers.
Multimedia:
Stay up to date on the latest news and updates from the City of Dublin by visiting https://dublinohiousa.gov/newsroom/ and follow us on Twitter: @DublinOhio and @DublinPolice.
#
Event Contact:
Mary Jo DiSalvo
Event Marketing Administrator
City of Dublin
Office Phone: 614.410.4507
Mobile: 614.679.1143
Police Contact:
Jodi Andes
Senior Public Information Officer
City of Dublin
Office Phone: 614.410.4504
Mobile: 614.704.9742