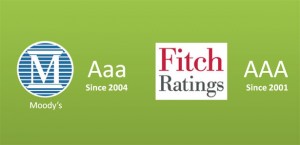 For Immediate Release
August 31, 2012
City highlights lower interest rates and ability for residents to purchase bonds
(DUBLIN, Ohio)– The City of Dublin today announced an upcoming $10.8 million bond offering, providing the City with an opportunity to refinance existing City obligations at a lower cost to taxpayers and to finance new water, sewer and lighting projects.
Those interested in learning more information about the bond offering and the specifics on the investment are encouraged to attend an informational seminar at 7 p.m. Tuesday Sept. 11 at the Dublin Community Recreation Center (Talla 1), 5600 Post Rd.
The upcoming bond offering is expected to begin Tuesday, Sept. 18. The City is providing the opportunity for the residents and businesses located within the City of Dublin to have the opportunity to purchase these bonds.
"The City is currently rated "AAA" by Moody's Investors Services and Fitch Ratings" said Deputy City Manager / Director of Finance Angel Mumma. "The City expects an affirmation of the City's current rating which will confirm the City's commitment to running a financially healthy and stable City government."
"We're extremely pleased that our efforts to be wise with taxpayer dollars are providing additional benefits," said Mumma. "Our goal is to meet the needs of our residents while being mindful of costs. This rating affirmation enables us to achieve that goal more efficiently and effectively."
The City has retained Robert W. Baird & Co. of Columbus, Ohio to underwrite the bonds and to make bonds available to residents and businesses of the City. Robert W. Baird & Co. is an international wealth management, capital markets, private equity and asset management firm. The City expects bonds to be sold in $5,000 increments.
"The local bond offering is a rare chance for residents to own bonds in their town for projects that impact their daily life," said Mumma. "This is a great time in the City of Dublin, and it's wonderful for people to share in it."
Contact:
Megan Canavan
Public Information Officer
614.410.4504 (office)
614.327.6827 (mobile)
mcanavan@dublin.oh.us
@DublinOhio