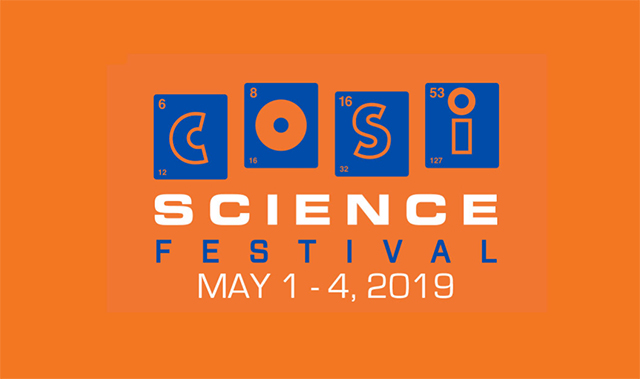 The City of Dublin is proud to be among the sponsors of the inaugural COSI Science Festival, an unprecedented four-day region-wide event that will bring hands-on science activities to people of all ages throughout central Ohio.
The Big Science Celebration will be the culminating event – with dynamic experiments, incredible demonstrations, and engaging hands-on activities. The free event will be Saturday, May 4, 2019, 11 a.m. – 4 p.m. along the Peninsula surrounding COSI, including Washington Blvd., Genoa Park, Town St. and Dorrian Green Park.
Leading up to The Big Science Celebration, there will be events highlighting science and technology in communities throughout the region, including in Dublin.
The Dublin area events are as follows:
Wednesday, May 1, 2019, 5 to 8 p.m.
Celebration of Learning @ Emerald Campus
Be a Scientist: The world is changing rapidly and Dublin is on the cutting edge of Science, Technology, Engineering, Arts, and Math in its schools and business community. Come visit the Dublin City Schools Emerald Campus for family-friendly learning and career exploration.
Presented by: Emerald Campus, Dublin City Schools
Audiences: Families (adults & kids together) Adults Elementary School High School Middle School!
More info: http://cosiscifest.org/events-2019/celebration-of-learning/
Thursday, May 2, 2019, 6 to 9 p.m.
Ideas at the Intersection of Science & Design
"Mistakes are great. The more I make the smarter I get." Buckminster Fuller, perhaps America's greatest 20th Century example of the scientific designer, spoke of "mistakes" as essential to the design process. Or was he speaking of science?
Presented by: Roto
Audience: Adults 21+
More info: http://cosiscifest.org/events-2019/science-and-design/
Friday, May 3, 2019, 7 to 10 p.m.
Citywide Star Party at Glacier Ridge Metro Park: Astronomy Experts
Join Metro Parks, COSI and Columbus Astronomical Society at Glacier Ridge Metro Park to learn more about stargazing from experts as we look up to the night sky and see what's out there.
Presented by: Columbus and Franklin County Metro Parks
Audiences: Adults, Families, (adults & kids together), High School
More info: http://cosiscifest.org/events-2019/citywide-star-party-at-glacier-ridge/
Click here for more information on the COSI Science Festival and a list of all central Ohio events- http://cosiscifest.org/

Dom Tiberi Named Grand Marshal of Upcoming COSI Science Festival for the City of Dublin
As a sponsor of the COSI Science Festival, Dublin had the opportunity to nominate a STEM Star to represent the community. The City designated Dublin resident and 10TV Sports Anchor Dom Tiberi for this honor.
The City of Dublin and COSI presented a COSI STEM Star award to Dom Tiberi on Tuesday, January 22 at the WBNS News Studio.
Dublin nominated Mr. Tiberi for his leadership in helping to educate the public on the dangers of distracted driving through the donation of 40+ simulators to police departments and other organizations throughout the community.
As part of his recognition, Mr. Tiberi will be crowned as a Grand Marshal and featured during the upcoming COSI Science Festival that will expose more than 50,000 central Ohioans to STEM from May 1 – 4, 2019.
The simulators, education and outreach grew out of tragedy when Mr. Tiberi heartbreakingly lost his daughter, Maria Elizabeth Tiberi in 2013 as a result of an automobile crash that was linked to distracted driving.  Mr. Tiberi and his wife created the Maria Tiberi Foundation, which has since donated simulators to over 80+ high schools to help prevent similar tragedies.
The City of Dublin has one such driving simulator and Dublin Police Officer Collier takes it to events and schools to help in the educational outreach.  The simulators help people see what it is like to drive when distracted, under the influence of alcohol and what the dangers and lack of control inherent in distracted driving feels like.
"We are honored to nominate Mr. Tiberi because of his tireless work to shape the next generation around the dangers of distracted driving.  We are excited to partner with COSI to highlight his work during the upcoming COSI Science Festival activities in Dublin and beyond," said Dublin Mayor Greg Peterson.
"We are excited to bring science and technology to people where they live, learn, and lounge.  The COSI Science Festival will be an important moment to highlight the amazing STEM throughout our communities, and COSI is honored to highlight Dom's critical work that uses technology to save lives," said Stephen White, Vice President at COSI.
The COSI STEM Star program was created in honor of the upcoming 2019 COSI Science Festival and recognizes individuals in Central Ohio who champion science, technology, engineering, and mathematics (STEM). COSI will present a custom 3D printed award to Dom Tiberi and designate him as one of the Grand Marshal's for the inaugural COSI Science Festival.  He will join with 12 other STEM Stars that will serve as representatives of their community at the final event of the COSI Science Festival on Saturday, May 4th at COSI.
Read more about Tiberi's selection as Dublin's STEM Star in Dublin Life –  https://www.cityscenecolumbus.com/communities/dublinlife/news-dublin-s-stem-star/
###
About the COSI Science Festival
In 2019, COSI will host the inaugural COSI Science Festival a four-day, an unprecedented collaboration that will be a region-wide event which brings hands-on science activities to people of all ages throughout Central Ohio.  The first three days will include events in communities throughout the region highlighting science and technology.  The final, fourth day of the festival will be the free culminating event, held on the peninsula outside COSI, with booths representing different businesses, nonprofits, universities and other organizations from around the region, each of whom will have a hands-on science activity for attendees.  For more information about the COSI Science Festival or to volunteer or participate, please visit https://cosiscifest.org.
About COSI
COSI, the Center of Science and Industry, located in Columbus, Ohio, is one of the most respected and exciting science centers in the nation.  Since 1964, COSI has been providing world-class experiences and engaging, inspiring and transforming lives and communities by being the best partner in science, technology, and industry learning.  From hands-on interactives on the museum floor and state-of-the-art planetarium and movie theater spaces, to its outreach programs, COSI delivers science and science educational experiences both in its building and far beyond its walls. As a center piece of Columbus's Downtown Peninsula, COSI stands as a leading cultural institution and destination attraction for regional, national, and international audiences.  Visit cosi.org for more information.