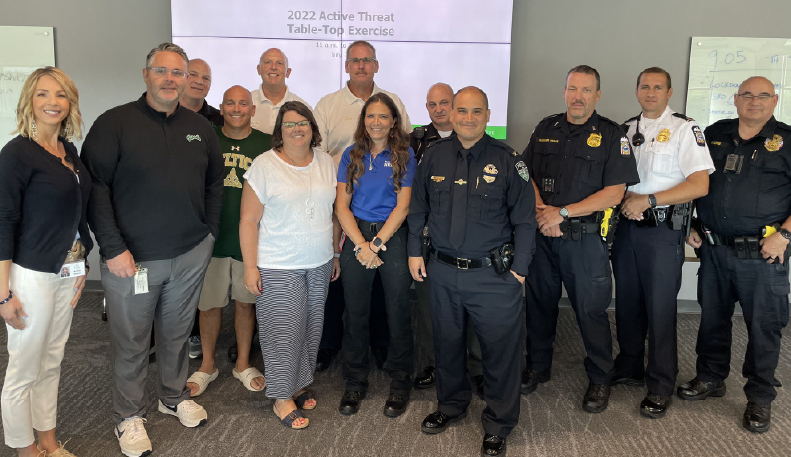 (Dublin, Ohio) — With students returning to classrooms this week, the City of Dublin and Dublin City Schools share their ongoing efforts to respond to an active threat situation at a school and how the community at large would receive information during such an event.
This summer, Dublin Police, City of Dublin officials, school leaders and regional safety partners met to discuss the response to a critical incident at a school. This comes in the wake of the Robb Elementary School shooting in Uvalde, Texas, which prompted a renewed look at safety and security in Dublin.
"Undoubtedly, school safety has been on families' hearts and minds as our young people return to school," Dublin Police Chief Justin Páez says. "Our partnership with the schools helps to foster a culture of safety here in Dublin, and while we never wish to experience such a tragedy, I want community members to feel confident in the safety response and communication they would receive from their police department and school system."
The training session focused on the Dublin Police Department's crisis communications response plan, which outlines how students, families, community members and the media would be informed of life-saving and critical information during an active threat. The groups shared important processes and procedures with one another and integrated those into the plan.
 "We are very fortunate to have an outstanding partnership with all of our local safety agencies," Dublin City Schools Superintendent Dr. John Marschhausen says. "The safety of our students and staff is essential, and these training sessions and workshops we are doing with our local partners will strengthen our safety and security efforts across our entire district."
Training and Resources
Effectively responding to and resolving critical incidents is one of the Dublin Police's top community goals. Dublin Police officers regularly work behind the scenes with Dublin City Schools to prepare for how they would restore safety and security after such an incident, and threat response has been an integral part of officers' annual police training since 1999. Police and the schools tout the "See Something, Say Something" campaign to encourage vigilant community members.
In the schools, there are many physical security measures in place to protect students and secure buildings. The School Resource Officer (SRO) program has been a key initiative for more than 20 years, serving as the police's in-school presence on the elementary, middle and high school levels. The Dublin City Schools Threat Assessment Team includes SROs, and the team evaluates concerns and communicates with the police department.
Another invaluable partnership is with Washington Township Fire Department for EMS support. Chief's Advisory Committee members have also provided diverse community perspectives and feedback about the school safety dialogue to police leadership.
Community Involvement
Dublin Scioto High School students are planning a "Protect Our Kids" vigil to commemorate the victims of gun violence in schools. Dublin Police's School Resource Officers will participate in the memorial Sunday, Aug. 21, starting at 8:30 p.m. at Riverside Crossing Park in order to share information about the enduring police department and school partnership.
This November, Dublin City Schools and Dublin Police will hold a safety drill along with fire personnel and teachers to practice their joint response to an active threat scenario at a school. Students will not be involved during this in-service day as the focus is on faculty training.
Public Safety in Dublin 
The Dublin Police Department is dedicated to protection, service and public safety in partnership with the community. Learn more at YourDublinPolice.org.
#
Media Contact:
Rebecca Myers
Public Information Officer
614.381.5225 – Cell
rrmyers@dublin.oh.us
Newsroom: https://dublinohiousa.gov/newsroom/