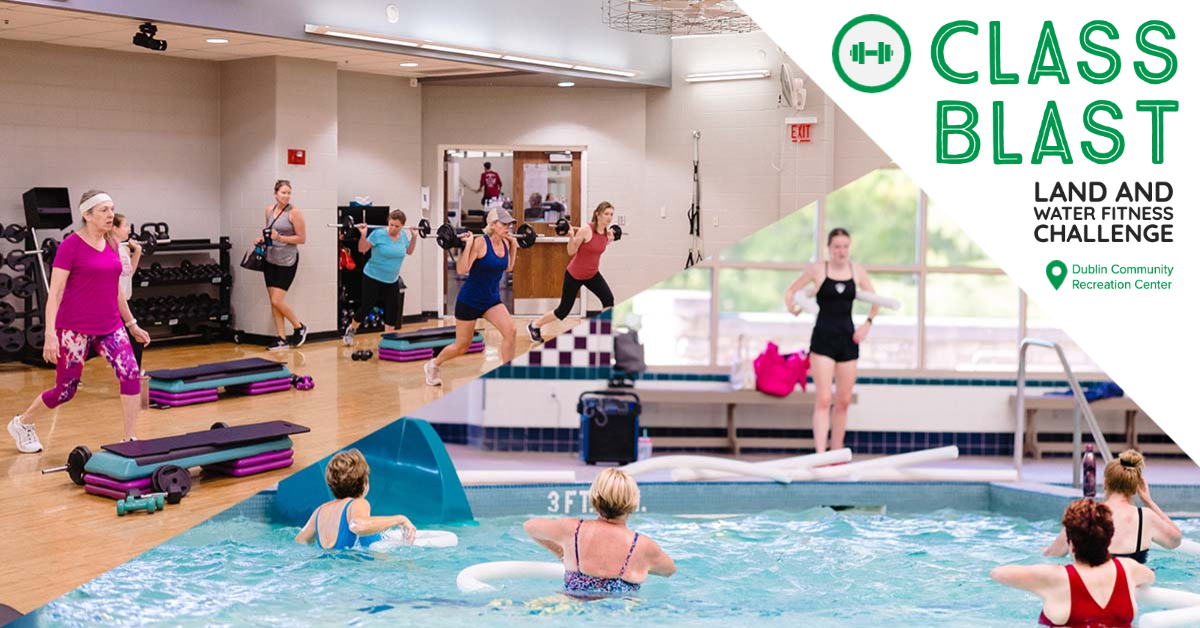 According to the latest stats on New Year's resolutions, 59% of Americans have resolved to exercise more. If this is your New Year's resolution, then let the Dublin Community Recreation Center help you meet that goal.
Class Blast: Land and Water Fitness Challenge is a 4-week challenge where you can earn points and win prizes for participating in group exercise classes and for bringing guests.
Details
When: Jan. 10 – Feb. 6, 2021
Where: Stop at the Check-In desk at the DCRC
What: Take any land/water fitness class and earn points
Why: You'll be entered to win weekly prizes and the grand prize
How It Works
Register and pick up a Challenge Card.
Register online beginning January 1st and pick up a challenge card from the Check-In desk any time before January 10. When you complete a land or water fitness class, ask the instructor to punch a box on the card. You get one (1) point per class. Turn in your card to the Check-In desk at the end of each week and pick up a new one for the following timeframe.
Earn points for bringing friends to a class with you!
When you register for the challenge you will receive three (3) guest passes. Fill out a guest pass with your name and your guest's name and contact information and turn it in to the Check-In desk when you come. Your guest will be able to enjoy the class for free. You earn two (2) bonus points for bringing a qualified guest and five (5) bonus points for any guest who becomes a DCRC member or purchases a group fitness pass during the challenge period.
Every week there is a prize drawing.
As long as you have turned in a challenge card or have brought a guest for points that week, you will be entered into the drawing for the weekly prizes. Keep participating each week and keep earning a chance to win!
Grand prize.
A grand prize will be awarded to the participants with the three highest point totals at the end of the challenge period.
Please note: Spinning® classes are not included in this challenge and are not eligible for points.
SPOTLIGHT CLASSES
Each week you have an opportunity to earn bonus points for participating in certain classes. Our challenge to all participants is to step outside their comfort zone and try a new class, either in the studio or the pool! Each spotlight class is worth three (3) bonus points, so you'll want to be sure these are on your calendar. Spotlight classes are highlighted on your weekly challenge card.