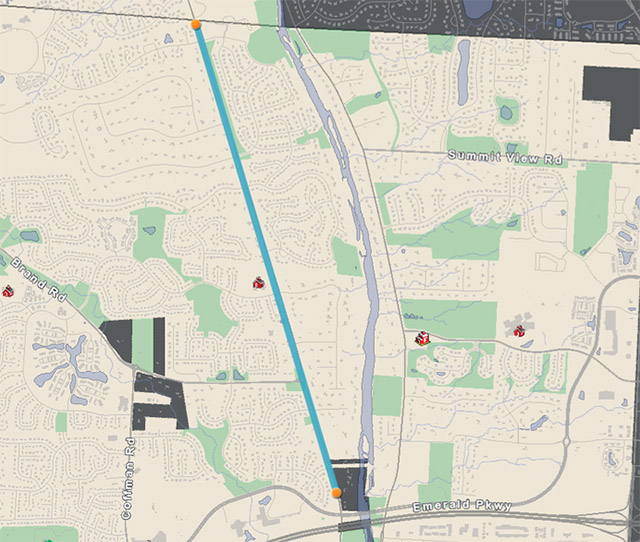 The City will be installing a force main sewer system on Dublin Road between Emerald Parkway and Glenaire Drive beginning on June 8, 2022. The project primarily constructs 2.5 miles of 16" force main sanitary sewer underneath Dublin Road and a new pump station across from Glenaire Drive. One-way traffic will be maintained for the majority of the project except for a short-term full road closure currently scheduled for the last week of July. Traffic can expect detours within the project limits until early November 2022. Detour routes will be published at least 1 week ahead of any traffic changes.
The sequence of construction is below for reference.
Phase 1: Emerald Pkwy to Brand Road, northbound traffic detoured to Coffman Road. Approximate schedule June 8 – July 19.
Phase 2: Brand Road to Bellaire Drive, northbound traffic detoured to Muirfield Drive from Brand Road. Includes three day full road closure at Limerick Lane. Approximate schedule July 20 – August 11.
Phase 3 & 4: Bellaire Drive to Glenaire Drive, southbound traffic detoured to Muirfield Drive at Glick Road. Approximate schedule August 12 – Nov 10.
The pump station will not be constructed until next year.
Background
As part of the sanitary sewer improvements recommended in the Deer Run Sewer Modeling Report (2012), the City of Dublin is preparing construction plans for installing a wet weather sanitary pump station (lift station) and approximately 11,000 linear feet of force main (sanitary sewer) along Dublin Road between Glenaire Drive and Emerald Parkway. Our design consultant, EMH&T, is currently performing field surveying and has started on preliminary design.
Media contact:
Andrew Kohn
Public Affairs Officer
614.578.1302 – Cell
akohn@dublin.oh.us
Newsroom: DublinOhioUSA.gov/newsroom
@DublinOhio | @DublinPolice | DublinOhioUSA.gov