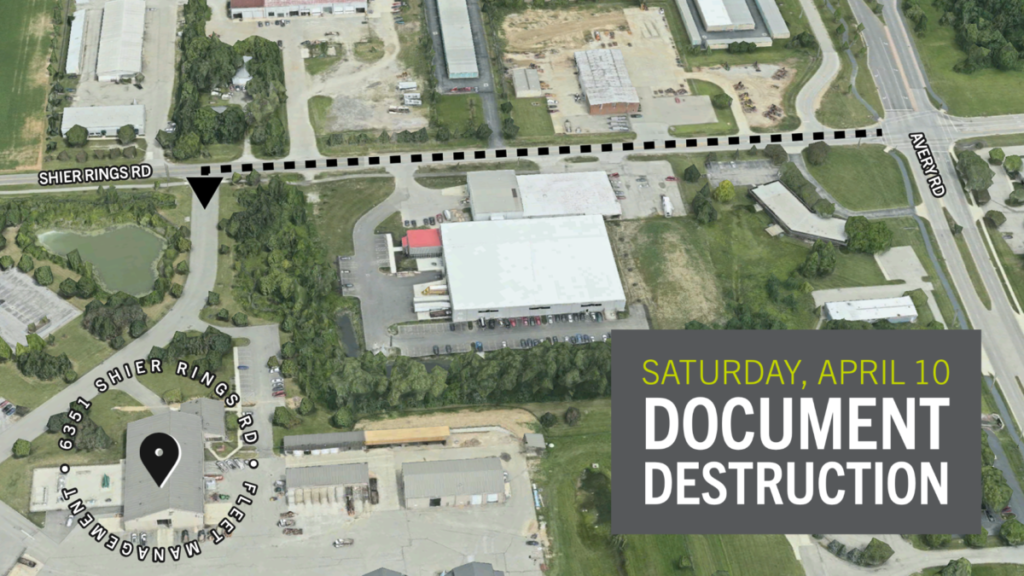 Save the date! The next Document Destruction Day is scheduled for Saturday, October 23, 2021. Details on the event will be provided closer to the event.
Thank you for all who participated in the April 10 event at the City of Dublin Fleet Maintenance complex.
Nearly 600 vehicles traveled through the drive-thru service and an estimated 30,000 pounds of paper was shredded and recycled.
See you in the fall!
Protocols have been developed in partnership with Franklin County Public Health to ensure the safety of all participants and workers.
Here are some guidelines for attending City shredding events:
Residents may bring up to five standard-sized file boxes or containers per vehicle.
Boxes or containers should be placed in the trunk (preferred) or back of vehicle for easy access and limited contact.
Boxes should not be sealed or taped.
File boxes are preferred, but garbage bags will be accepted.
Staff will remove the containers.
Residents should remain in their vehicles at all times,
There will be two lanes.

Lane A is expected to move faster. Material will be securely transferred to an off-site shredding facility.
Lane B is expected to move slower. Material will be shredded on site.
There is no fee for this service.
Photographs cannot be accepted because they contain chemicals that interfere with the paper fibers during the shredding and recycling process.
Should you have any questions, you may contact City of Dublin Public Affairs Officer Lindsay Weisenauer at lweisenauer@dublin.oh.us or by calling 614.410.4504.